Tees
For $25,000 It Better Still Smell Like Teen Spirit
When I first started picking and thrifting in 2004 I passed over a lot of Nirvana tees because they seemed like a dime a dozen. I estimated it would take at least another decade before the shirts really had any value.
Ooops.
By 2010, several Nirvana tees had already made our list of the highest fetching t-shirt auctions. The top two Sub-Pop shirts above, "Two Virgins" and Kurt, Krist, and Chad each sold for a cool $1000 each.
Fast forward to 2021, a decade-plus later Nirvana tees continue to surge.
What are the Most Expensive Vintage Nirvana T-Shirts?
To figure this out we thoroughly scanned through historic eBay and auction house sales records as well as consulted with a Nirvana t-shirt expert.
Vintage 1994 Kurt Cobain Stage-Worn Sonic Youth T-Shirt $25,000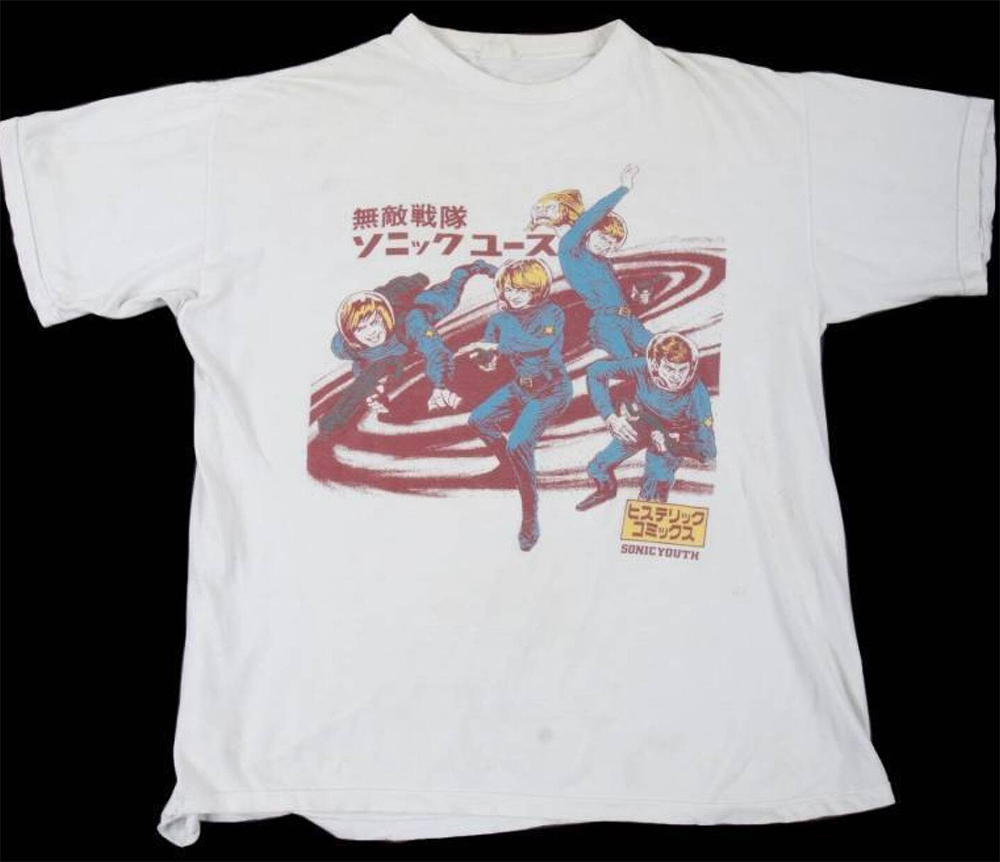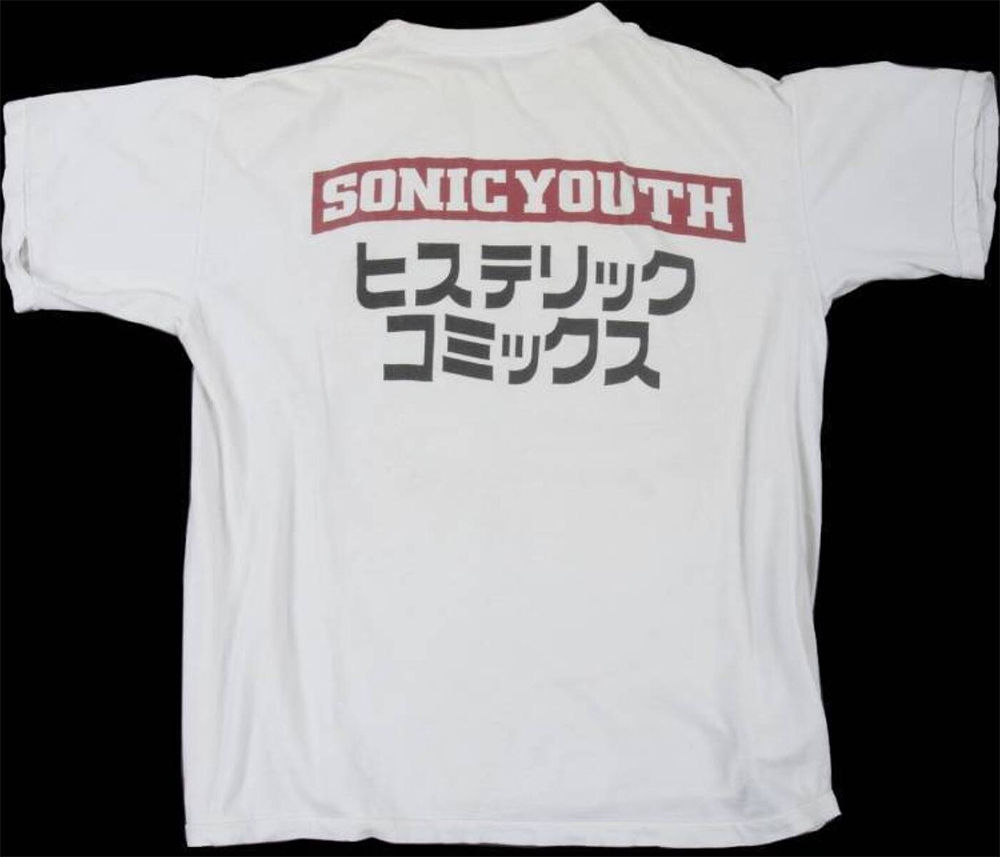 Ok, so this is technically not a Nirvana t-shirt, but it was worn by Kurt Cobain on stage during a Nirvana performance at Terminal 1 in Munich, Germany, on March 1, 1994. This sold from a respected auction house back in 2014 and didn't make as big of a news splash as it should have. The t-shirt was accompanied by a couple of letters that vouch for its unique provenance. The promoter of the show explained that Cobain had left the tee in his dressing room and he attempted to return it but Kurt had no interest in taking it back. I was recently in touch with the auction house and confirmed with them that the sale transpired, so to our knowledge, this is the most expensive performer-worn, stage-worn t-shirt given it trumps the recent Pigpen shirt that fetched $21,420.

Vintage 1991 Nirvana Nevermind Riverman U.K. Tour Longsleeve T-Shirt $12,100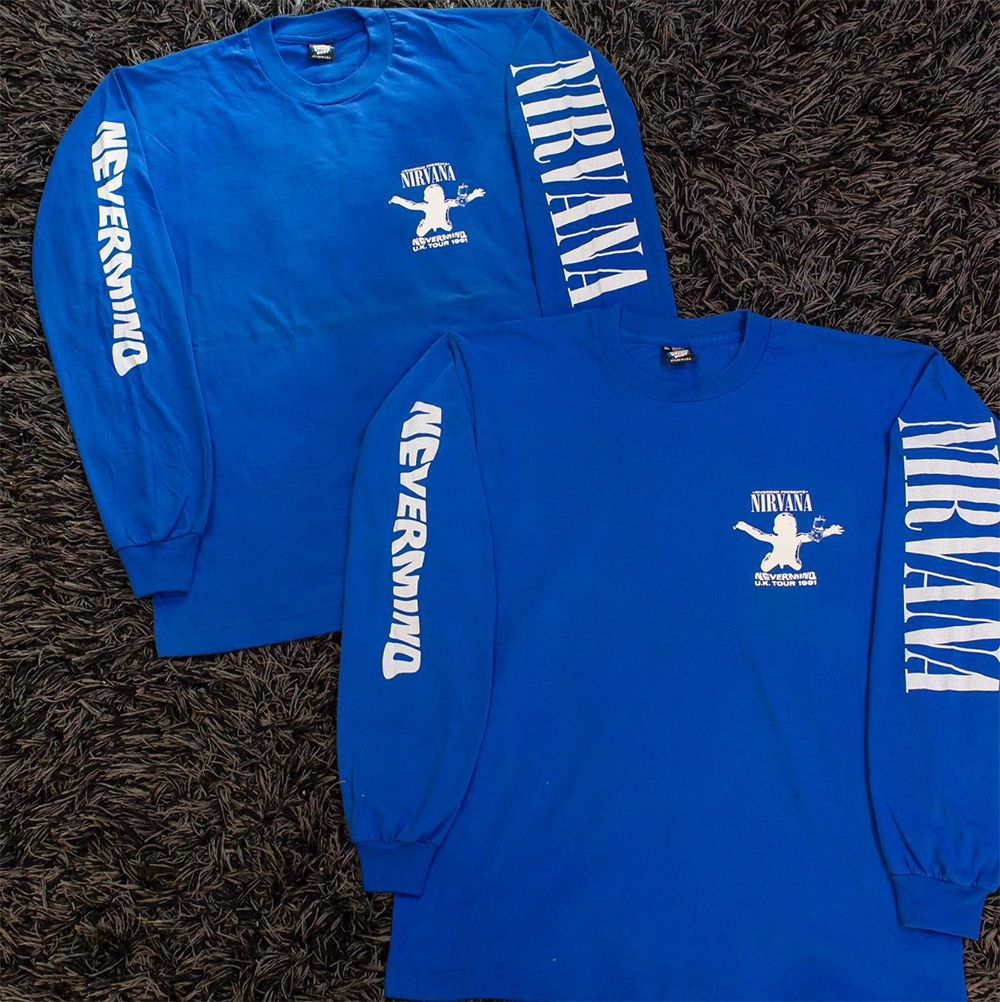 One of the longsleeved, double-sided, double arm-printed tees above, was sold privately in 2020.  I confirmed the sale for $12,100.00 USD. Both tees pictured were originally owned by Tony D. who worked at Riverman Management and was directly involved in the Nevermind UK Tour.
Only 70, possibly fewer, were made.
In 2019, the same print sold for $3301 on eBay. It wasn't in as good condition but it too had some interesting provenance. It was reportedly acquired from a house owned by Ian Beveridge, the Monitor Engineer for Nirvana, Green Day, The Cure, and others.
Vintage Nirvana Canadian Heart-Shaped Box $8500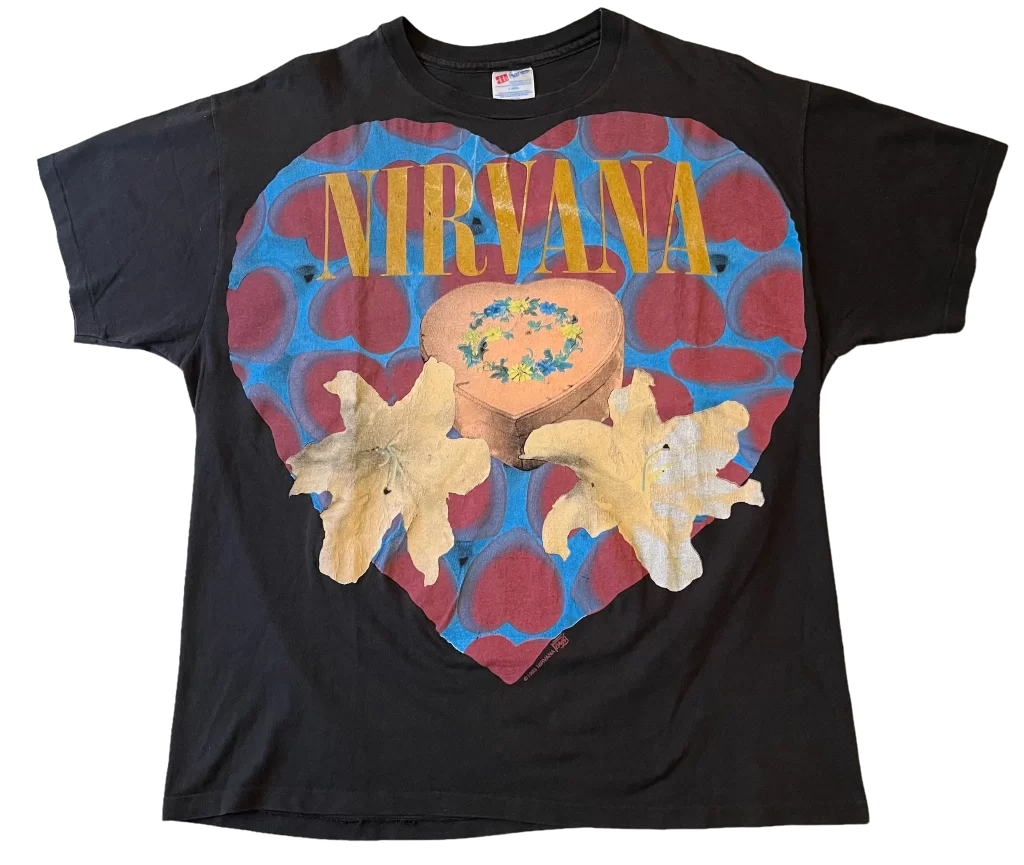 This t-shirt made waves when it sold in 2021 for $8500 by arcinthesky, aka Cloaked in Black. It's reported to be the lesser common Canadian version of the Heart-Shaped All-Over-Print, this one features the same graphics but is contained in a heart on the front and rear – along with the Backstage Pass branding at the bottom of the print.
Vintage Sub-Pop Kurt, Krist, and Chad T-Shirt $8500
This tee was recently purchased by a collector in Japan. Based on this tee's value in 2010, that's a 750% increase. Not a bad return.
View this post on Instagram
The collector, Hikki, who showcases his collection via the IG account rannataraoaoa, told Bidstitch that he's spent in excess of $60,000 on vintage Nirvana tees. If you scroll through his posts, you're bound to discover a few prints you've never seen before, and given the sheer quantity he owns – $60k doesn't seem far-fetched.
Vintage Nirvana Sub-Pop Bleach T-Shirt $7000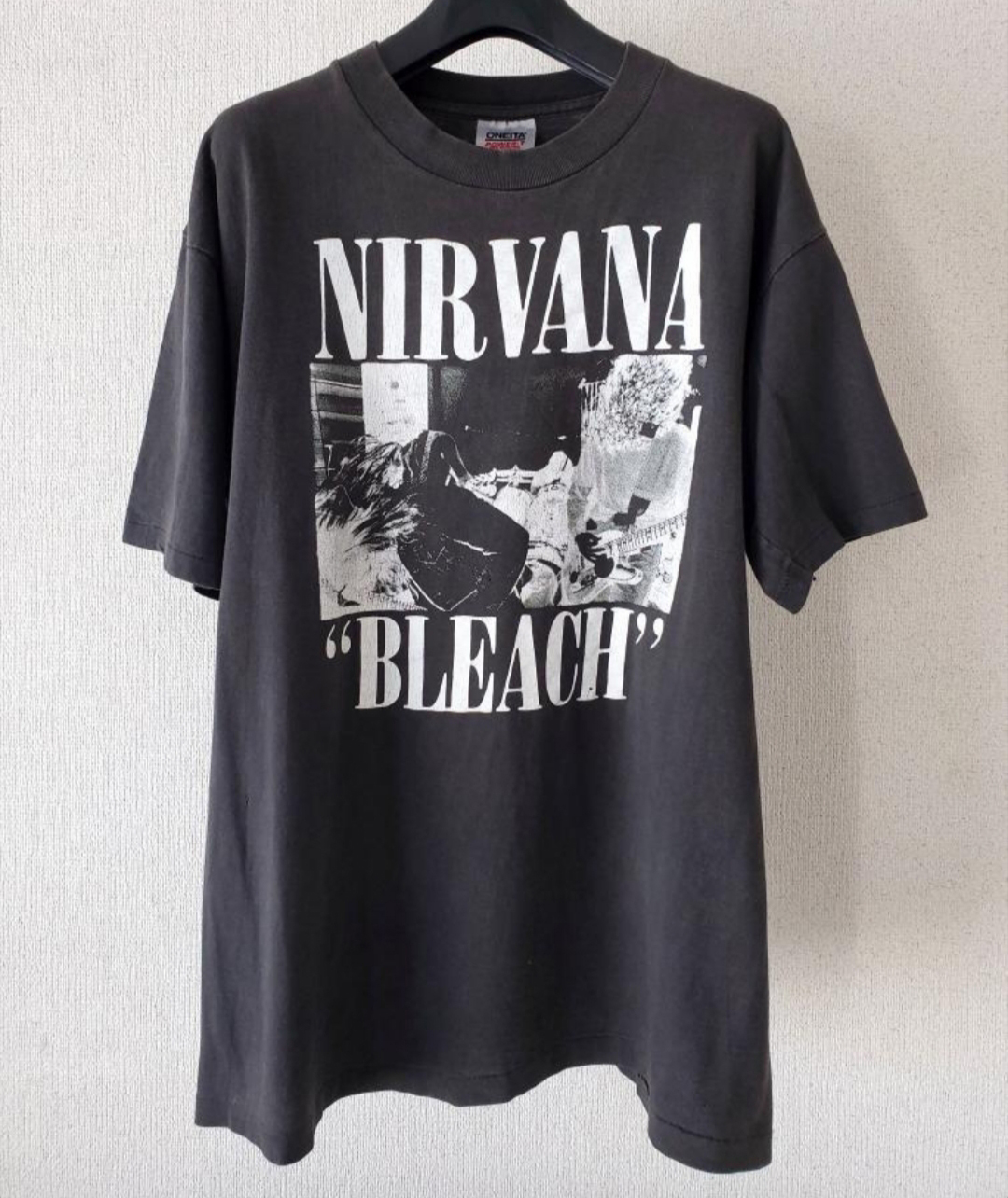 "Bleach shirts are rarely on the market. This shirt is XL with Oneita tag. It's the perfect condition," Hikki explained.
Vintage Nirvana In Utero Crew T-Shirt $6987
This print was made exclusively for crew members on what ended up being Nirvana's final tour. It was meant to commemorate and celebrate the sold-out shows. Provenance-wise, one surfaced on eBay years ago compliments of a seller who said it came from Cobain's bodyguard. It was put on sale by Stormcrow-Vintage, the same GOAT who sold the Led Zeppelin t-shirt for $10,000. We've been unable to confirm if it sold for $7k, but Hikki suspects it would bring in a similar price in today's market, though he still isn't certain on the origin of the figure featured on the shirt. "Do you know anything about the character on this t-shirt?" he asked. If you do, please get in touch with him.
Another one of these tees (below) sold for $3600 on eBay and the seller described the shirt as being from an Aragon Ballroom show in Chicago in 1993.
BTW, this is likely the most expensive mullet t-shirt in existence, given the front features a small chest print, and even a pocket.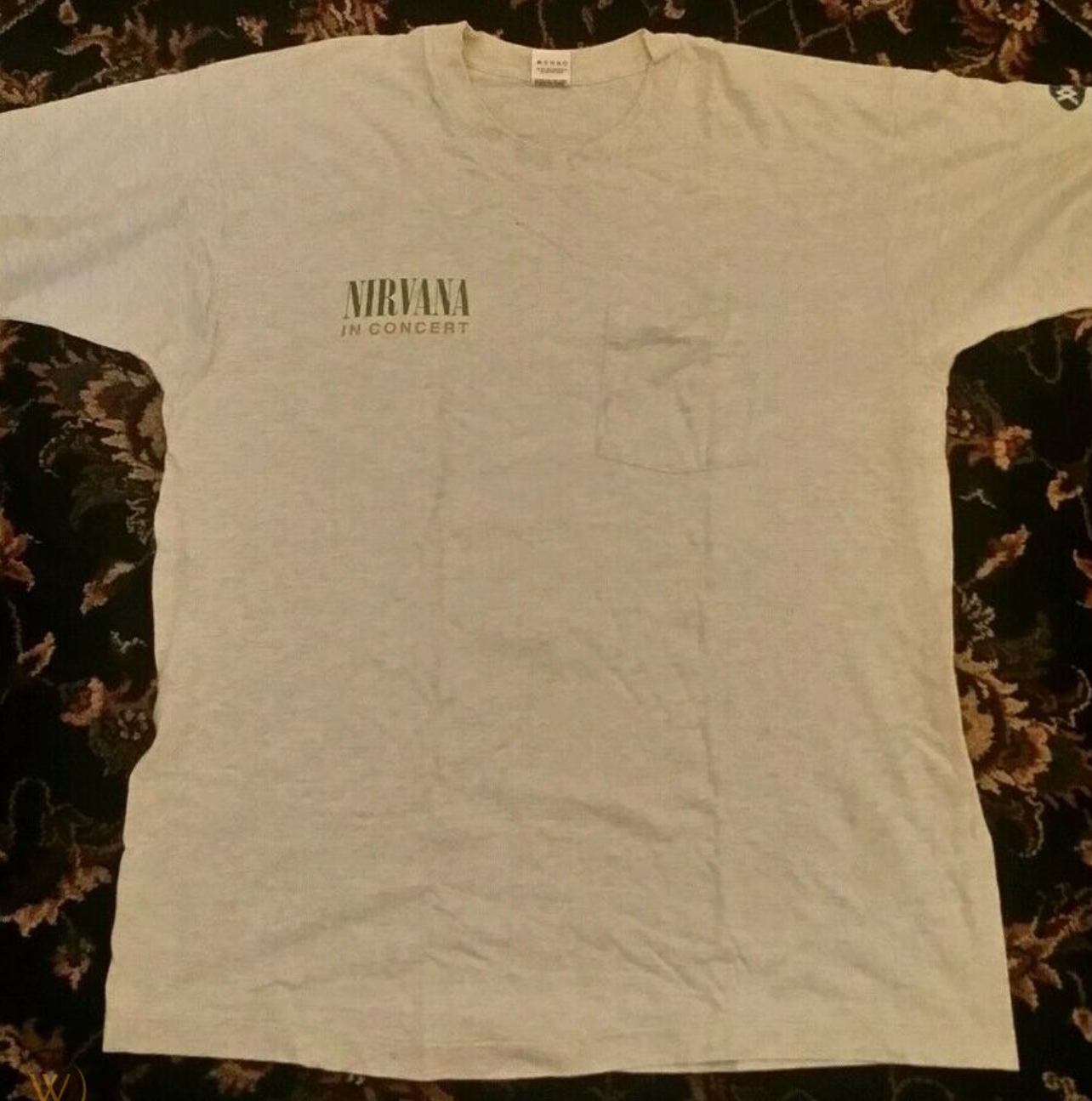 Vintage 1989 Nirvana & Mudhoney Lamefest U.K. T-Shirt $4051.00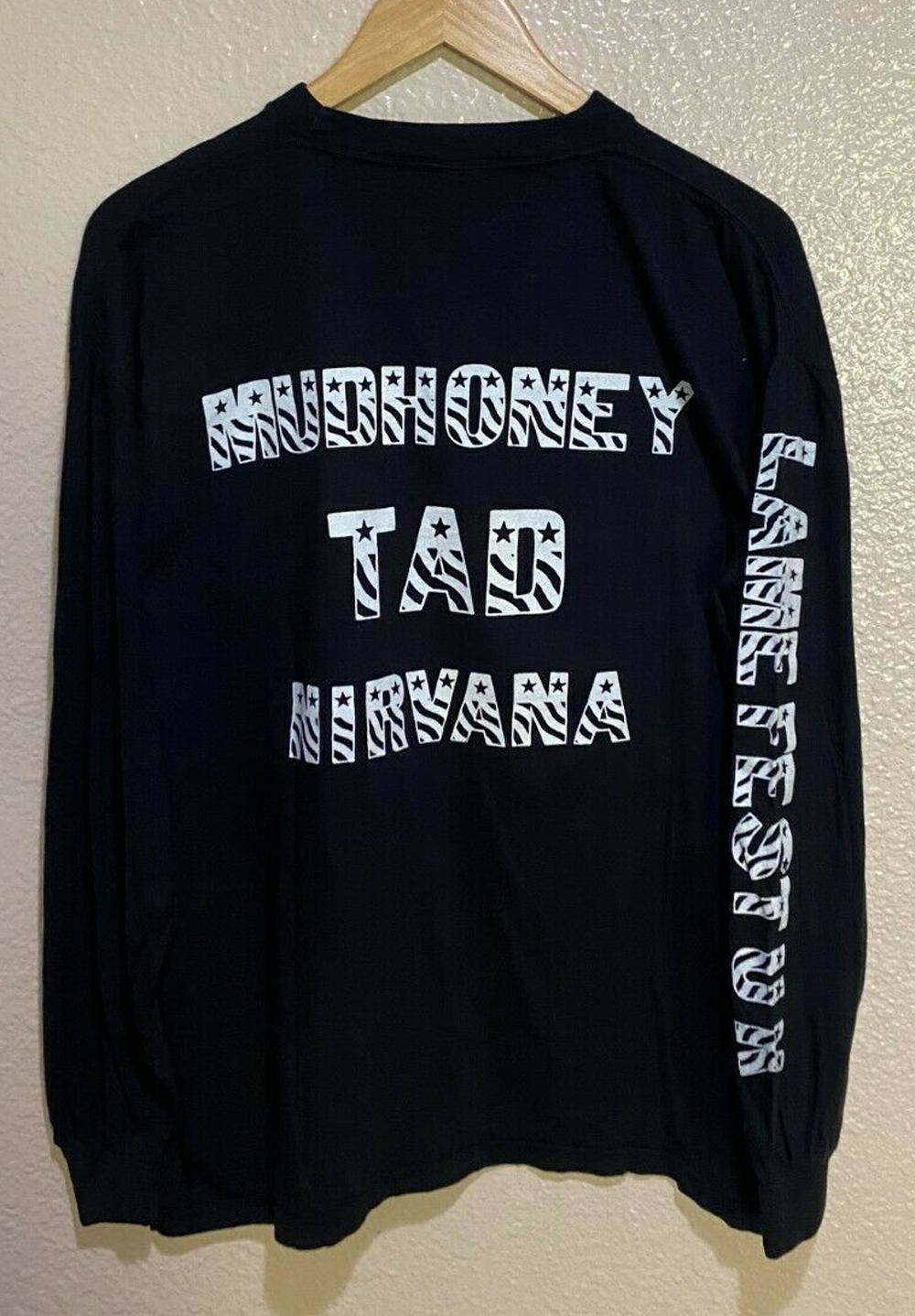 Sure, this isn't strictly a Nirvana tee given it's for a festival and includes Mudhoney and Tad, but we think it still qualifies. It caused a bidding frenzy on eBay and closed out at over $4k USD. According to the listing it was "Only sold at 1 show at a London Gig in Astoria 12/3/1989," and as to its provenance, "Belonged to the former manager of the band Mudhoney."
Vintage Nirvana In Utero Long Sleeve Waffle Crew T-Shirt $3200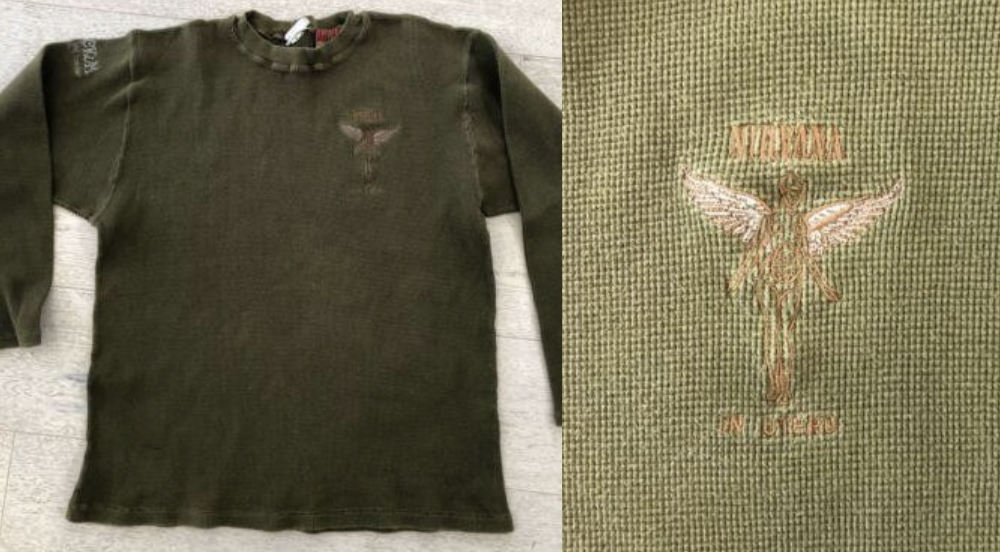 This fairly simply long sleeve olive thermal style t-shirt with embroidery fetched a decent chunk of change on eBay – it is was only produced in small quantities and given to the crew staff.
Vintage 1993 Nirvana Heart-Shaped Box AOP T-Shirt $2000
This one is old news. Its value has been inflated since Justin Bieber made it famous in 2015. Then several other celebrities gave it a bump in the years that followed. It's still fetching $2000+, not bad for an all-over print band tee especially since AOPs were considered mids throughout the 2000s.
Vintage 1993 Nirvana In Utero World Tour $1587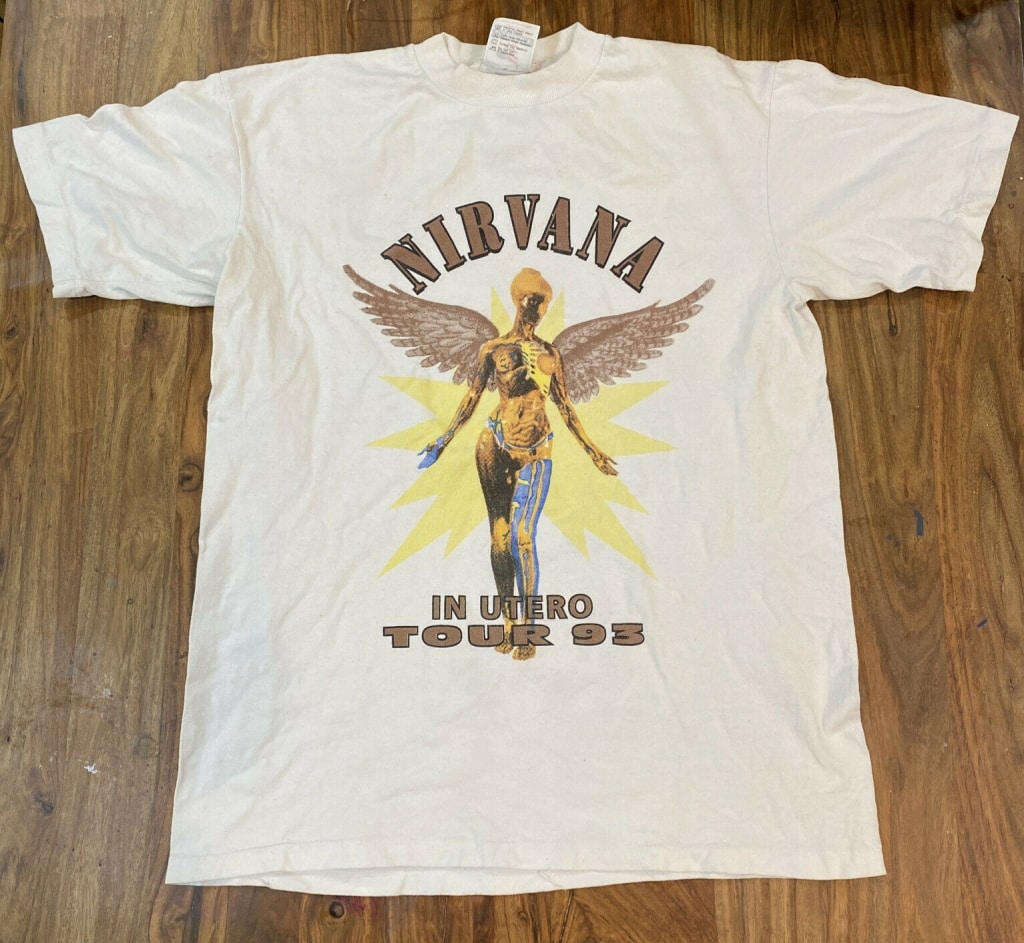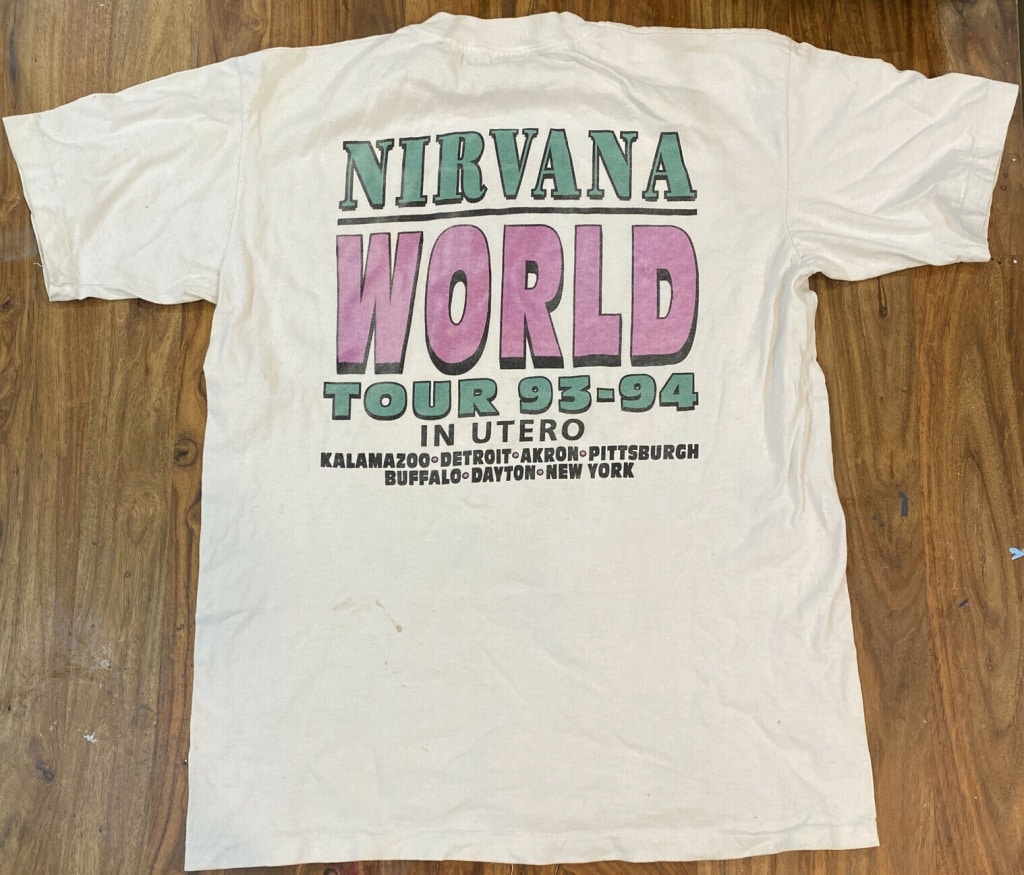 This lessor scene In Utero World Tour 93-94 tee boasts Kalamazoo as one of its stops.
Vintage 1992 Nirvana Nevermind Australia Tour T-Shirt $1500
Recently this Nevermind tee with the Australia tour dates on the back fetched close to $1500 USD, on two different occasions. It's roughly three times more valuable than the more common version with the playlist on the rear.
Vintage 1989 Trashed Nirvana Sub Pop Hanes Tag T-Shirt $1200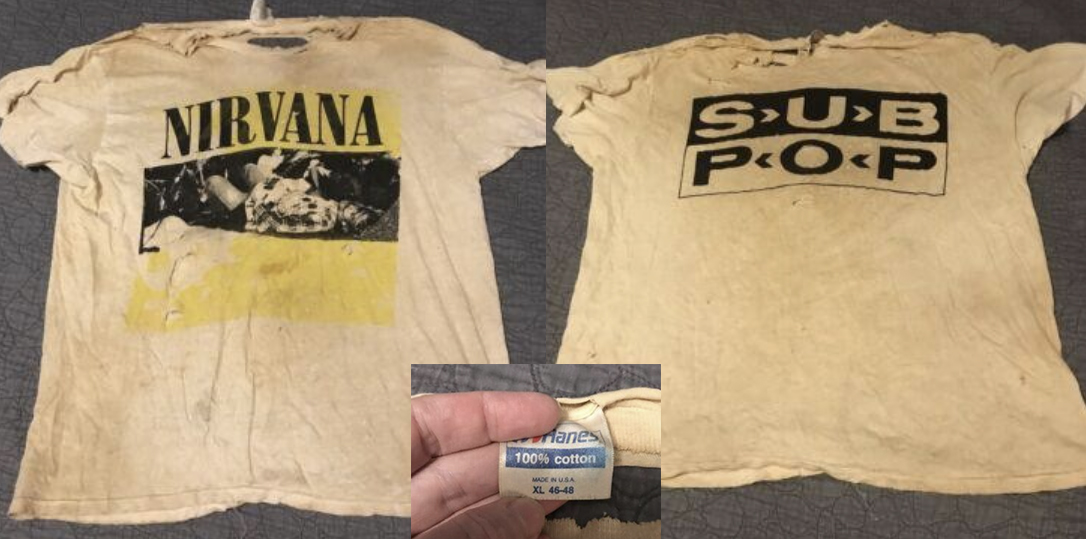 Oh, the stories this t-shirt could tell. Even in terrible condition, with an 80s Hanes tag holding on for dear life, this Nirvana tee still performed well. This GRUNGE-worthy beauty still managed to pull in $1200. Hopefully, it now lives a peaceful life in a frame, on the wall, in a nice home, in suburbia. What would the price tag be if it was in decent shape? It might very will top this list.
Vintage Nirvana John & Yoko Sub-Pop Two Virgins T-Shirt $1000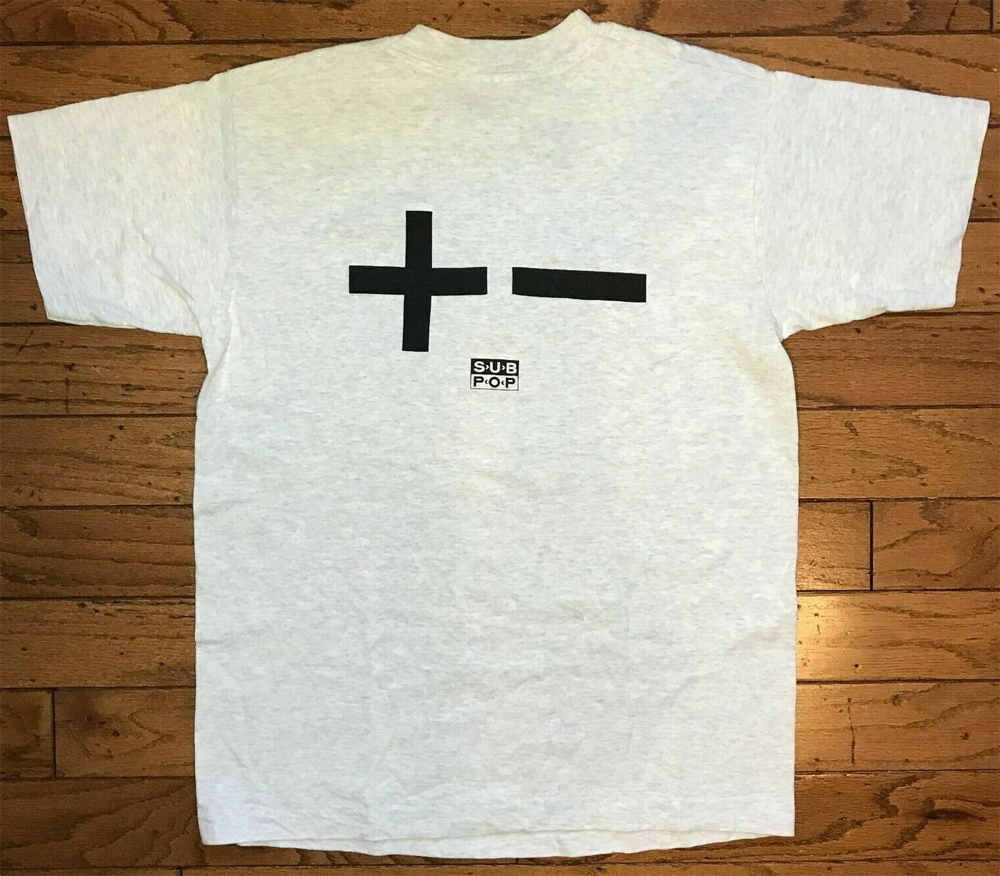 Surprisingly, the t-shirt above was recently auctioned on eBay and only sold for $330 USD. Based on its 2010 value it took a dive in the form of 67%. Ouch. Perhaps an anomaly as it typically sells in the $1000 range. On Instagram @bjmo1111 suggested it's a forgery, and given it's a one-color print and a sought-after t-shirt, it would be a prime target by counterfeiters. Unfortunately, when fakes of a print start circulating, the value of the original ones take a big hit. Not only because buyers get taken out of the market, but the market also gets gently flooded too. Sadly, buyers even begin to avoid the authentic ones due to authenticity uncertainty.
Honorable Mentions
We felt it essential to include Nirvana tees with a value that hasn't been determined – due to scarcity. If you own one you think might qualify for this list, please get in touch with us.
Vintage Sonic Youth Nirvana T-Shirt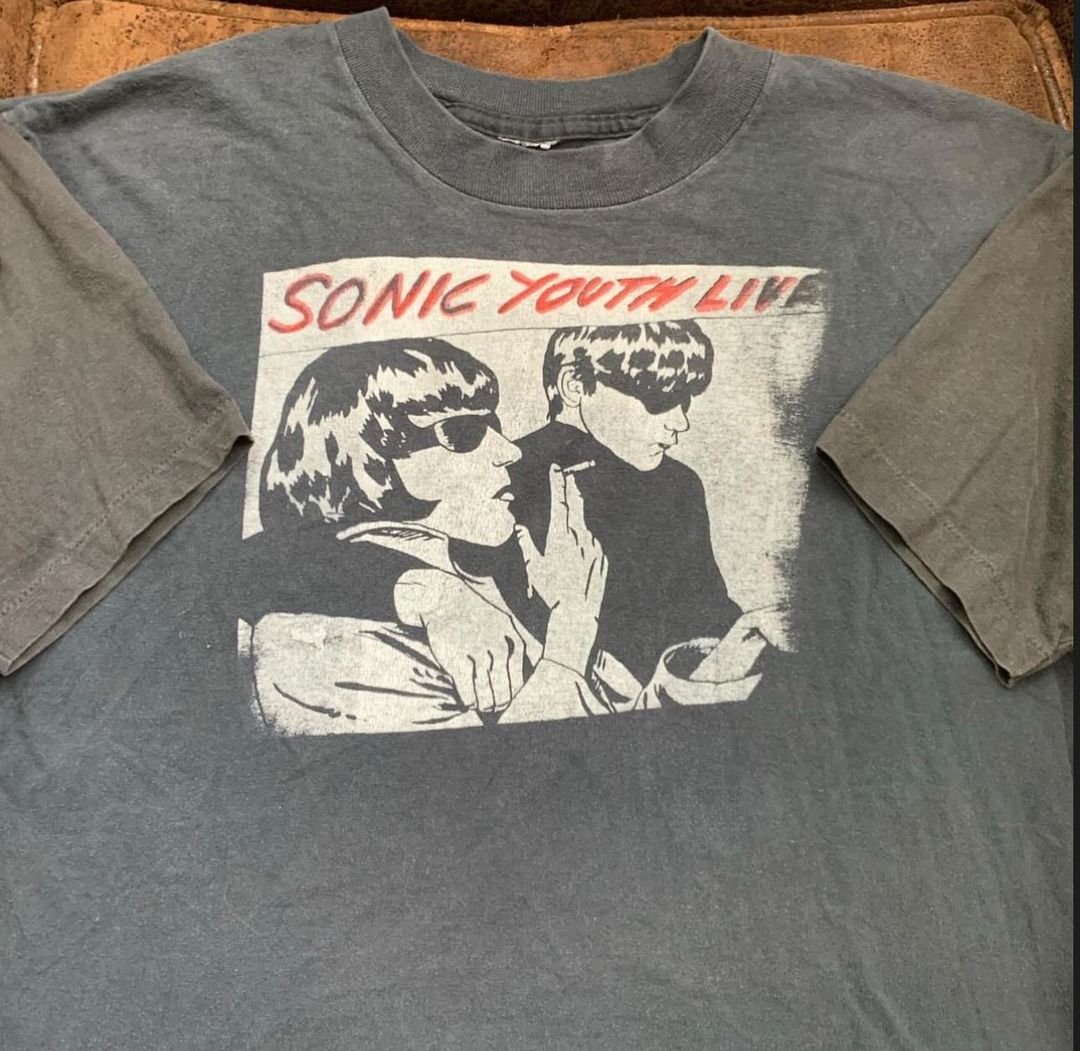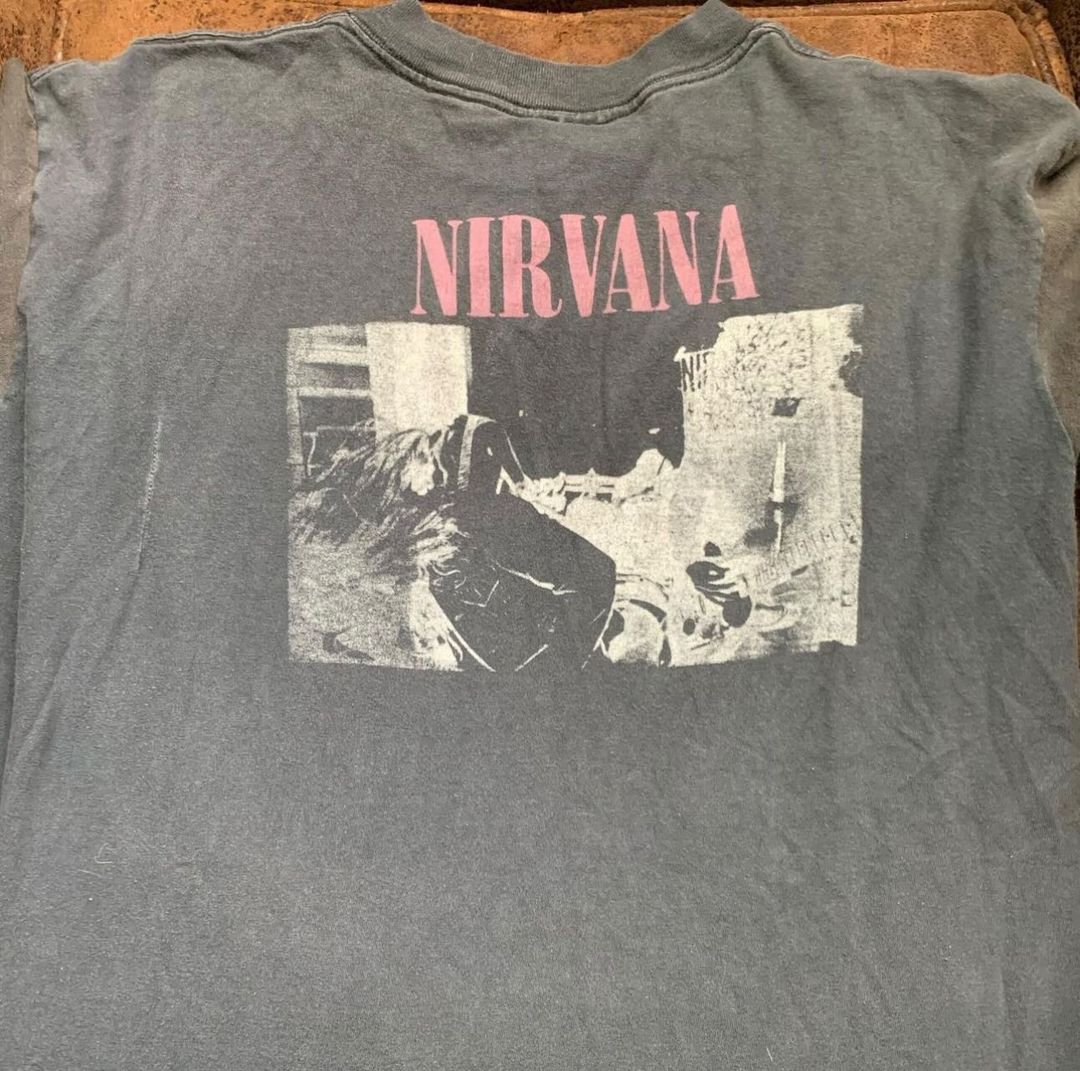 This gem was presented to us by @bulletholevintage. "I got it off the original owner who purchased it at the Palladium in August '90, iirc. You can't even find other pics of an original online – they're all mine. No one I know has seen one before. It's the only 'nirvana' shirt (design) Kurt ever wore on stage."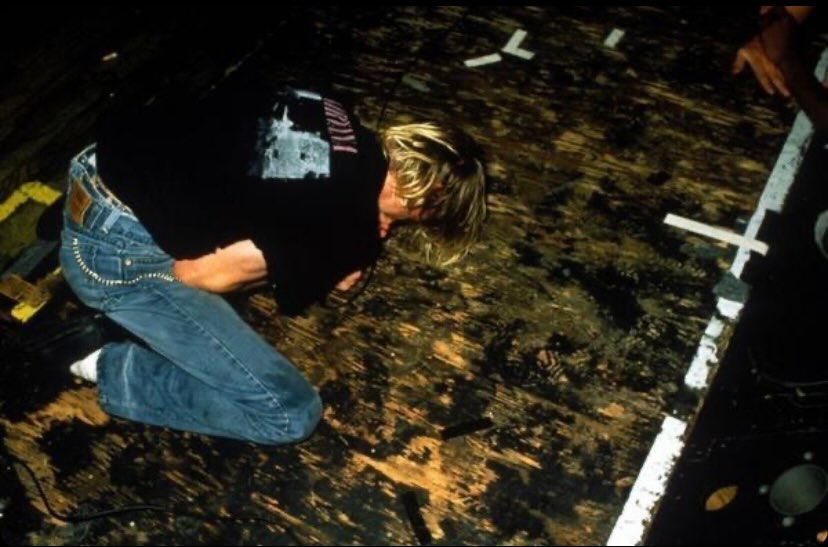 Vintage Red Hot Chili Peppers Nirvana Pearl Jam New Year 91/92 T-Shirt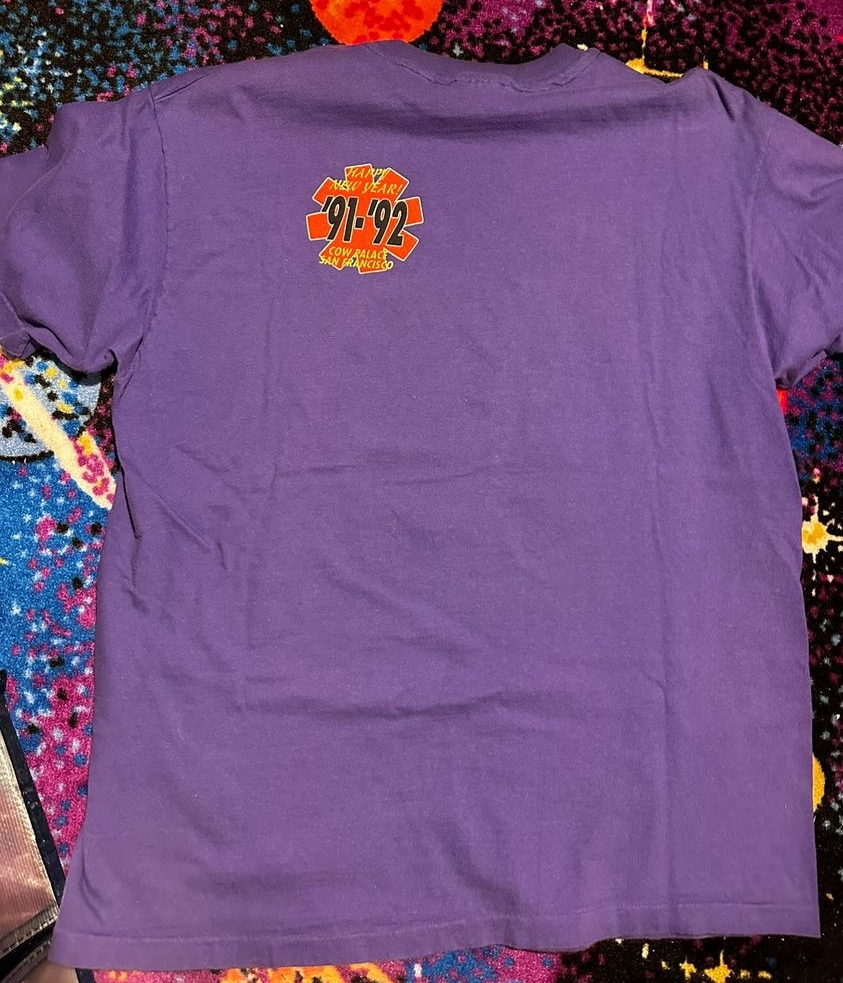 This one was also provided to us by @bulletholevintage. Though not as rare as the Sonic combo – it definitely deserves a place somewhere on this list. Problem is, they don't ever come up for sale. Three of them landed on eBay in 2016 and each one only fetched around $40. Someone got one hell of a deal.
BTW, Bullet Hole made it clear that neither is for sale, so we've reached out to Hikki for his thoughts on an appraisal.
John & Yoko NFTee
The same print recently became the first Nirvana t-shirt to be offered via the blockchain. Listed on Opensea by Bidstitch, the purchase price includes a digital representation of the shirt as an NFT and the buyer gets the physical t-shirt too. The item is currently open for offers, with the highest one to date being roughly $1200 USD (by us!).
The listing states the t-shirt has some impressive provenance:
"Nirvana's infamous "Two Virgins" Promo tee. Purchased at Maxwell's in Hoboken, New Jersey in 1990 directly from bassist and Nirvana founding member, Krist Novoselic. The NFT features the iconic imagery with Sub Pop's Co-Founders Bruce Pavitt and Jonathan Poneman superimposed on the bodies of John Lennon and Yoko Ono.
The "Two Virgins" photoshoot by famed photographer Annie Leibovitz served as the original source for the now infamous parody tee by the band. Artistry and a healthy dose of meta-level absurdity have taken Nirvana, and their earliest merchandise to skyrocket in value."
You can check out the full listing below:
We'll keep you posted if it ever sells.
Jimmy founded Defunkd in 2004 when he started selling vintage t-shirts online. 20 years of experience later and he hasn't looked back since. Actually, he looks back all the time given he's a sucker for nostalgia. For more, check the history of Defunkd and Jimmy's Expertise.