In the early aughts, 1970s, and 80s nostalgia was at an all-time high, and a vintage t-shirt gold rush formed on eBay. Having grown up in those beloved decades and with eBay sales experience in the 90s, I went all in.
Defunkd.com was launched in March of 2004 as a simple support site for what was began as a series of vintage clothing auctions on eBay. The eBay account quickly evolved into an online store and became one of the first curated vintage t-shirt boutiques specializing in vintage rock, rap, and pop culture tees. In 2007 we were recognized by eBay and given an award for our entrepreneurial efforts.
Eventually, the poly/cotton craze of the early 2000s fizzled and the fashion fad had taken a hiatus. The market, however, remained stable because of collectors. The t-shirt had carved out its own niche within the vast world of collectibles.
I felt vintage tees were deserving of documentation and discussion. So after paying my dues in dusty raghouses and thrift shops [cough] in 2007 I shifted my focus to Defunkd.com and it was enhanced in blog and forum format. Thanks to a community effort, Defunkd became the world's leading resource for authentic vintage t-shirts. We were among the first (if not the first) to begin formally documenting vintage t-shirts, prints, tags, and everything else related to authenticating this collectible. eBay continued to take notice of our expertise and used our vintage t-shirt guides for their platform.

Defunkd has always been at the forefront of t-shirt authentication, having authored several comprehensive guides on the subject of authentication and appraisal, as well as maintaining an online archive of 14,000 vintage t-shirts and brands.
Over the years we covered all the goings-on in the vintage t-shirt market. In 2011 we broke the news of a rare Led Zeppelin t-shirt selling for $10,000 and then we did it again 10 years when a Grateful Dead t-shirt fetched $17k.
We would go on to sell ten thousand-plus tees via eBay while maintaining a near-perfect feedback rating (it's estimated that as little as 20% actually leave feedback). Unfortunately in every genre of collectible, where there's money, fraudsters quickly follow. Disappointed with how other marketplaces dealt with the rampant problem of forgeries, fakes, counterfeits, bootlegs, and reproduction tees (full terminology) we decided something had to be done. In October 2011, Defunkd was further enhanced with a multi-vendor platform becoming the world's first online marketplace focusing exclusively on authentic vintage t-shirts.
After a 7-year run, The Defunkd Vintage Collective shuttered in 2018. There were simply too many other new corporate-backed platforms to compete with and sellers were now migrating to Instagram. Plus, as a stay-at-home-dad, I had too many kids competing for my time. But when all was said and done, thousands of customers got true vintage t-shirts and almost every sale resulted in the planting of a tree. One of our listing policies even influenced Etsy to follow suit. The 14,000 tees that were listed for sale on the system have since been immortalized in our vintage t-shirt archive to bolster our research resources.
Over the years Defunkd has supplied genuine tees to TV shows like The Goldbergs and movies like Step Brothers. We supplied vintage shoebox photography to Nike that was featured on one of their t-shirts. We've supplied tees to fashion shows and exhibits, including The Politics of Fashion hosted by the Design Exchange.
We also became one of the go-to experts as the media began covering the growing vintage t-shirt market. We've done live interviews for Marketplace, and BBC 6 Radio, and provided quotes for The Guardian, Maxim, The Globe, and Mail, as well as countless print-only publications. Our inventory has been featured in UpscaleHype, The Sun, Elemental Magazine, Fantastics Mag, BlogTo, and many more.
In 2022 Jimmy co-founded Legiteem8, the world's first app for vintage t-shirt authentication and appraisals. The app enables users to upload photos of their shirts to be legit-checked by the community, for free. It also hosts premium authentication services by a team of experts who can issue certificates.
When your torso needs a true vintage t-shirt, we have your back.
Jimmy J (AKA James Applegath)
Founder, Defunkd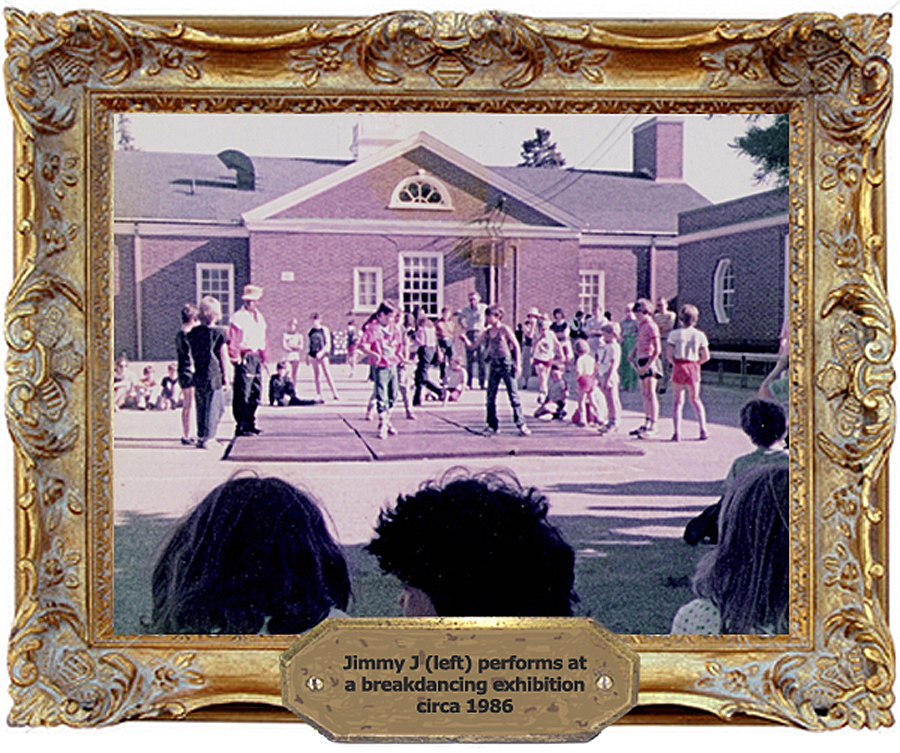 Jimmy founded Defunkd in 2004 when he started selling vintage t-shirts online. 20 years of experience later and he hasn't looked back since. Actually, he looks back all the time given he's a sucker for nostalgia. For more, check the history of Defunkd and Jimmy's Expertise.