Showcasing the vast vintage t-shirt arsenal of Anthrax, Megadeth, Metallica and Slayer.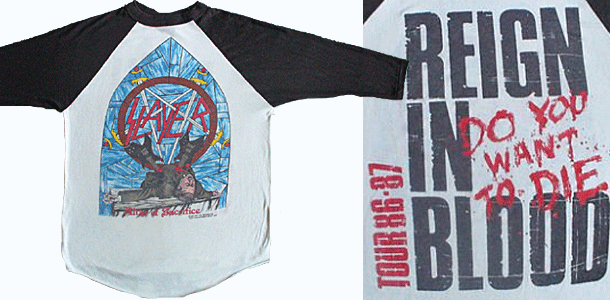 Shirt #30: Slayer, Altar of Sacrifice Jersey
Availability: Explore Vintage Slayer Tees on Defunkd
Year: 1986-87
Album: Reign in Blood
Fact: Columbia Records (Def Jam's distributor) refused to release Reign due to its controversial lyrical themes and cover art. Geffen Records eventually took on the task.
Approximate value: $1000

Image Courtesy of: silverruins
Jimmy founded Defunkd in 2004 when he started selling vintage t-shirts online. 20 years of experience later and he hasn't looked back since. Actually, he looks back all the time given he's a sucker for nostalgia. For more, check the history of Defunkd and Jimmy's Expertise.