Tees
8 1980s WWF Vintage Wrestling T-Shirts That Deserve a Championship Belt
The 1980s was the golden age of wrestling, ipso facto the golden age of vintage wrestling t-shirts. The WWF was still called the WWF. Hulkamania was running wild. Storylines were playful and still kid-friendly. I miss those days.
Sadly, 5 out of 8 of these squared circle legends have left this earth. But true legends never die, and thankfully they can be celebrated via t-shirts from their heydays.
The Ultimate Warrior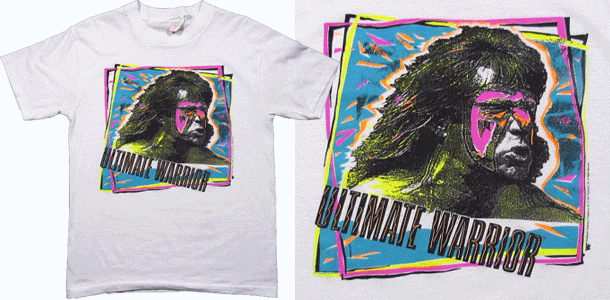 Finishing Move: Gorilla press drop followed by a running splash.

WWF Accolades: Intercontinental (2), Champion (1)
The Warrior made a name for himself with his theatrics, physique, and brute strength rather than wrestling ability. Bold entrances, mental instability, and bright florescent detailing were welcome distractions from his dull wrestling maneuvers. His uncanny ability to press his opponents above his head was not only his signature move but his saving grace. Before his passing in 2004 he dabbled in right-wing conservative activities and of course, a speaker on the philosopher of life.
Image credit: hermosa_vintage
Rowdy Roddy Piper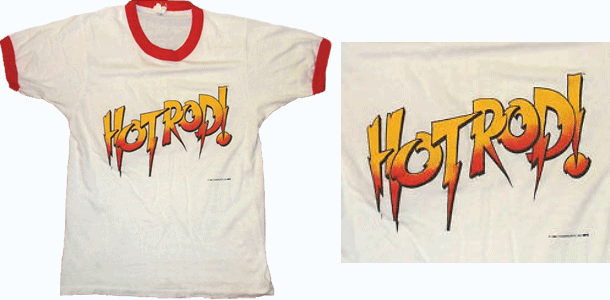 Finishing Move: Sleeper Hold
WWF Accolades: The most famous wrestler to have never held a belt, trash talk master
Canadian Roderick Toombs' actual Scottish heritage landed him the role of a rambunctious bagpipe playing Scott from Glasgow. But it was his other windpipes and quick wit that took him to the highlands of the WWF. Piper was an above average, injured all too often wrestler, whose mouth kept him working while he was working through injuries. He hosted his own segment known as "Piper's Pit" where he stirred the pot between other wrestlers by serving up his Scottish rage. He's arguably the best bad guy in the history of the sport…s entertainment. Roddy passed away in 2015.
Image credit: geauxcasual
The Rockers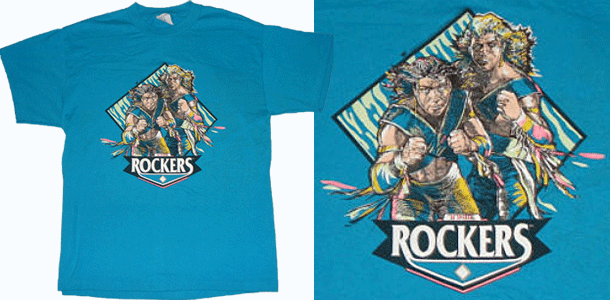 Year: 1990
Finishing Move: Rocker-Plex
WWF Accolade: Tag Team Champions (uncredited)
This tag team consisted of budding Shawn Michaels and Marty Jannetty who wrested together from 1985 to 1992. In 1987 they made one WWF appearance as the Midnight Rockers but were immediately fired by Vince for excessive partying. They're rockers, what did he expect? They got a second chance in 1988 and went on regular rotation as The Rockers, dropping "Midnight" but thankfully the mullets were a mainstay. In 1990 they wrestled The Hart Foundation for the tag team title and won – then defended their title a month later against Power & Glory. Shortly after the tag team title was reverted back to The Hart Foundation with the explanation that a ring malfunction voided the match. Michaels claims it was all real-life Hart Foundation politics and the WWE has never officially recognized them as champions.
Image credit Ukrainian-Vintage
Macho Man Randy Savage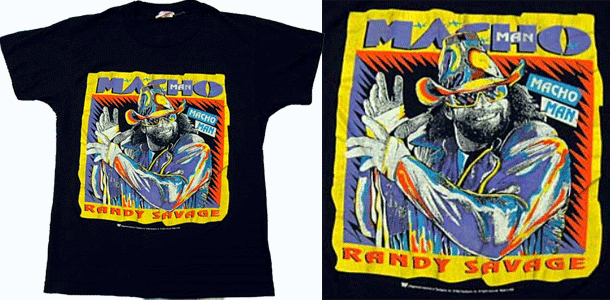 Availability: Explore Wrestling Tees on Defunkd
Finishing Move: Diving Elbow Drop
WWF Accolades: Champion (2) Intercontinental (1)
Ohhhhh Yeeeeahh! [spoken in a Macho Man voice, not Kool-Aid dude] Randy Savage is a legend. He was a good guy, a bad guy, it didn't matter – it never affected his popularity. Especially since he was managed by the hottest female in wrestling (Miss Elizabeth) and married to her in real life. His character was an integral part of 80s and early 90s WWF either doing battle or teaming up with the biggest names in the game. From his raspy and aneurysm friendly dialogue to his flashy attire and concern for UV rays – Macho Man was the man.
Sadly, Macho Man passed away on May 20th, 2011 after suffering a heart attack while driving. RIP Randall Poffo.
Image credit: shirtswithballs
Hulk Hogan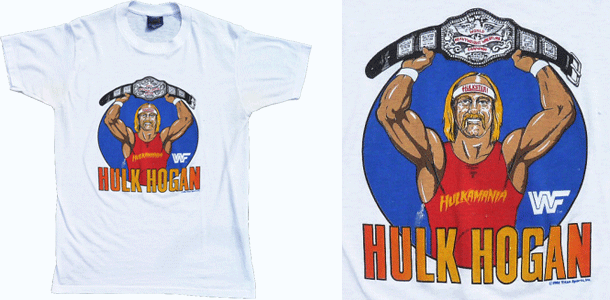 Finishing Move: Atomic Leg Drop
WWF Accolades: Champion (6) – 3 Years Straight
His career has spanned six decades (and still going) resulting in numerous belts in multiple organizations (and countries). Hogan is without a doubt the most legendary wrestler of all time. We've even found it in our hearts to forgive him for all of the t-shirts he has carelessly ripped and shredded over the years.
Image credit: hermosa_vintage
Jimmy Superfly Snuka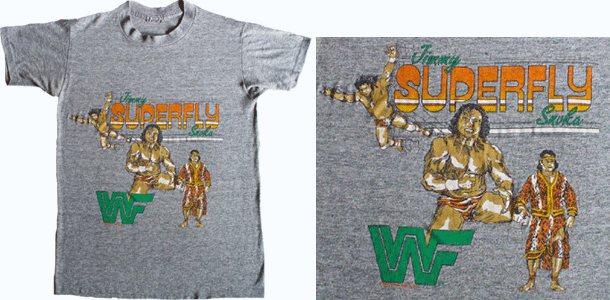 Finishing Move: Superfly Splash
WWF Accolades: Introduced the high-flyer style of wresting.
Jimmy was an amateur Hawaiian bodybuilder in the 1960s and despite winning numerous titles (Mr. Hawaii, Mr. North Shore) he entered professional wrestling due to the financial uncertainty of bodybuilding. Originally cast as a bad guy under the direction of Captain Lou Albano he eventually became a crowd favorite due to his high-flying acrobatics. Despite coming close numerous times he was never actually a WWF champion, but his mark on the sport (and the chests of his opponents) is indelible. He passed away in 2017 at the age of 73.
Image credit: silverruins
The British Bulldog
WWF Accolades: Tag Team Champion (The British Bulldogs), Intercontinental Champion (solo), "One of the most physically impressive individuals in WWE history."
Davey Boy Smith hailed from North West England where he began wrestling at the age of 15 under the moniker Young David. Eventually, he was scouted by the legendary Hart family and moved to Canada to train under their system. He landed his first big gig in Japan where he wrestled and lost to another Brit known as the Dynamite Kid.  The two immediately formed a tag team and after their first match in Japan, they caught the eye of the WWF where they wrestled together for four years.
Davey Boy eventually went solo and won the intercontinental championship. After that he made a habit of leaving and returning to the WWF – finally going on hiatus from the sport in 2000 because of personal issues.
Sadly, David Smith suffered a fatal heart attack while on vacation in 2002. He was only 39 when he passed away.
Image credit: vintageretrowear
Jake The Snake Roberts
Finishing Move: DDT
WWF Accolades: No Belts, Inventor of the DDT
Not known for his chiseled physique this ragtag wrestler used intimidation and perfectly executed maneuvers. Enter the DDT, which he's credited for inventing – a falling reverse headlock that drives the opponent's head into the mat. Or in the case of Roberts' adversary, Ricky Steamboat, his noggin went directly onto a concrete floor causing him to lose consciousness, for real.
His unofficial tag-team partner, a massive python who usually arrived in a burlap sack and ended up sprawled across an incapacitated opponent. The reptile was officially billed as Damien and deserves credit for Roberts' gimmick and the psychological prowess it lent to his character. Sadly Damien met his demise in 2004 when he starved to death in Roberts' garage. Jake faced charges for the incident which seemed to stem from his issues with addiction highlighted by the 1999 documentary Beyond the Mat. In 2007 Jake benefited from the WWF's policy of providing rehab for any current or former WWF star. He emerged straight and continued his independent wrestling circuit work until retiring early in 2011.
Image credit: all_originals