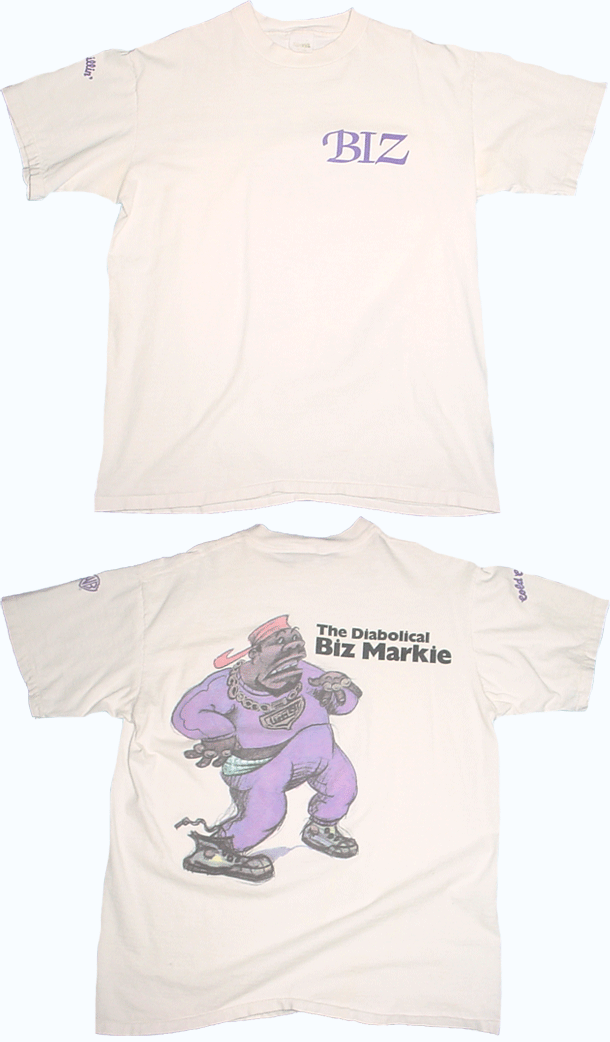 The Diabolical Biz Markie
Year: 1989
Circulation: Rarer than an on-key Biz vocal.
In the early 1980s Marcel Theo Hall, aka Biz Markie, made a name for himself around Long Island as a beat-boxing rapper. A decade and three releases later he was among the first rap artists to be sued for unauthorized usage of a sample. But when the Biz got beat in court the landscape of the recording industry was forever changed. His experience prompted the entire industry to universally adopt strict sample clearance policies prior to release. The bad press was said to damage Biz's reputation and hinder the sales of his two follow-up records, one of which was cheekily titled All Samples Cleared!
Sadly, Biz passed away on July 16, 2021

Brand: Touch of Gold
Measurements: 20″ (pit-to-pit) 26.5″ (rear collar-bottom seam)

Condition: Great vintage condition.
Variables: Tiny hole lower rear.
Price: $225.00 (includes expedited shipping w/tracking and insurance in U.S. and Canada)
Sorry, this item has been sold.
Jimmy founded Defunkd in 2004 when he started selling vintage t-shirts online. 20 years of experience later and he hasn't looked back since. Actually, he looks back all the time given he's a sucker for nostalgia. For more, check the history of Defunkd and Jimmy's Expertise.