In 2009 I was lucky enough to interview DJ AM about all things vintage tees. What impressed me more about his collection was that he was happily willing to lend the time to participate (we were a much smaller operation at the time.) There was no runaround with an agent or rep and I didn't have to hound him to get a response. (Admittedly, I just scoured through our email correspondence again and was thoroughly reminded what a solid guy he was.)
The last emails are particularly fitting as to what's going on right now…
From: James
Date: Wed, 15 Jul 2009 11:42:29 -0700 (PDT)
To: Adam
Subject: Re: Yoooo
hey….if you ever end up accumulating shirts that are just way to small or you don't ever wear, or like – you could host a DJ AM vintage t-shirt charity auction…you choose the charity… i'll host the auctions for ya, do all the mailing, promote it through my mailing list and on the blog – could be a nifty way to raise a little loot

From: Adam
To James
Jul 15, 2009
Sounds rad… I'm doing a clean thru soon
Sent via BlackBerry from T-Mobile
…Speaking of raising loot for a good cause – I recently caught up with his pal Kevin Scott to get the lowdown on the forthcoming DJ AM doc he's co-producing. He launched an Indiegogo campaign just last week in order to to perfectly score the soundtrack of the film – which is slated to drop late 2015. Of course, I was curious about the fate of AM's legendary tee collection too…
So how did you and AM link up?
Adam & I met in early 2004, he was still DJing on regular vinyl records (not Serato) and I was making vinyl records for DJs. He wanted to get some free vinyl from me so a fellow friend, DJ Vice, put us in contact with one another. Our friendship blossomed really quickly because we had a bunch of similar interests: DJing, music (80s music specifically), poker, cats and kicks. We just loved all the same things and would spend hours upon hours on AOL Instant Messenger chatting and battling over music…eventually we started hanging out regularly and collaborating on stuff.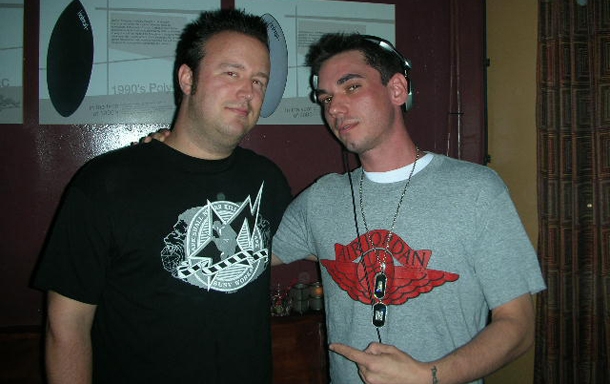 Tell us about AS I AM: The Life and Time$ of DJ AM?
The film is a documentary on Adam Goldstein's life and it touches on all aspects of life: his DJing, his love for music, his iconic rise to fame, his struggles with addiction, the many that he helped get clean, his difficult childhood circumstances and his eventually his untimely death. I've been involved with the movie in one aspect or another for 2 years now. At first, it was just a video interview for the film, an encounter that turned into a 2-day marathon interview with the director. After that, I would periodically check in with Kevin Kerslake, the director & writer of the doc, to see how things were going & if he needed any help. I was able to get him a few key interviews with people I knew like Jon Favreau and Jazzy Jeff along with providing some key insight into AM's world. From there, he called me and asked if I would come on more full time as a co-producer and I happily agreed. I then started working on the music, info for music licensing, helping with some editing, providing footage & continuing to share my insight into his personal world to make the film as authentic as possible. My final credits for the film are co-producer and music consultant.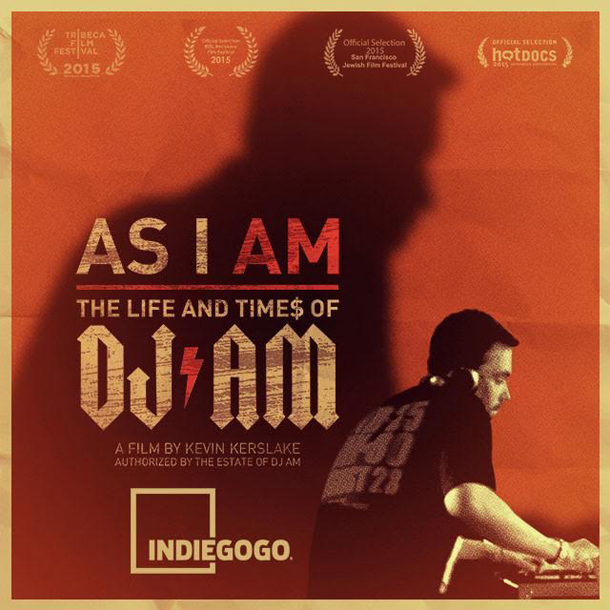 What's up on Indiegogo?
The Indiegogo campaign is to raise money for music licensing, marketing & distribution. This is the final step in a long two and a half year journey to bring Adam Goldstein's story to the big screen and beyond. The campaign features personal items that AM's mother, Andrea, has so generously donated to the campaign. These include the remainder of AM's sneaker collection, some of AM's vintage T-shirts, Banksy artwork, posters, and rare signed albums. There are amazing one-of-a-kind items and collectibles! Also included are Limited Edition Serato x DJ AM control vinyl, Slipmats, USB Dog Tags loaded up with AM's iconic mixes and other EXCLUSIVE items that are only available through the campaign! As I'm sure most know, Adam spun very expensive music, and these contributions help keep his mixes intact for the film, while also guaranteeing the film reaches the broadest possible audience when it comes out in fall.
Tell us about the journey AM's tees have taken since 2009?
After AM passed, his sister Lara & her husband Ben handled the duties of taking care of his estate. This was a big job and included the eBay auction in 2009 for the majority of his massive 900+ pair shoe collection, selling his two homes, his vinyl record collection, and all the rest of his stuff. The tees were put aside, boxed up and shipped back to Philadelphia to Lara & Ben's house to figure out at a later date what to do with them. Unfortunately in 2011, Adam's sister Lara tragically passed away from cancer. After that, her husband Ben professionally photographed the collection and sent it back to California where Kevin Wolff, Adam's best friend and former caretaker of the AM Memorial Fund, had them in a storage unit until it was decided what to do with them. Flash forward to a couple of months ago and we decided we were going to do an Indiegogo campaign to raise some money for the very expensive music licenses that are required to keep his legendary mixes intact for the film and it was decided the tees should be a part of the Indiegogo campaign. I now have the remaining tees and there is somewhere around 150 left, still a ton of gems!
How many tees do you plan on cycling through the campaign?
Right now, we have five up and will be adding more in soon… a lot of that depends on the interest level. We can't put them all in the campaign due to Indiegogo's restrictions on the number of singular items in a campaign at any one time. The rest of the tees will eventually be available in some way, shape, or form but those decisions will be made after the conclusion of the Indiegogo campaign. Oh, and the tees will come with a certificate of authenticity that they are from AM's personal collection.
What most surprised you about his collection?
The diversity. I think myself & many others attributed to him mainly wearing vintage rap tees but the collection has everything imaginable in it! From Willie Nelson concert tees to Mickey Mouse tees to Kool cigarettes tees to a Randy's Donuts tee! He liked anything fresh and was definitely a trendsetter in every aspect: fashion, music & style.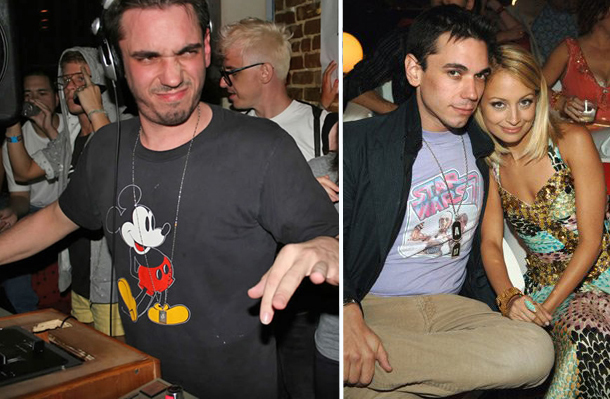 The one that really stood out to me was the late 70s JC Penny tagged Star Wars tee. It's up in the Indiegogo auction. It stood out to me for a number reasons. Number one being just how small it is in person, it really put in perspective for me just how much weight he dropped after gastric bypass surgery. He went from 325 down to like 160 pounds and somehow fit into this tee. Number two, it was a tee he regularly wore when he was dating Nicole Richie, so that brings back a lot of memories from that era of his life.
Hip Hop wise, what's the crown jewel of his collection?
That's a tough one… he had a few incredible hip hop tees. Probably both the Eric B. & Rakim tees (Paid In Full & Let The Rhythm Hit Em), the Doug E. Fresh 88 Tour tee and the Slick Rick tee. He was buried in the Paid In Full tee.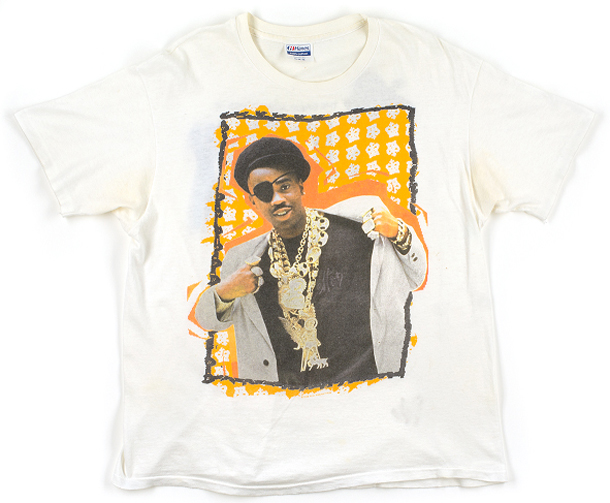 What about your collection?
My collecting really hit stride after trying to keep up with Adam's collecting… which was impossible by the way! We were very competitive with music, kicks and tees but his unlimited budget and connections made it very hard to compete! I did manage to get a white Dr. Dre "Chronic" tee right before he passed that he was supremely jealous of, he ran up to me and grabbed the back of the shirt to look at the tag and was questioning me where I got it. I got one up on him that night for sure! That was the last night that I saw him alive. These days, I probably have at least 250 tees, mostly all music related and a ton of hip hop tees.
Some of my hip hop tees were recently photographed by fellow DJ & vintage collector Ross One for a book on vintage rap tees that's coming out in October entitled "Rap Tees" — really proud of that project and from what I've seen it looks like it's going to be amazing! You can follow his project on Instagram: @raptees
What tee among his collection are you keeping for yourself?
His sister gave me one of my favorites from his collection for my birthday in 2010: his Prodigy tee. He's photographed in many iconic moments wearing that tee. That's another one I'll never give up.
Can anyone replace AM as the ambassador of vintage tees?
I don't think anyone has stepped into the role quite as prominently as Adam did, he rocked them daily. Those are tall shoes to fill. But I've seen a few big music figures like Big Sean rocking vintage tees on the regular. In the DJ world, Ross One, DJ Five & DJ Politik are pretty regular vintage wearers. In the nightlife world, Miami club owner of LIV, Dave Grutman, has been spotted wearing a lot of them recently.
To contribute to the "As I AM: The Life & Time$ of DJ AM" Indiegogo, you can visit: http://igg.me/at/djamdoc
We just added new tees and check back regularly!