Collections
Meet the World's Top Collector of Vintage Showco T-Shirts
Showco shirts. We've all seen these legendary tops that were a staple at any given rock concert in the 70s. Their gritty quality and blue-collar wearers helped amplify bands worldwide. All the road warriors proudly wore these shirts and occasionally you would see a band member wearing one as well.  But where did they come from? Who made them? Why in the world are they so expensive collectible?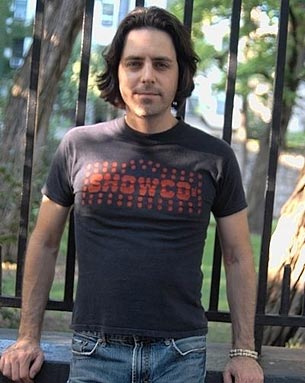 Meet Jason Sprinzen. He's a native New Yorker, Led Zeppelin junkie, guitar playing music lover. Oh yeah, he also owns the world's largest and most comprehensive collection of Showco shirts. His knowledge and dedication to preserving these illustrious shirts are unparalleled.
Tell us about you, your music tees, and your interest in collecting.
I'm the author of a book yet to be released documenting the history of Showco 1965-1981, the legendary concert sound and lighting company from Dallas, Texas.  I also play guitar in two bands, the first is CABB; an all-original outfit with an amazing actress fronting the group, and the second is Electric Magic, my Led Zeppelin tribute band.
I also have a deep interest in vintage clothing.  Rock n' roll swag and Vietnam War-era military uniforms are where it's at for me. As far back as I can remember I always wanted to dress like the rock stars whose posters hung on the wall of my room. There was a photo and poster that for years when I was a kid always grabbed my attention: A shot of Led Zeppelin's mighty drummer John Bonham aboard their private jet Caesar's Chariot in 1977, a converted Boeing 720.  "A fookin' flyin' shag carpeted gin palace", according to one Led Zeppelin inner circle member I interviewed.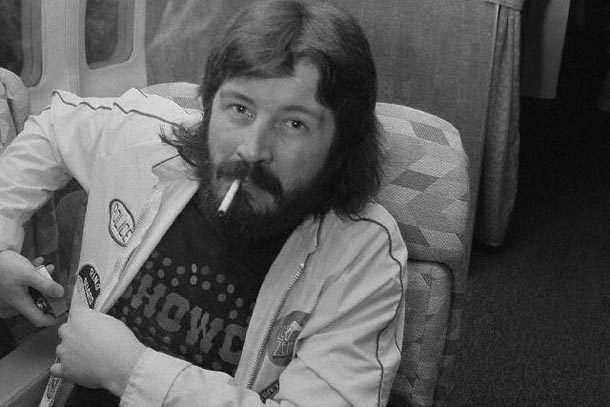 The other was a sepia poster of Lynyrd Skynyrd. You know the one…Ronnie Van Zant, southern rock's "Simple man" seated directly in front. Looking confident, focused and in control, he was flanked by his confederate band of bad-assed, hell-raising, bar-brawling rabble-rousers. I came to realize over time that Bonzo and Ronnie were resplendently wearing the same shirt with SHOWCO emblazoned proudly across their chests.
What's Showco??? Was it a club? A bar? A gang? I needed to find this out. It wasn't until years later that I discovered Showco from Dallas, Texas was the premier sound, lighting, and full rock n' roll production company that started the concert touring industry. So yes, I was right. They were a gang. A gang of engineers, roadies, truck drivers, logistics staff, shop technicians, and visionaries that had a lot of swagger. That's how it started for me.
Give us a history lesson on Showco rock t-shirts and let us know what sparked your interest in them.

The shirts were made by an enigma known only as "Denton" Tom. It would have been a great honor to have met the man that created this iconic piece of ephemera, but sadly he passed away. I'm sure he would be amused. He owned a small custom tee shirt shop called Denton Monogram in Denton, Texas.
"Denton" Tom had a nice relationship with Showco from the beginning. The tour would get organized and an order would be placed for the crew and band. Most of the time the band would choose the color scheme and artwork design. I've heard stories from crew members that a few bands got into major arguments over the shirt design more often than their actual stage, sound, and lighting rig setup.
I've interviewed a few musicians for the book that toured with Showco. I asked, "So why did you guys go with Showco over another production company?"Often the reply was," they had the coolest shirt." So I guess if a shirt can cause a band breakup or tour postponement, it's got to be interesting.
How many t-shirts do you own, and how did you obtain most of them?
Currently, I'm the caretaker of 126 Showco shirts, and I  hope it grows more.  I don't like to think I own them.  I didn't put my time in on the road and the blood, sweat, and tears it takes to earn and own it.  These folks are my heroes, and with that comes a deep respect and harmony to tell their story as these shirts do just that.
For example; by the mid-'70s Showco was growing so fast that most of the time they didn't document the tours they produced.  Everything was handwritten, typed, and firmed up with a handshake. Once talking (while) with crew members I came to find that tours they often worked get mixed together, some forgotten entirely.  That must have been a heavy time, man!  These shirts prove that the tour took place and Showco produced it.  The shirts were invaluable in my research once I started the book.  I couldn't have done it without them.
I AM the curator of the largest and most comprehensive collection of this sort in the world.  Period.  Acquiring them…I have sources…you've got to.  Honestly, at this point I have been searching for these shirts for so long that people think of me when they have one they would like to part with.  That's an honor, man.  They understand I would never resell these artifacts.  Their name and story will always be attached to them and all will be pictured in the book and credited to the individual.
I find it amazing that some of these shirts turn up,  from every corner of the world.  Actually, not long ago I found one right down the street from where I live.  A cool 1979 Bee Gee's.  I've never seen anything like it before.  Unique and sharp!  It turns out this gentleman worked for a small Brooklyn sound company in the late 70s.  They did a little side work with Showco when the big tours came to town.  An extra monitor, speaker, or power amp if needed.  At the end of the show, he got hooked up with the shirt, a warm can of TAB soda, and half an eaten sandwich that they scrounged up from a backstage dressing room.
The real honor for me is when members of the Showco family kindly donate their shirts to the cause.  These shirts are extremely dear to me as I know these people personally and know how hard they worked while wearing them.
What's the most you've sold (or bought) for a single tee and which one was it?
I've made a concerted effort to never sell any items which I acquire.  I mean they're hard enough to come by already right?  However, I have bought a few large collections and sometimes I end up with doubles.  I really scrutinize them to make sure there is no visible detail that stands out more so one over the other.  Otherwise, I keep 'em both.  A while back I did sell a double to a "vintage dealer" who was very passionate about this particular shirt.  He courted me for months.  "Jason man…it's for my private collection never to leave my closet."
You know the story.  Anyway, I negotiated a nice price, took care of him, and guess what?  It's online the next day with a ticket price of almost four times the original sale.  And that's fine; just be honest with your intentions.
I have sold a double here and there, but I always roll the money into something I don't have or want and that's a nice treat.  When a super rare item comes up, look out man!  I go strong.  I will not be outbid or undersold.   A lot of heart goes into this, right?  I'm sure we all feel as passionate about the things we love and admire.
As a rule, I try to keep my business dealings private, but sometimes this is unavoidable.  The first is a Led Zeppelin 1973 tour Showco shirt.  I purchased it at Christie's in New York for their Rock and Pop Memorabilia Auction in 2007.  This shirt was pictured all over the world to promote the sale in every music and fashion magazine.  Tons of national and international news papers (fact….I purchased every one of them).  Oh, it was on tv too…Good Morning America did a spot on it.
This was a first for Christie's in their history.  They finally acknowledged a vintage rock tee shirt as an important piece of rock and pop ephemera. Congratulations vintage collectors!
The shirt was even selected as the cover shot for the auction catalog (fact…I purchased twenty of them…(laughing) I'm fucking crazy).  You must realize there were hundreds of items going on the auction block that day that were quite rare…heavy John Lennon, Elvis, and Jimi Hendrix's personal items, but this tiny maroon shirt with simple, undeniable logos worn at one time by a hard working roadie- made the grade.  Fuck yeah, right?  I invite everyone to do some research on this shirt so you can see what I mean.
Lately, everyone has been talking about that Zeppelin 1979 Knebworth shirt that went for $10,000.  Yeah…awesome…yeah, but I believe this one has a bit more flamboyancy as it caused a fashion movement, lots of excitement, press, and more than ten thousand smiles.
Oh…the closing price $1,625.00 and worth every penny.
Tell us about the Ronnie Van Zant Showco shirt.
So you'd like to hear about Ronnie's Showco shirt? I purchased it a few years back from Mr. Joe Barnes who was the second roadie hired in 1973 to work for the Lynyrd Skynyrd band. This was Ronnie's favorite shirt. If you do a search you will see him wearing it on and off stage more than any other shirt he owned.
While on tour in 1976 the band had a rare day off. Dean Kilpatrick (Skynyrd's late road manager) was sorting the band's laundry in his room while Ronnie was propped up on the bed watching a football game. Dean was folding Ronnie's shirt and Joe, who was also in the room, commented, "hey! I never got one of those Showco shirts." Dean said, "hey man…this is Ronnie's shirt". Ronnie heard that, looked over, and said, "just give Joe the shirt." Dean protested, but Ronnie's generosity was unwavering. He would have kicked Dean's ass if he made him miss one more minute of the game talking about a shirt. Wow…heavy…he really was that type of guy that would actually give you the shirt off his back.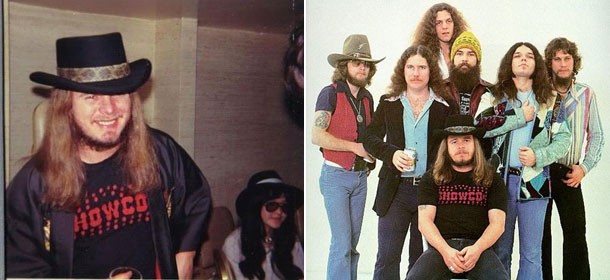 It's wild because after that transaction you'll never see Ronnie pictured in that shirt again (I know…I've searched high and low). There's more to the story, but I'd like to save it for the book.
It's been under my care since 2009. I've touched it only a few times. I'll never wash it or try it on (even though it looks like it just might fit me) out of respect for the man and his music. There's no tag. Probably ripped out by Ronnie when he first got it. It's got some holes and rips and the color has faded. That's to be expected from a grueling '70s rock tour. He had a huge presence on stage but by no means a tall man in stature.
Examining the shirt you can see how it perfectly fits his frame. It still smells of a hard-working frontman. I've made a personal decision that I would like to donate this iconic item. Perhaps Freebird Live in Jacksonville Beach, Florida if they would have it. I also thought of the Rock n' Roll Hall of Fame in Cleveland, Ohio.
It needs to be shared with the fans and not stashed away in a dark safe place like a drawer. In my opinion, this shirt is the most recognized visual in southern rock. If someone out there has got a solid plan they would like to present to me to make it happen- please get in touch. Note it's not for sale. It never will be. My offer stands.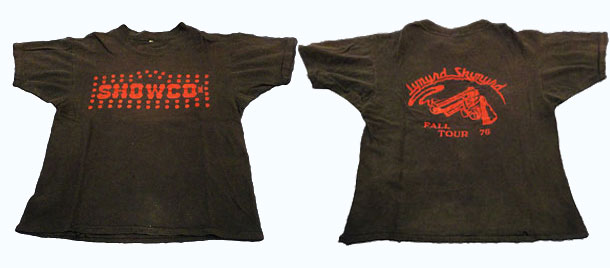 If one of your tees could talk, which one would tell the best story?  Do any have famous band DNA on them, ones that have survived altercations or crazy nights out?

I must say that 95% of my collection has intriguing or interesting stories attached to them.  You must realize that these shirts were there every night.  They were there for every show and witnessed everything.  No one was closer to the musicians than the Showco crew.  I have to say that it was tough extracting some stories from the alumni for the book. Their level of professionalism, loyalty, and standing as wallflowers about what was seen on tour still ring true today.
These folks truly love the music and have the utmost respect for the musicians and their craft. I do have shirts that were owned by band members, but I'd like to save some surprises for the book.  Your DNA question is cool so I'll answer that.  I do have a shirt with rock star DNA on it.  Its blood.  Blood from Jimmy McCulloch, the late Gibson SG-slinging guitarist for Wings.
Legend has it, Sir Paul McCartney, while on the 1976 Wings Over America Tour, caught the naughty guitarist in a backstage dressing room hoovering a line of tour no-no. Paul punched him square in the face.  Bloody and powder-covered Jimmy should have expected that this might be coming, if busted, from the man who penned the song "Listen to What the Man Said."
What are your thoughts on the recent value of vintage rock tees on eBay? How have the prices changed over your time collecting? Do you see this as a good thing or a bad thing?
(At the time of this post, there are two Showco shirts on eBay that are at least $3k while the others range from $200-$1k. A lot of 7 just sold for $1,500.)
Oy vey!  My mom said that if you've got nothing nice to say, then don't say it at all.  I started the trend in Showco.  No one knew.  I was under everyone's radar for years and years. You never saw one because I made off like a thief in the middle of the night.  I created the mystique for better or worse and now it stands to haunt me.
Check out eBay.  There are a few up there.  I own every one of them but look at the prices… astronomical.  I will say this- for quite some time eBay and a few local shops here in NYC are ripe with the inflating price of vintage.  All these cats want to do is show off their wares between each other, and put a super high price tag on it- with no real intention to sell.  They're just pulling down their zippers.
Well, you know what…you are all doing the wrong thing here and you will screw yourself eventually.  You're all denying a kid of 14 a cool vintage shirt from his favorite band and that's your growing market.  Not the 46-year-old with a little money in the bank, (that's even drying up this country's hurting) who wants to relive his Ronnie James Dio devil symbol, finger-banging glory days.  The poor teenagers' option now…they've gotta get a not-so-cool repro from the mall.  You should cater to the young girl that wants her vintage 70's Black Sabbath tour shirt and not have it be several hundred dollars.
I'm happy to have moved on from you cats and not depend on your sourcing.  Mob Rules…even though you've assumed you're on top of vintage mountain; you can't be buried with it.  I might not be making friends here and that's ok.  However, someone's got to say it because we're all thinking it.
If you had to choose only one t-shirt out of the ones you own, what would it be and why? Is it the same t-shirt you would be buried in?
Hmmm…I like this question. I feel like that portly kid in the movie Stand by Me. "If you could only choose one food to eat for your whole life, what would that be?" "That's easy…Pez.. cherry-flavored Pez." I would choose my black and orange 1977 Led Zeppelin Showco shirt.
If you would like a visual, it's on page 60 of the Vintage Rock T-Shirt book by Mr. Johan Kugelberg. It fucking rules! Actually, many of those shirts pictured in the book reside in my collection.
Why would it be the Zeppelin Showco? 1977 man…that's when Zeppelin and Showco hit their stride and most grandeur. I'm smiling just thinking about it. It must have been an exhilarating time. And yes, I have already made arrangements to be wearing it during my traditional Viking funeral.
Why are the t-shirts from the 70s so small? Have we grown as a species, or was everyone on drugs back then?
I believe we have grown as a species. Fast food nation kids. With internet porn, online banking, and Domino's pizza delivery (with their stuffed, cheesy crust, meat lovers pie, and a liter of Mountain Dew), there isn't any reason to leave the crib-EVER.
The '70s were all about "the form fit". "I say hey sky…I sho' am digging that polyester look…turn yourself in baby!" "I pray to J every day that you be wearin' that same ol' same ol'." And YES- everyone was on drugs.
What t-shirt/s do you think is the rarest in the world?
That's a loaded question subject to conjecture! I won't promote myself here or anyone else out there, even though I DO have the rarest shirt in the world (laughing). I like to think it's the shirt we all have not seen yet. The one that's gonna surprise us so we say, "Oh man! I didn't know they made that!" "Honey…come here, no really come here, you gotta see this shirt!" That's what keeps us all going, isn't it?
What era do you consider the golden age of rock t-shirts, and do you have any interest in rock tees of the 80s/90s?
They made rock n' roll tee shirts in the '80s and '90s? I didn't know that! Seriously- my cut-off point is 1981 for anything. Anything after that is jive. I'm not talking about the artist- it's the shirt itself. Over-sized, big, beefy, heavy-weight cotton that makes you look like a frumpy 15-year-old at a sleepover party. Oh and don't remind me about the thick ink artwork too! WTF? The golden age for me is the seventies, bro. The manufacturers hit their stride and got it right.
Do you wear your shirts often, or save them for special events? 
I do wear them with tremendous pride.  I have a few that fit me well and are really cool.  I've conditioned everyone so I know that when I walk into a room with a Showco the first thing they say is for me to turn around so they can see the artist's artwork on the back.
"Oh cool, Jason!" " It's an Osmonds from 1978!" "You're a little bit country and a little bit rock n' roll!" I feel different when I put one on. It feels great. They're so comfortable, striking to look at, and a good conversation starter too. I could see why the road crew wore em' till they disintegrated off their backs and why the bands that Showco produced fought for extras themselves.
We're wrapping up our series of Showco interviews with Jason Sprinzen. His passion for the legend of Showco and for vintage swag, in general, is inspiring to collectors of all levels. Where else can you see 20+ Showco shirts in one picture or hear legendary stories from the road?
Major thanks to Jason for his cooperation and we look forward to reading his book for more stories about the heyday of rock 'n' roll.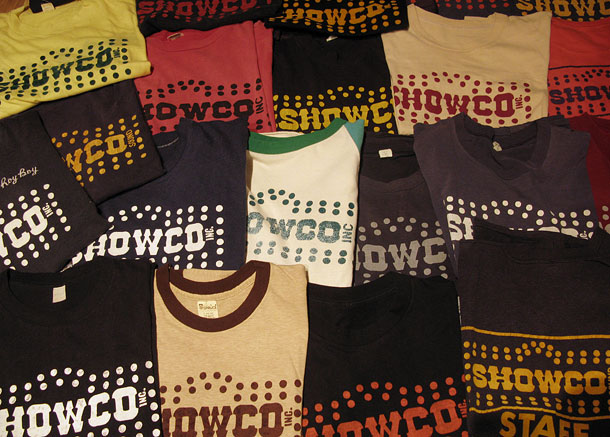 Showco Shirts photo by Avi Bonime.
What's the one tee you've never been able to get your hands on?
If I have my thoughts or lust set on anything, I usually get it.  I'm that passionate about vintage. I go to every extreme and never fuck around once my mind is focused. I've refined my collection so that now I'm not all over the board. Sure, I'll see a great Zep, Leon Russell, or Carpenters shirt here and there. I tend to drive myself crazy, but my sensibility always wins at the end of the day.
Ok, I'll put this out there and whoever helps me will be hooked up in a MAJOR way. I've been on a mission to find the elusive 1978 Alice Cooper tour Showco shirt. It's black and pink with a very cool motif on the back. I need it for the book! I want it! I must have it!  HELP!
Tell us about the one that got away.
Man…It was a 1980 Led Zeppelin tour jersey…black with white 3/4 sleeves printed front and back with cool Zeppelin motifs, searchlights, the four symbols, the whole deal….just beautiful…and it was stamped "canceled".  I guess they made these shirts in preparation for the tour and sadly Bonzo passed away.  They had to sell 'em somehow right?
If I can recall I purchased mine in 1983-84 at the old and now gone Long Island Commack arena turned flea market in the early 80s. Legend has it that Blue Oyster Cult, Zebra, Leo "you make me feel like dancing" Sayer, and Lynyrd Skynyrd played there in the '70s. The old dressing rooms were still there inside. It was possible to sneak away from mom while she was shopping for hair clips, gaudy 14K gold jewelry, and crock pots. Then meet a sweet chicky and make out with 'em.  I always imagined I was a conquering rock star in town for one night and she was my road mama in those dusty and long-forgotten dressing rooms.
Anyway…I sold it in 1985. I was fifteen at the time. It went to my friend "Fat" Rob in the shady alleyway behind our local 7-11 for a turquoise blue Slurpee, a Reggie Jackson candy bar, two dollars worth of games for the Asteroids machine, and a nickel bag of Panama Red. Honestly…it looked and smelled like oregano, but "Fat" Rob insisted it was the real deal. His connection down the street Timmy "the Stain" (he earned that title because this kid was absolutely filthy) said that it was slid to him from a machete-wielding South American drug smuggler who was the Big Daddy-O. I always got excited, here I was 15 years old with these international drug connections.
To this day I still think "Fat" Rob got the better deal.
Do you lend/rent out tees to friends/film/TV/books?
When my Led Zeppelin tribute band Electric Magic (plug) books a show, my drummer Marty always asks me the same question. He knows how to win my heart with an ice-cold Miller High Life. It usually goes like this……
"Hey brother…listen man…oh here's your icy Miller." " Enjoy it! Cheers!" "Jason… we got a show booked I'd like to know if I could wear that '77 black and blue Led Zeppelin Showco on stage man?" " I really wanna channel Bonzo at this gig and blow everyone the fuck away!"  Shit…how can you say no to that?
I haven't been approached by anyone to rent my shirts for any type of media. I've always been a man of mystery with this caboodle. My dream is once the book is completed I'm going to begin work on a screenplay for a movie version of the story. I've already decided in my warped mind that all of the actors will wear original shirts from my collection to give the movie an authentic feel and period precision look. That point will not be negotiable in the contract. If there's someone out there who's real and believes that this is a great idea for a script, drop me a line because I've got the story. I firmly believe that this piece of history would make for a great film.
How do you care for your t-shirts? Stains? Seamstress?
The shirts are all folded neatly and put into boxes. It's the best I can do for the moment.  My place is not that big and I have limited space. I'd like to re-organize it better. My dream is to have them hanging up and grouped together by year or artist. In my current situation, it makes it difficult to find a particular shirt. If I want to review it for my research or put it on and feel its vibe to get inspiration while writing like I am now.
These were work shirts first and foremost and as I mentioned earlier- I'm just a caretaker.  I don't believe in altering them in any way.  If there are stains on em'- I leave it.  If there are rips, tears, and holes from a joint or cigarette burn that stays too.
There's a lot of history with these shirts and there's no way I'd Oxy wash out a mustard or relish stain from a roadie pilfered backstage sandwich at the L.A. Forum in 1977.  That could have been a piece of Jimmy Page's sandwich!  Actually, I don't think sweaty, wafer-thin Jimmy even ate once on that mammoth '77 tour while wearing that white silk, opium poppy, stage outfit.  Questionable?
My beautiful girlfriend Heather is the only one I trust if a shirt is in dire condition and needs some love to bring it back to its former glory. She's unbelievable with a needle and thread man. You'd never know. I had a very jacked-up 1979 Thin Lizzy Showco that was just falling apart. She came to the rescue, saved the day, and kept all of the original integrity. Amazing.  That shirt wound up being one of her favorites. It's tiny and fits her so well. When we're getting ready to go out and slide around town and she's got on her jeans, boots, and a Showco I just fall in love all over again.
What other stuff do you collect?
Everything I collect has got a place for it in the book. Backstage passes, swag by other sound and lighting companies, original tour itineraries, stage blueprints, ticket stubs, concert programs, drug paraphernalia, original microphones that were used onstage, and a whole lot more. I even own a Shure mic which was used by "the golden god" Robert Plant!  "You need coolin', baby I'm not foolin'!"
I've amassed hundreds of pieces of ephemera to complement the story. Anything Showco, tour, or period related. The book is going to be a beautiful visual as well as informative and entertaining.
Tell us more about your upcoming book, can we sneak a peek at some of it?
Thank you for asking me about the book. I've been working on it for over nine years.  It's a massive undertaking. Nothing like it before has ever been attempted.  Spanning the years of 1965 thru 1981 narrates the story of three long-haired cowboys from Dallas, Texas who created a multi-million dollar industry during one of the most heady times in our country's history.
Enter SHOWCO, the unheralded Dallas company that invented the technologies to transform a rock show into a religious experience. I have hundreds of hours of interviews and have never seen photos from the Showco family and the artists they produced to tell the story right.  So, you think you know rock history?  Do you know all the old chestnuts? Led Zep's mud shark story or Stevie Nicks having blown cocaine up her ass. Forget it man. This book is going to change all of that. Those stories mostly came from rock journalists assigned to a tour. They would write anything to sell that Creem magazine.
Now, for the first time, you'll get a backstage pass (without giving anyone head) to peek behind the curtain and really know what it was like to be on a rock tour in the age of guitar gods. It's a story of innovation, power, drugs, deceit, friendship, lawsuits, and rock n' roll.  There's even a mad scientist, warrior princess, fair maiden, and the best bands of the era thrown in.
I don't have a release date yet. It becomes difficult when you're funding the entire project yourself and for the most part, working independently. If someone would like to get involved and you're for real or know of a publishing house that might have interest, please drop me a line. I promise it will be the coolest project you have ever been involved with.  Right on!
Once again, my gratitude goes out to Defunkd for this interview.  It's always flattering to share your passion with others. And to my beautiful babe Heather for the "you're too smart for your own good" edit.
Jason Sprinzen
Showco 1965-1981

(L) Ian "Ignite" Knight- Showco Lighting Designer backstage 1977. Photo by Neil Preston.
(R) Paul Boren Showco Lighting 1978 Courtesy of the Paul Boren Collection.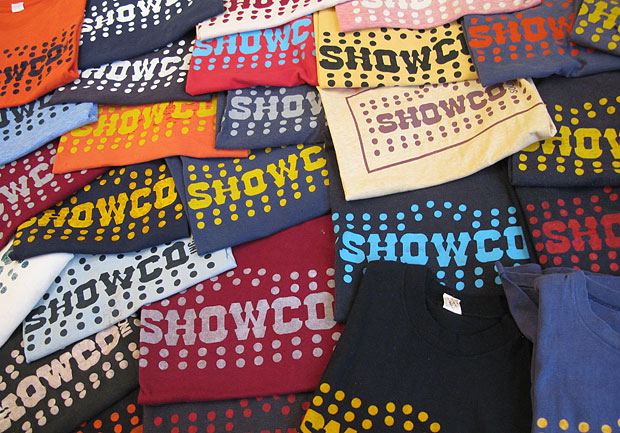 Jason Sprinzen photo courtesy of Jonathan Troll.