Collections
This Guy's Keith Haring T-Shirt Collection Is Frame-Worthy
My name is Sebastian. I live in London England and I own around 30 vintage KH vintage T-shirts. I collect other items as well, for example, posters from KH exhibitions or his art released by the KH foundation. I also have some other cool stuff KH used to sell in his shop called "Pop Shop". I started to collect vintage around 8 years ago, back in my small hometown, Żory in Poland (only around 60,000 people live there).
We used to dig for cool pieces every day, sometimes even skipping school to get more time. We would be digging and then go to breakdance straight after. The next day – same thing. Over and over again.
We would be in these second-hand stores so often, that one of them hired us to unload trucks full of new stock. They were not paying us much, but we could have a look at the stock before everyone else and that was a game changer! So I started selling a lot of clothes to vintage shops around Poland.
Eventually, I ended up moving to the UK (it was around 2016). I opened my store here called "Check It Vintage". To be honest, in the past, I was never able to collect vintage KH T-shirts because I
could not afford them – it was only after I opened my shop "Check it Vintage" in Brick Lane, London, and generated more income, I started to buy stuff I've always wanted.
I love pop art, I have some cool t-shirts from Andy Warhol and Jean Michael Basquiat as well. I've always been fascinated by pop art, especially by KH. Mainly because he was inspired by Rock Steady Crew and other BBoys, back in the 80s. I am a BBoy myself so that part was the most attractive to me.
I wear KH tees if they are in my size. But even if they're not, and I know I've found something cool and rare, I will still buy it! But then I choose to store them safely and only take a look at my treasures from time to time and admire them.
Vintage is all about expressing yourself.
My generation's attitude towards vintage is way different from the older generations. When I am speaking with my friends who own shops for way longer than I have, they see vintage in a completely different way. It is crazy to me, that for my 13-year-old sister, vintage is also going to be something new.
I'd say that vintage is a never-ending story and every generation understands it in a different way.

Vintage 1986 Phoenix Art Museum x Keith Haring T-Shirt
(One week of drawing workshops for kids with Keith Haring)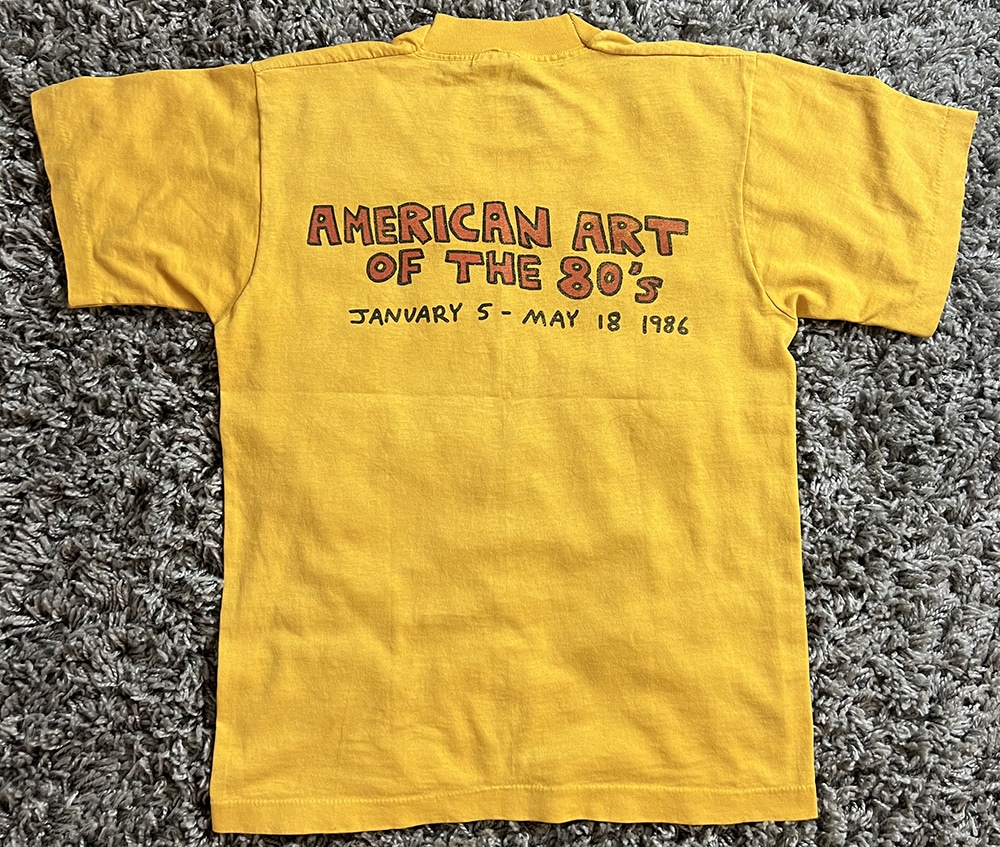 Vintage Keith Haring Annie Leibovitz Photo T-Shirt 1992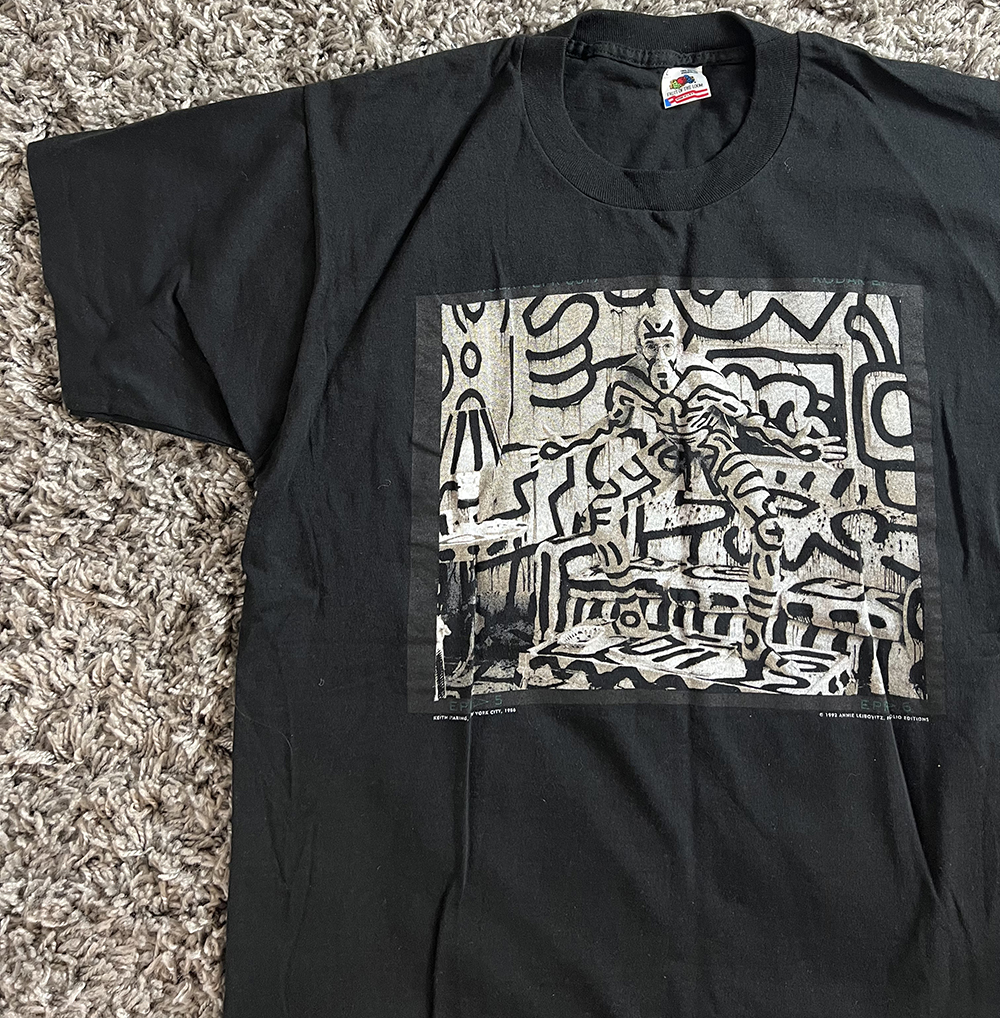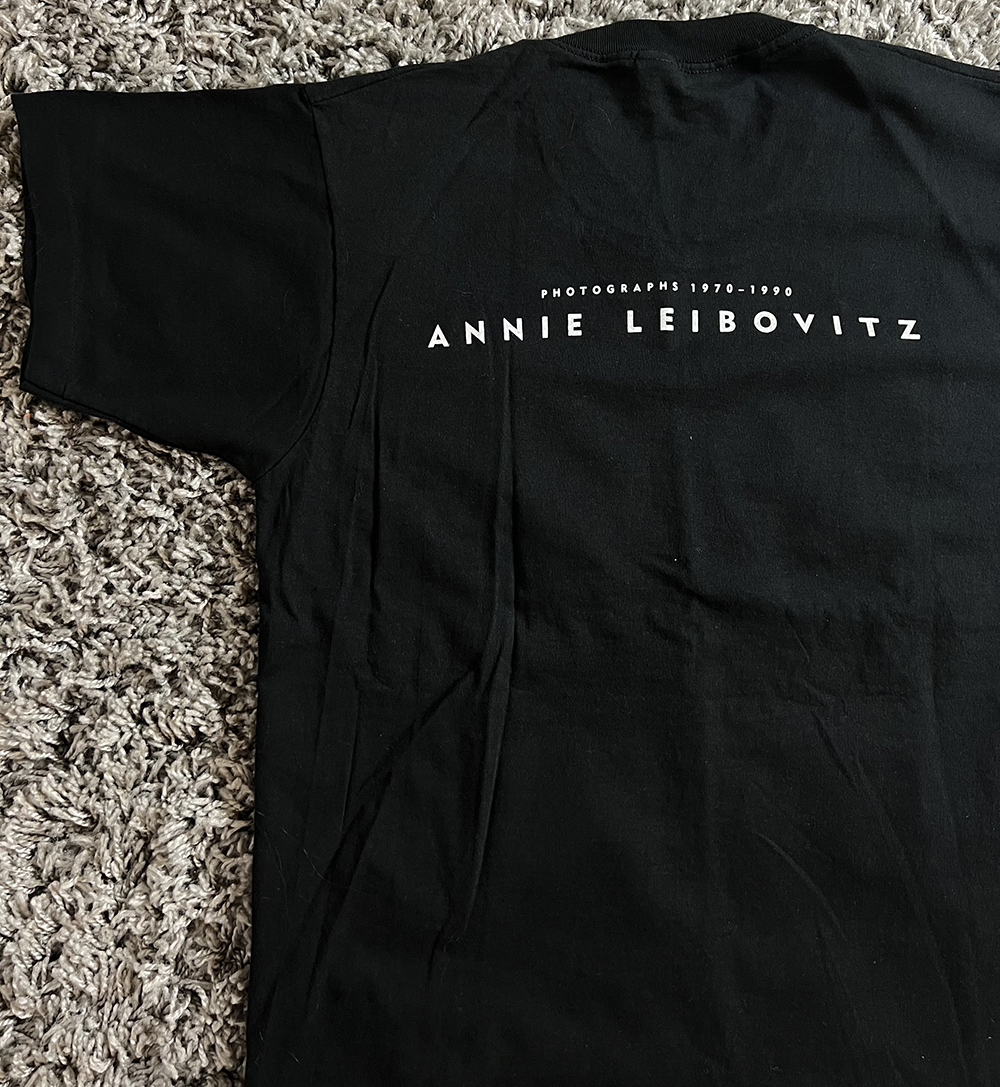 Vintage 1992 Keith Haring "Baby on shoulders" t-shirt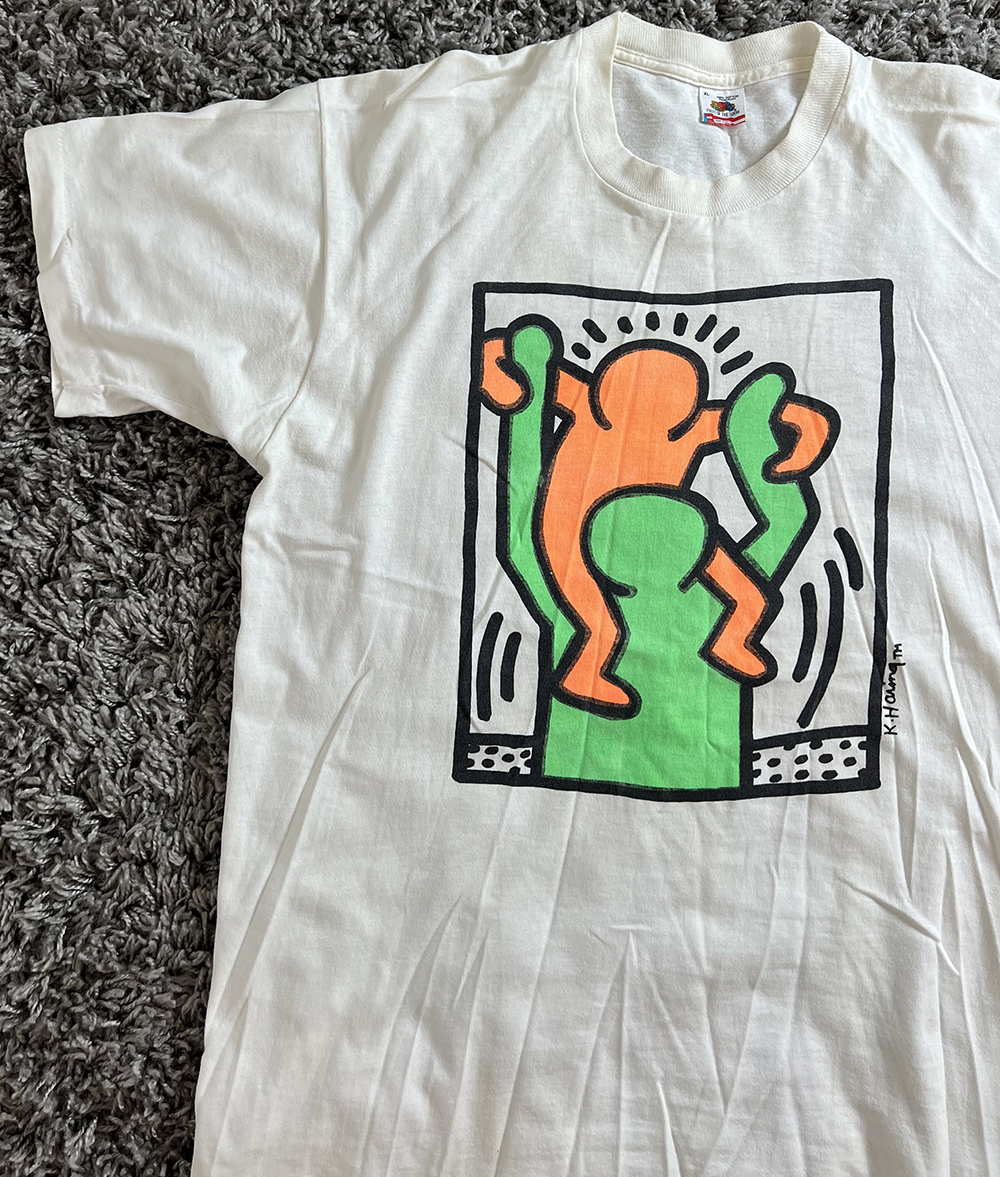 Vintage 1987 Keith Haring Pop Shop t-shirt
Front: "Radiant Baby"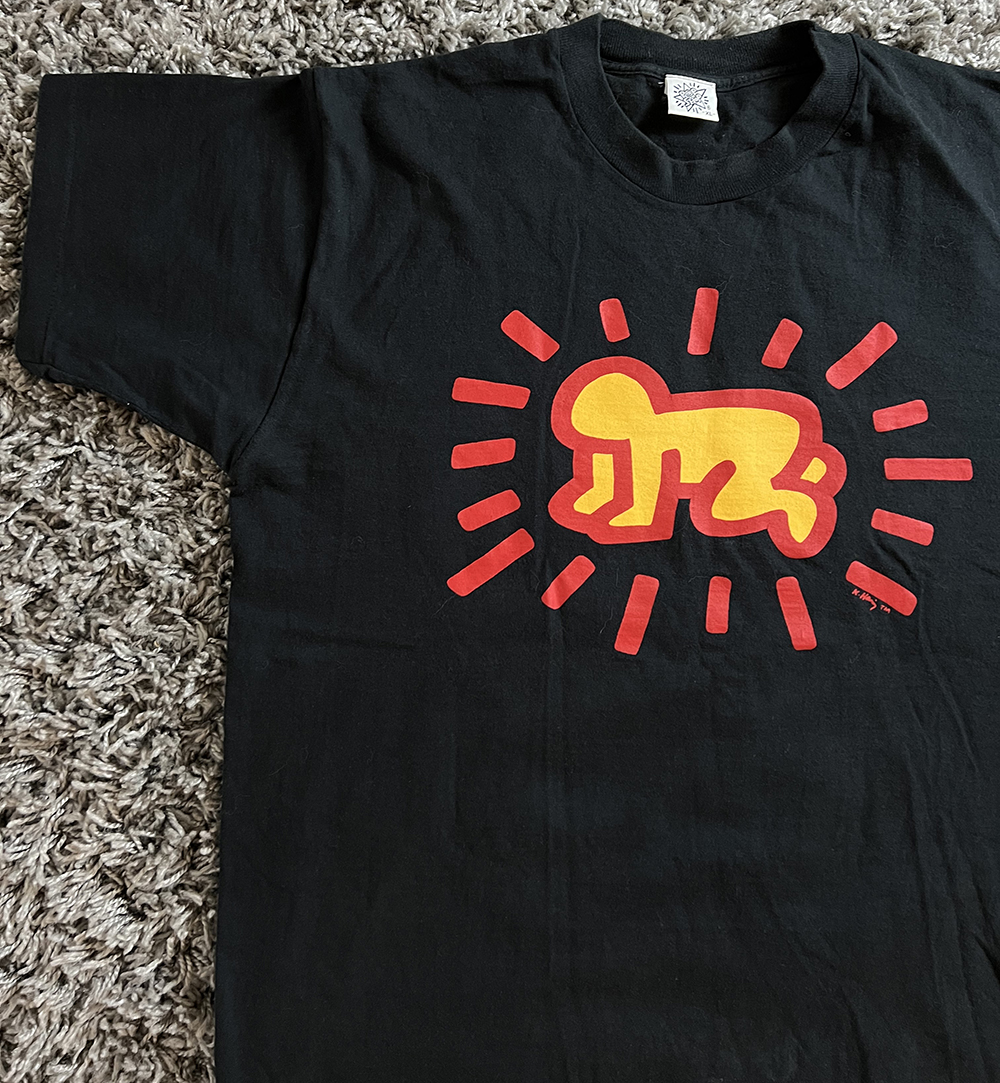 Back: "Barking Dog"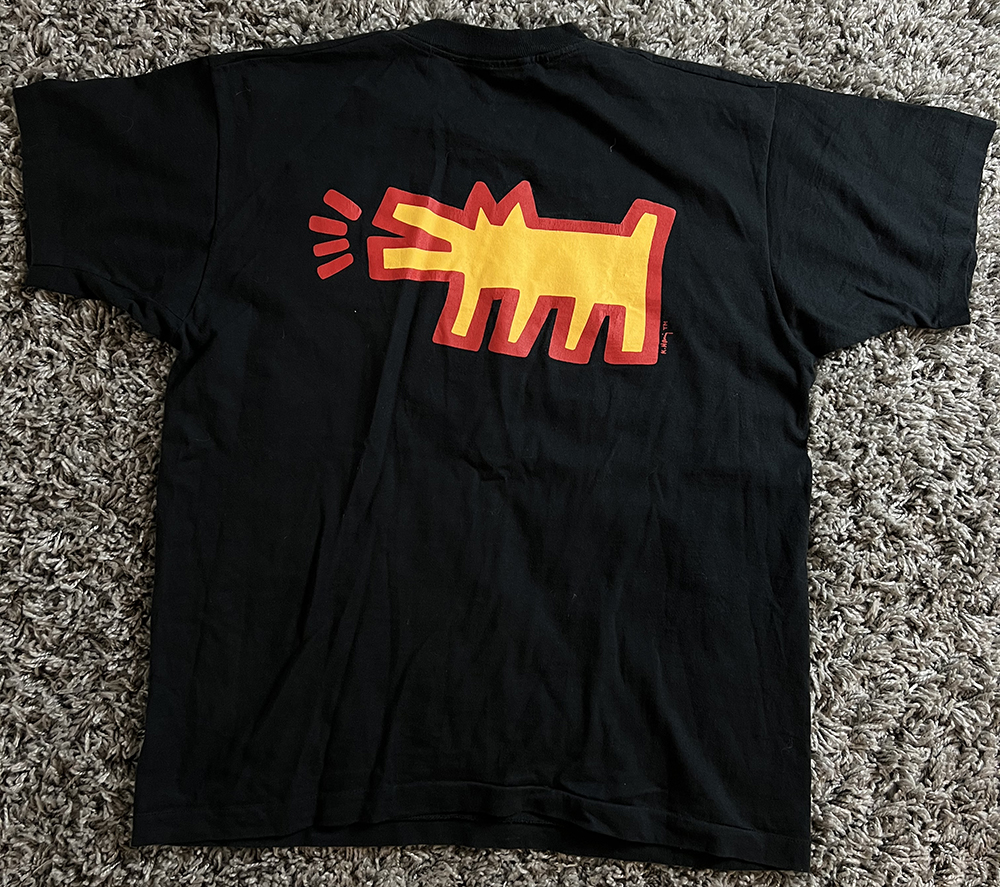 Vintage 1990s Keith Haring "Circle People" Kids T-Shirt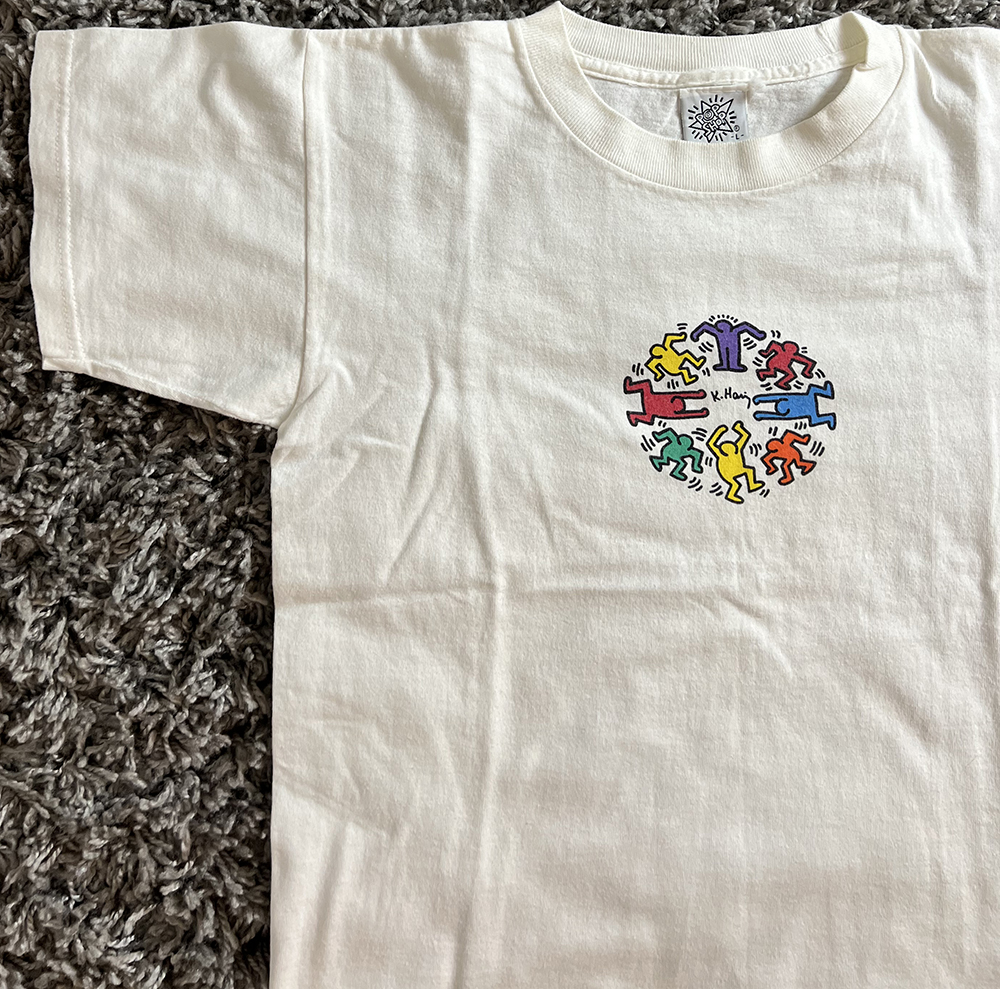 Vintage Keith Haring "City Cycles" 1985 Pop Shop ( Reflective) T-Shirt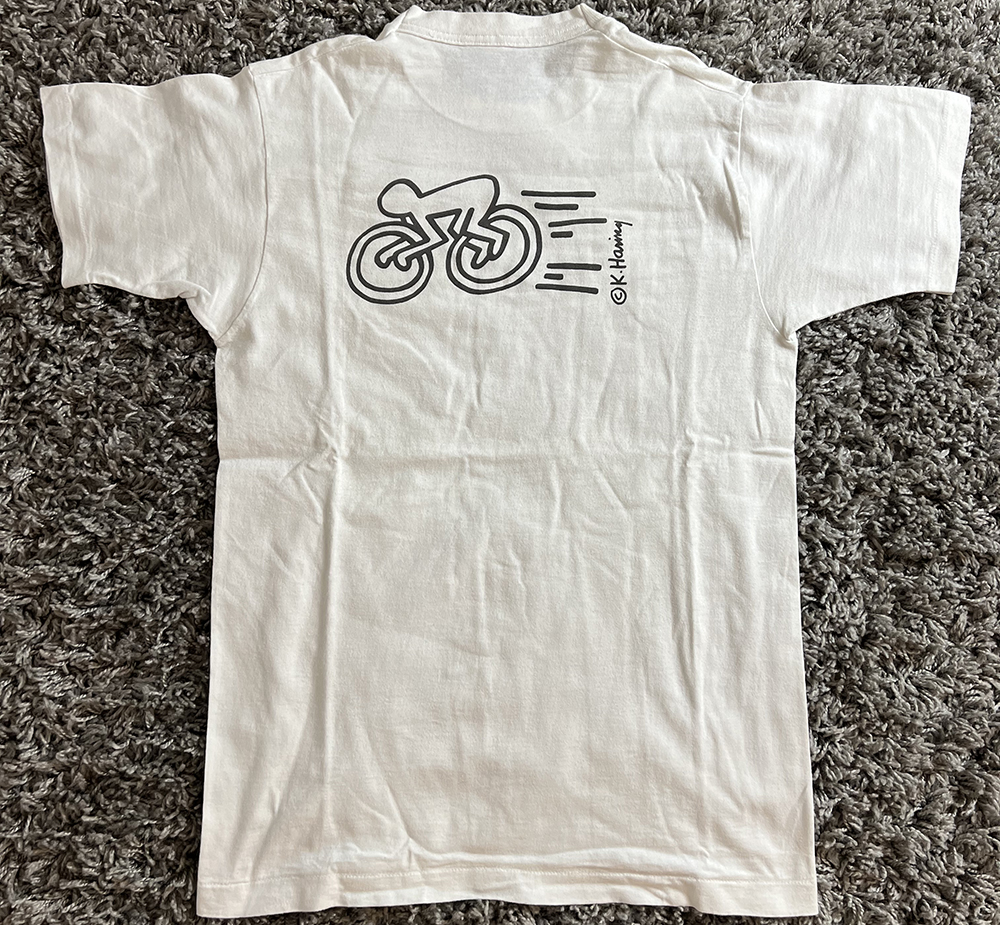 Vintage Keith Haring Early 90s Pop Shop "Barking Dog"  T-Shirt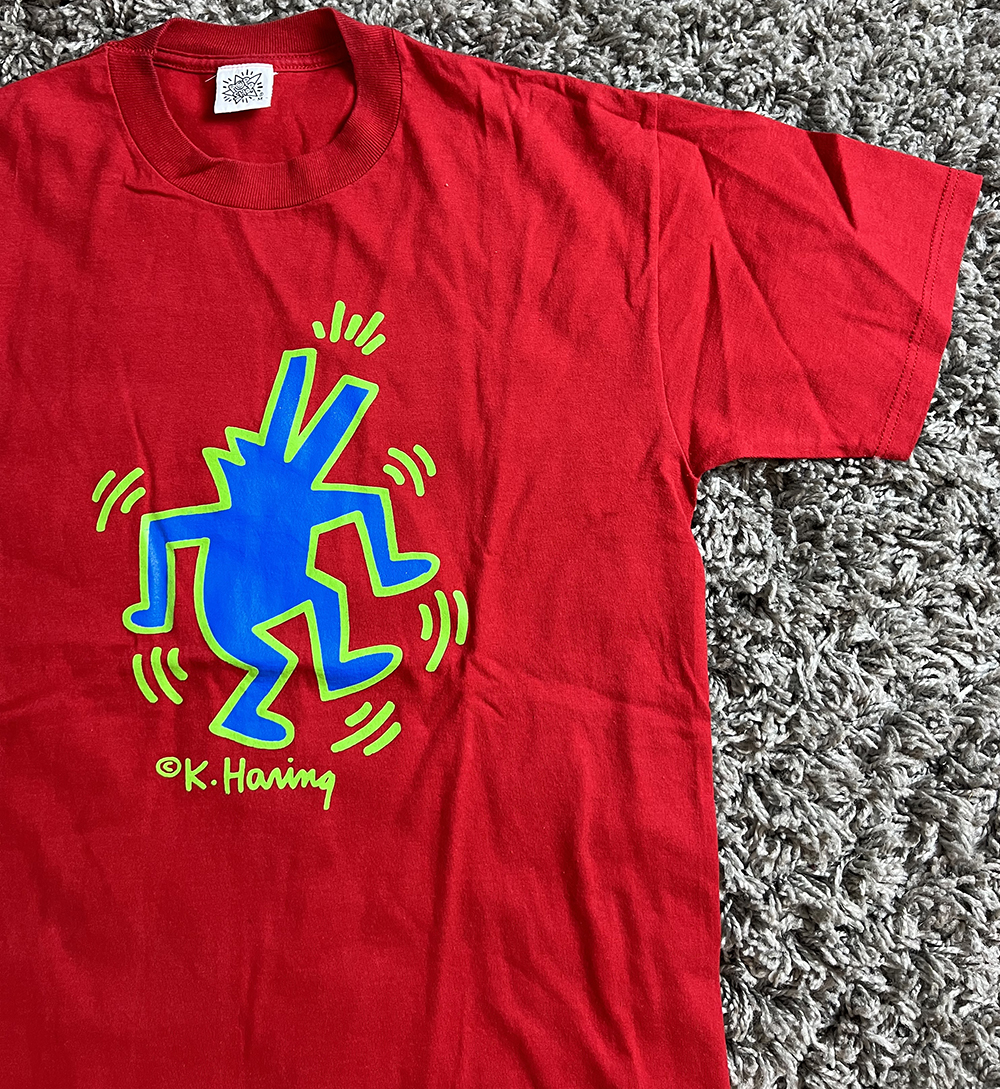 Vintage 1992 Keith Haring Pop Shop "USA Flag Tee"
The image was created as a flyer for the "American Music Festival – New York City Ballet (1988.)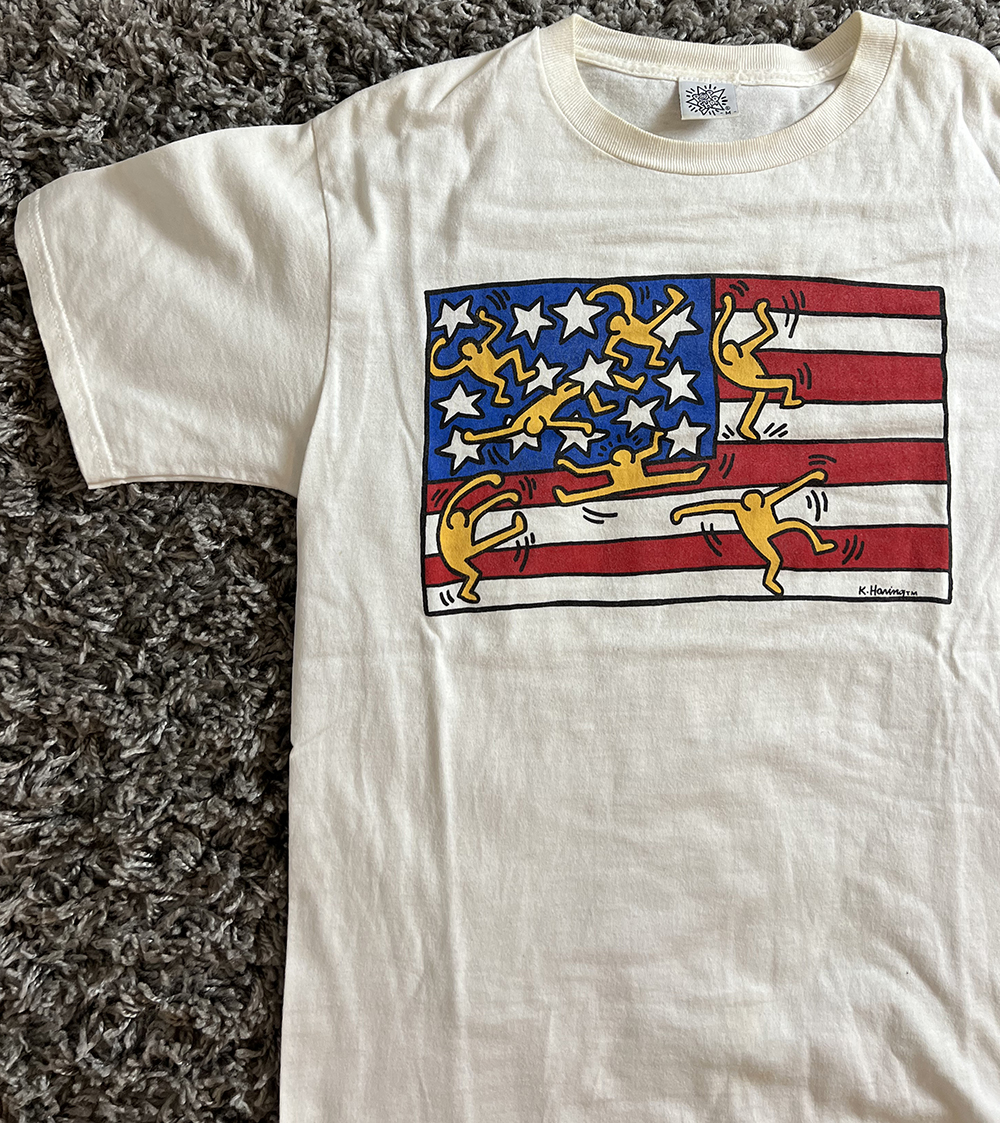 Vintage 1990s Keith Haring  "New York City Skateboards"  Pop Shop T-Shirt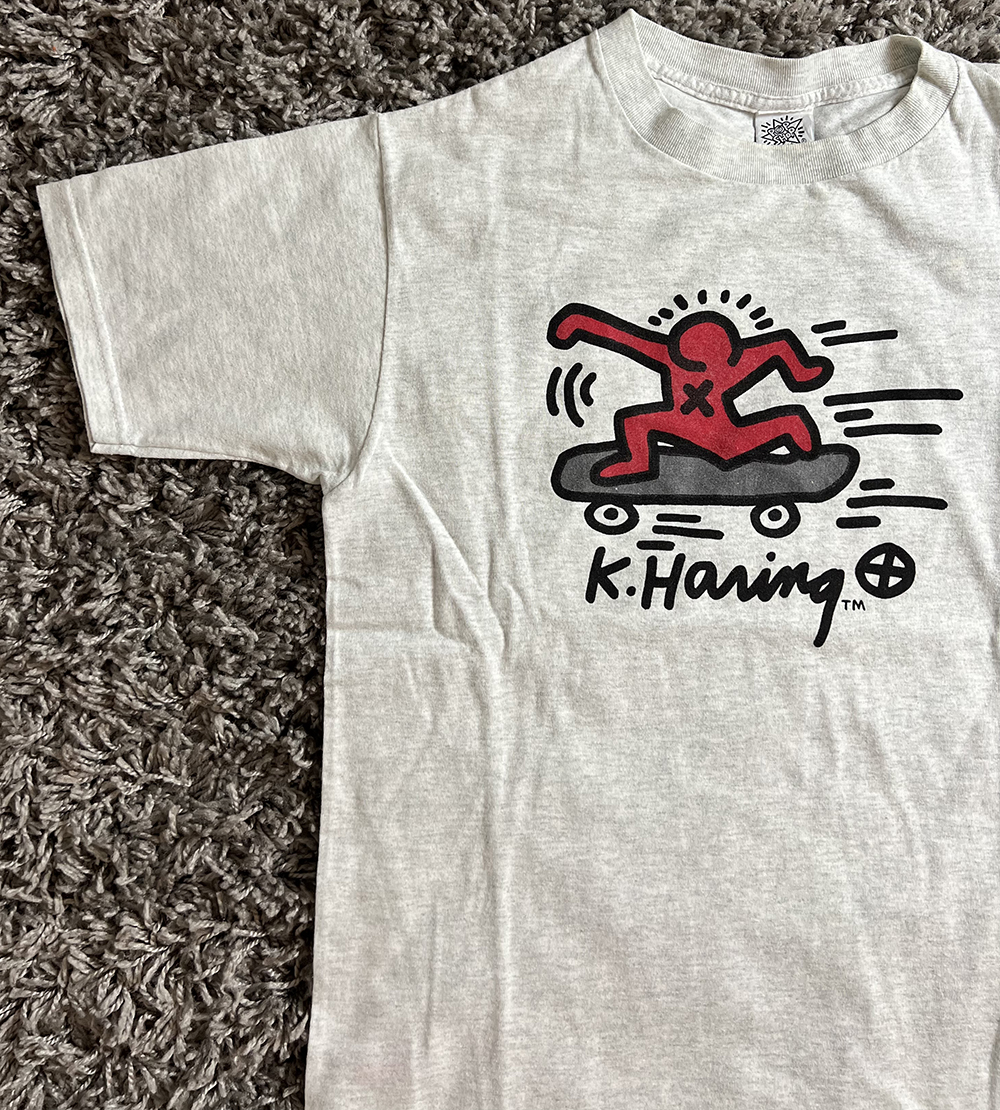 Vintage 1990s Keith Haring "Stacked People" Pop Shop T-Shirt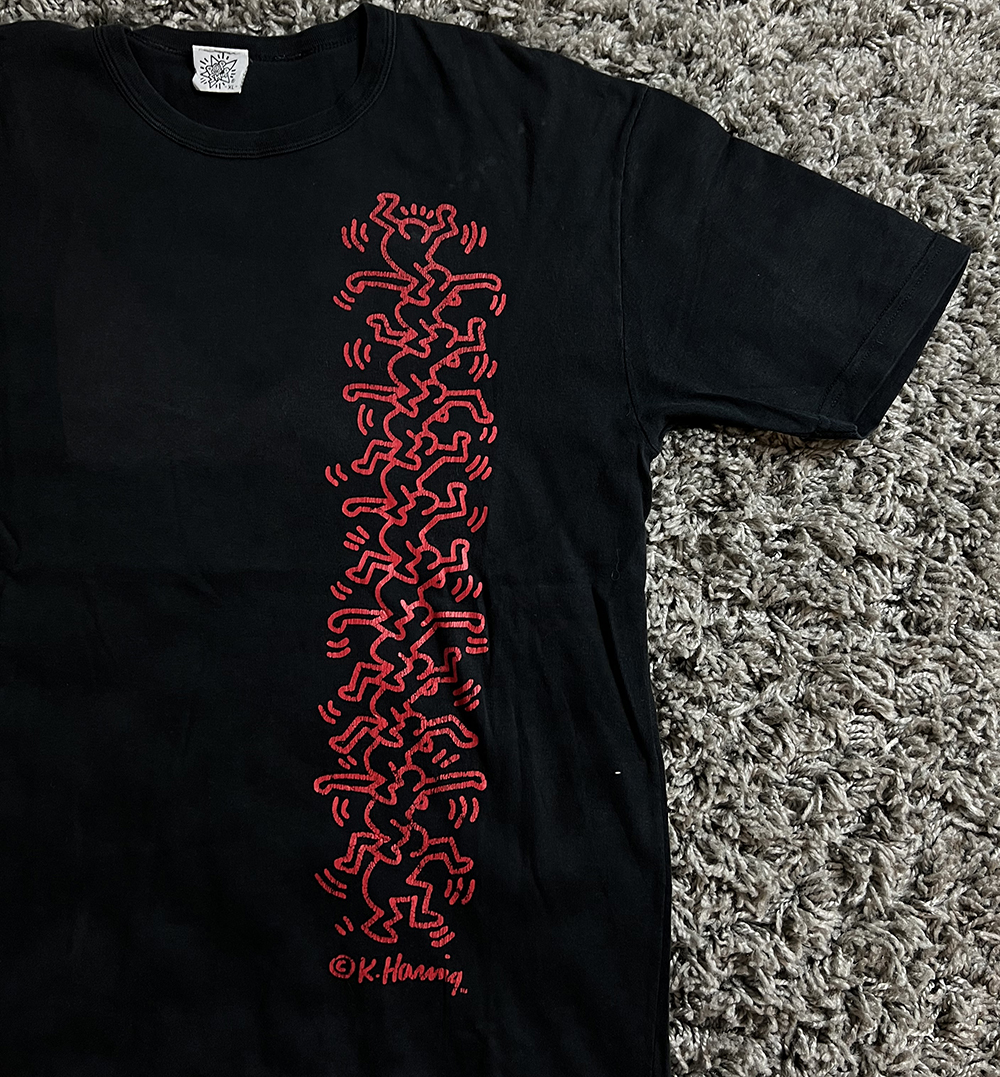 Vintage 1990s Keith Haring "2-People Holding Heart" Pop Shop T-Shirt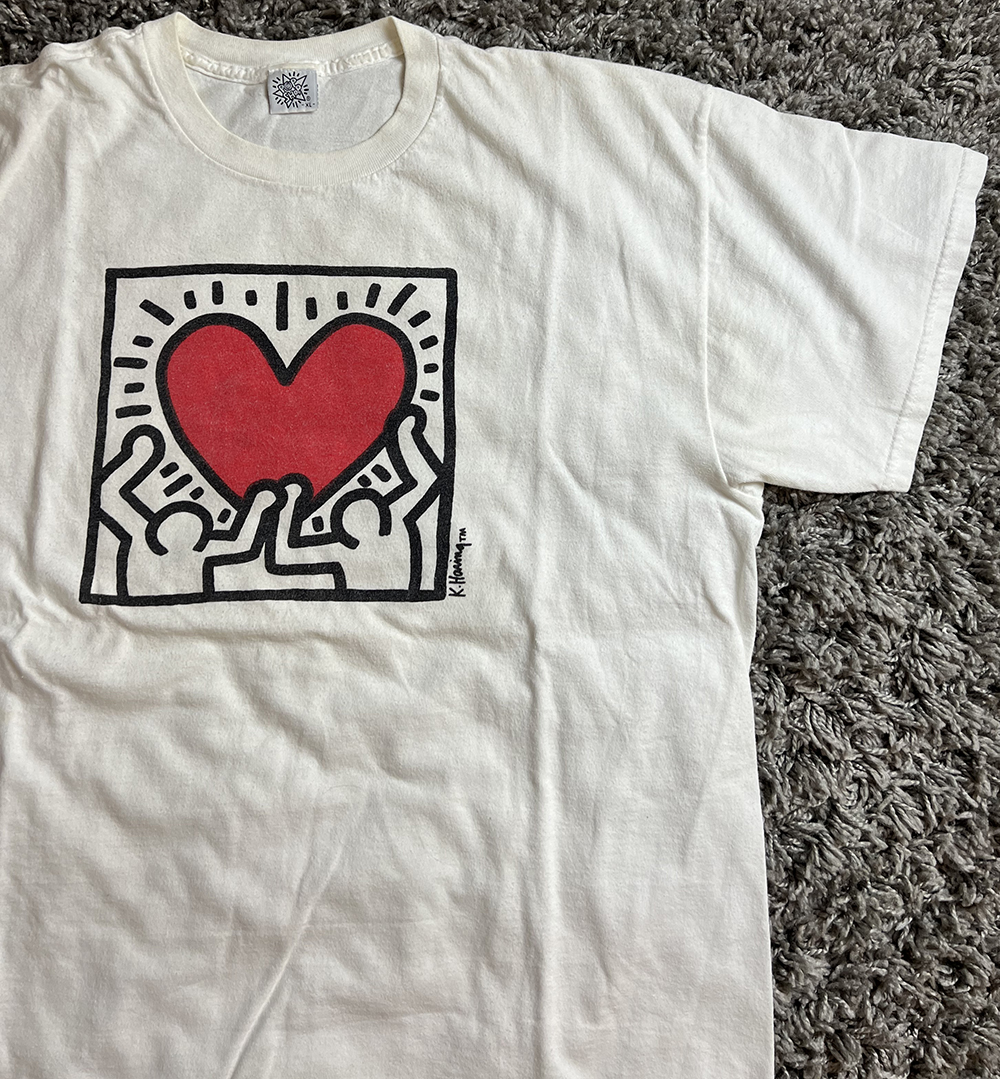 Vintage 1980s Keith Haring "Baby on shoulders"  Pop Shop T-Shirt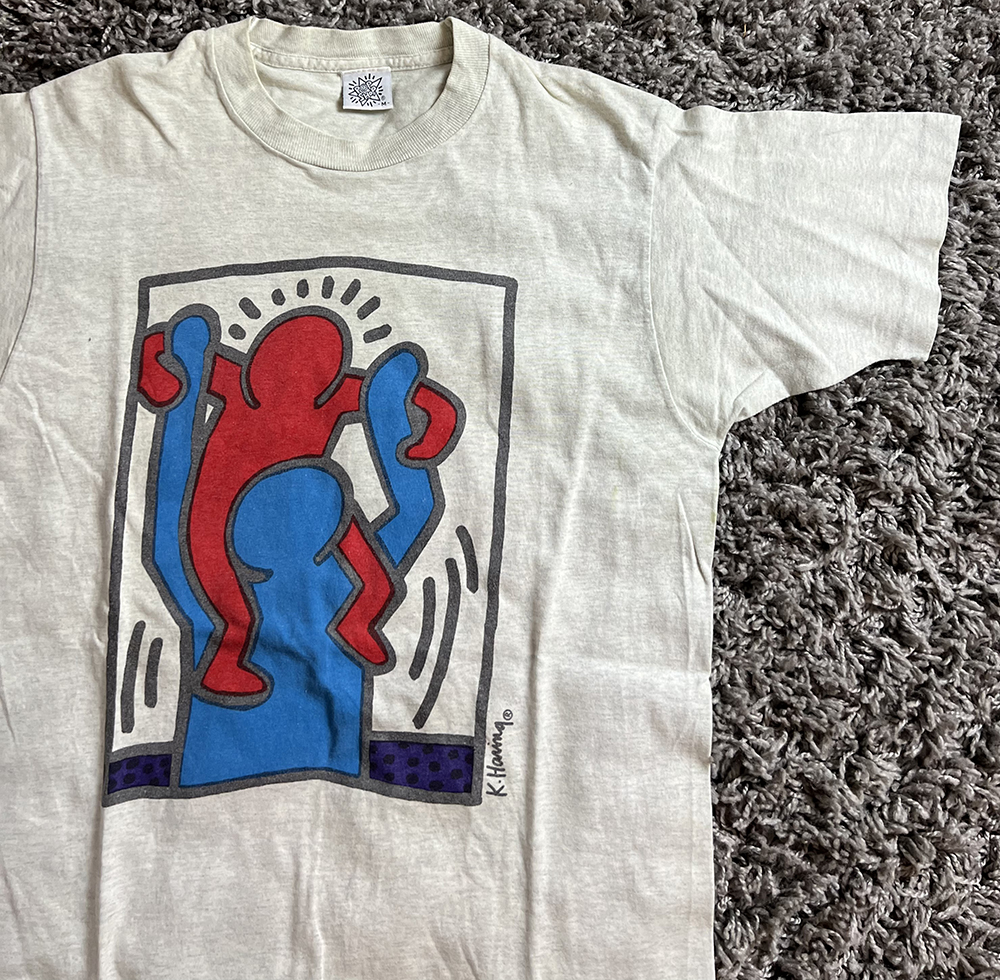 Vintage Keith Haring 1993 Act Against Aids AAA T-Shirt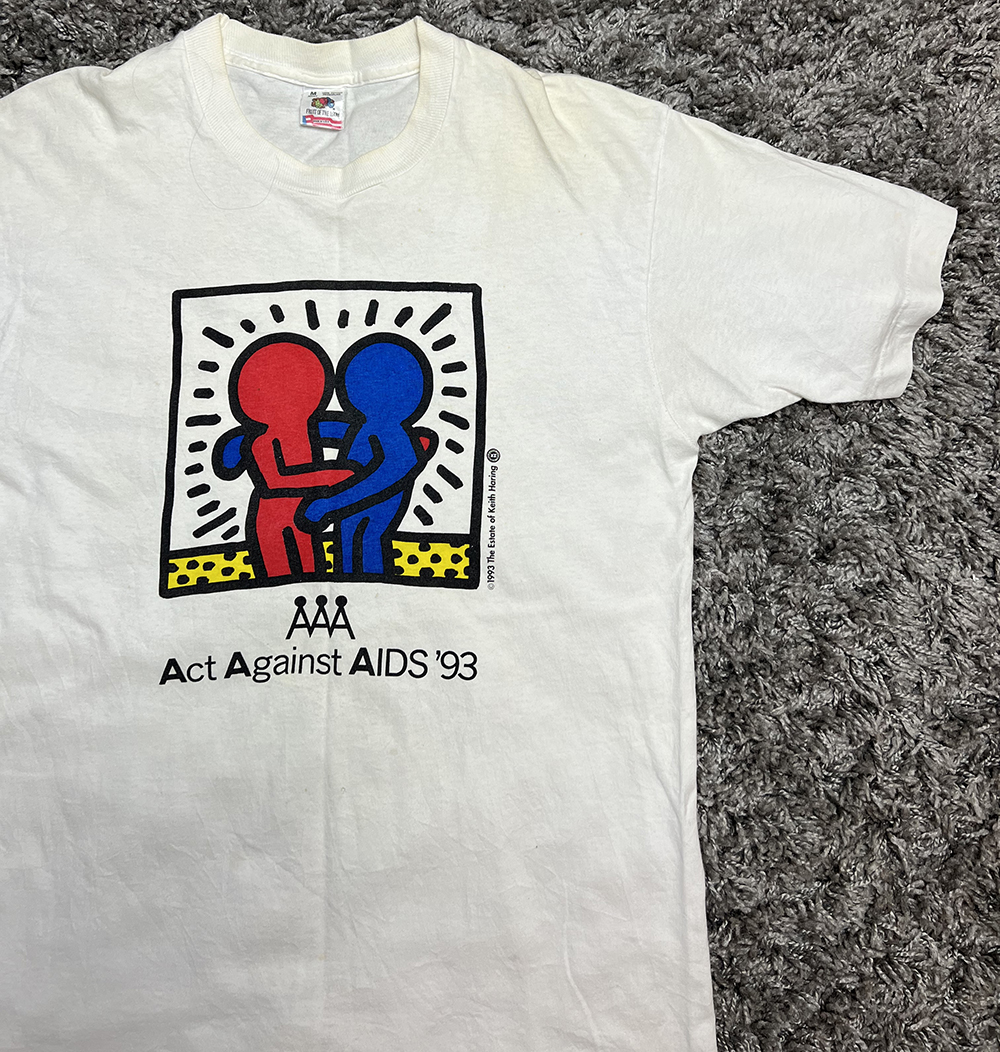 Vintage Keith Haring Fight Aids T-Shirt 1993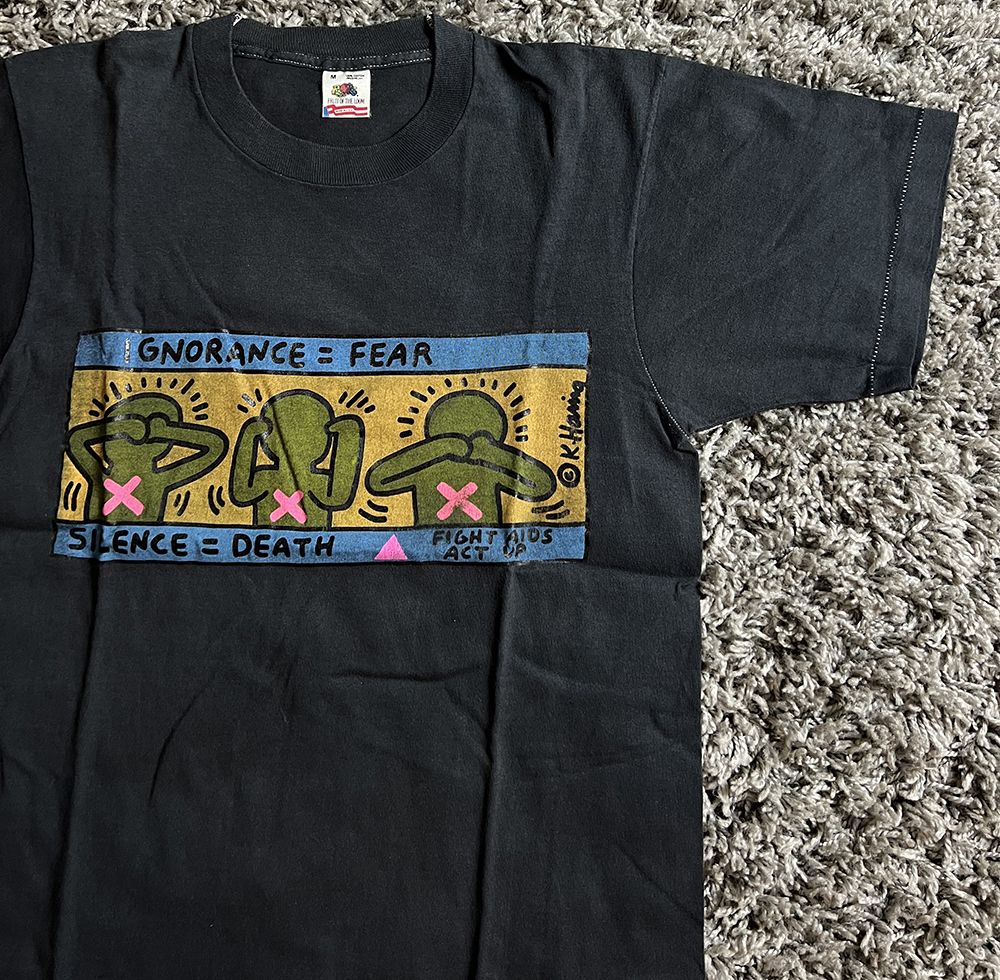 Vintage 1991 Keith Haring "Dolphin Rider" T-Shirt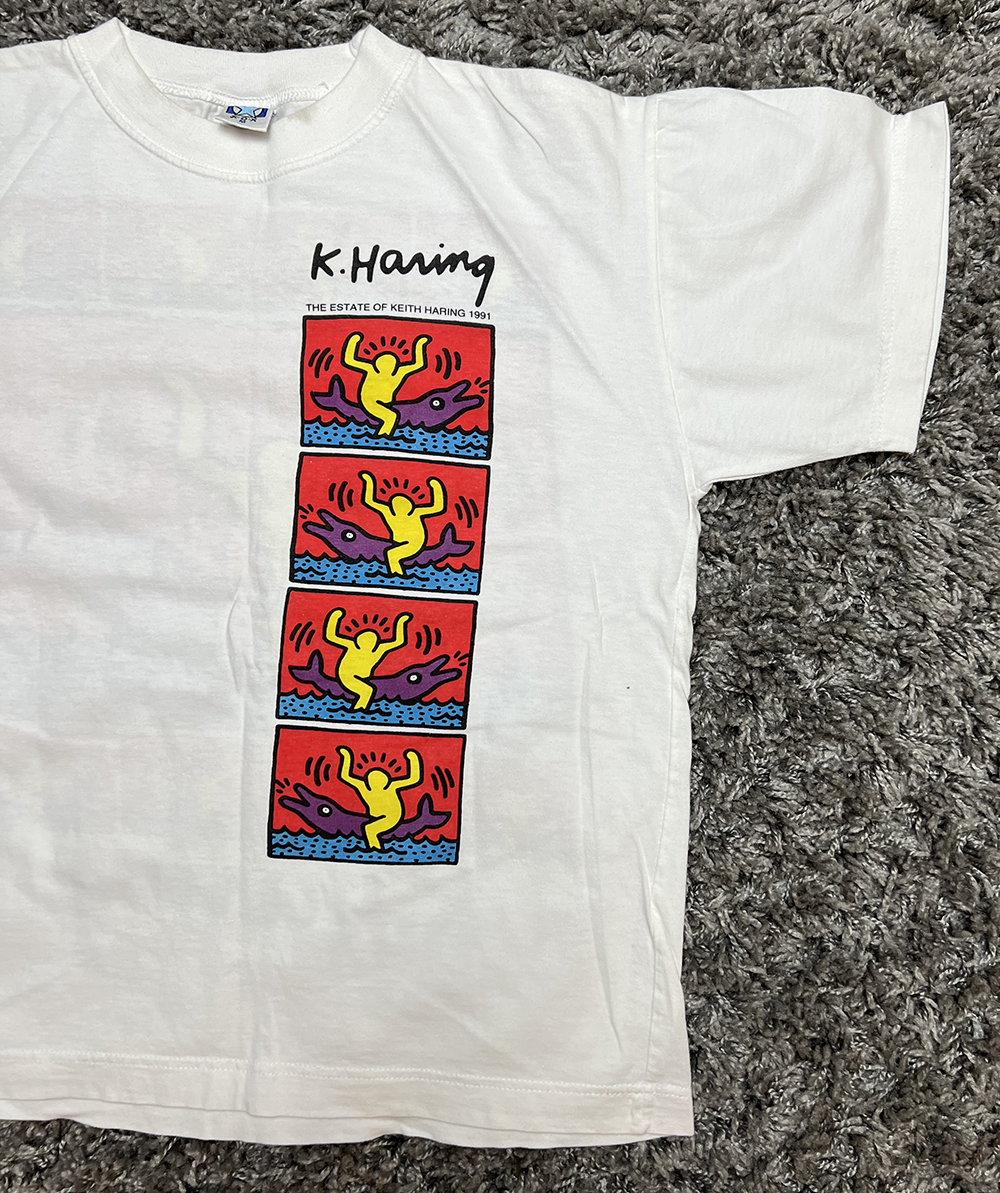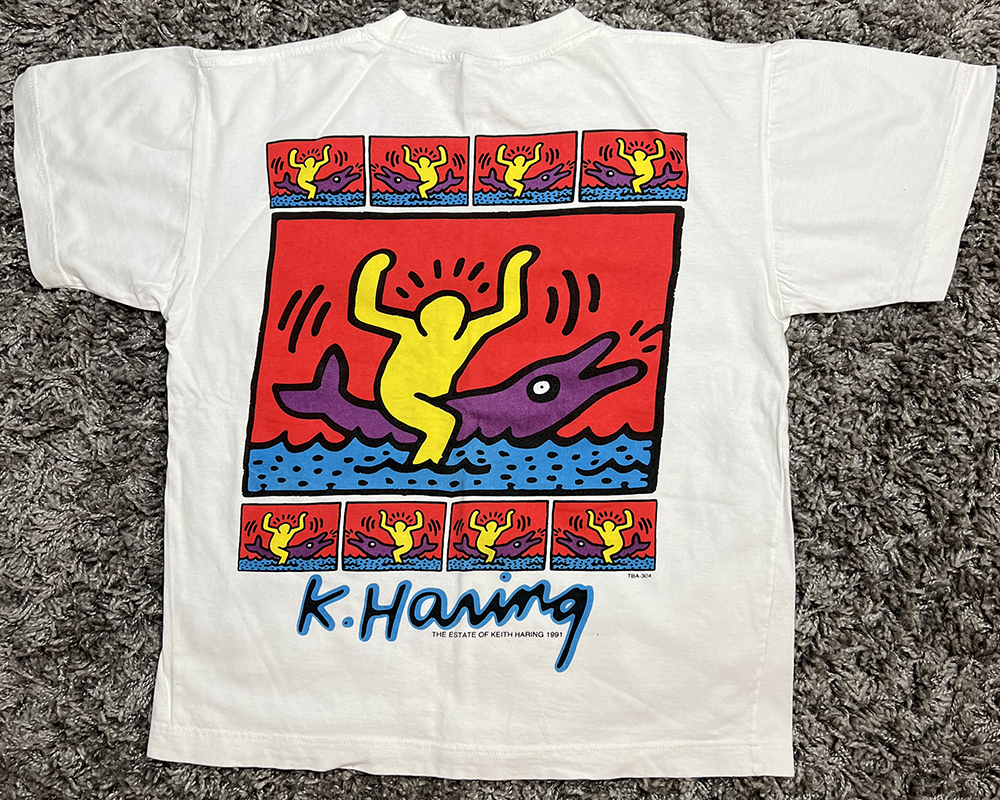 Vintage 1994 Keith Haring "Dancing Dogs" T-Shirt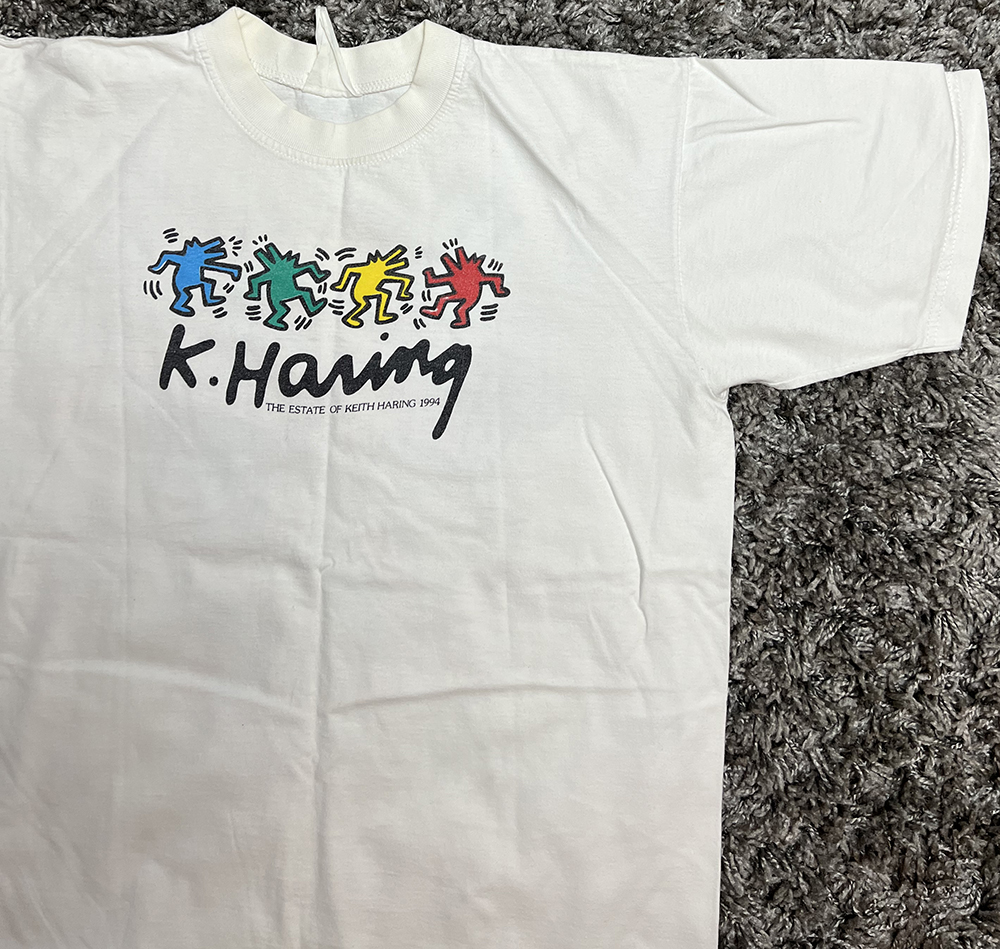 Vintage 1990s Keith Haring "Twisted Man" Pop Shop T-Shirt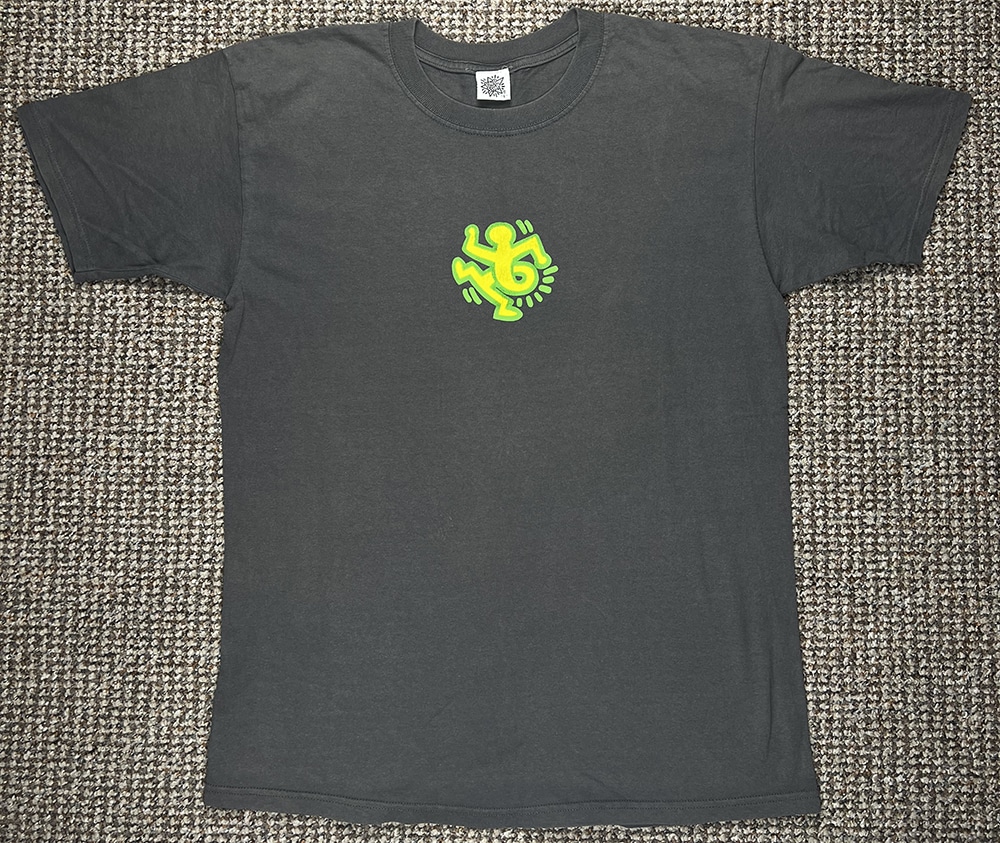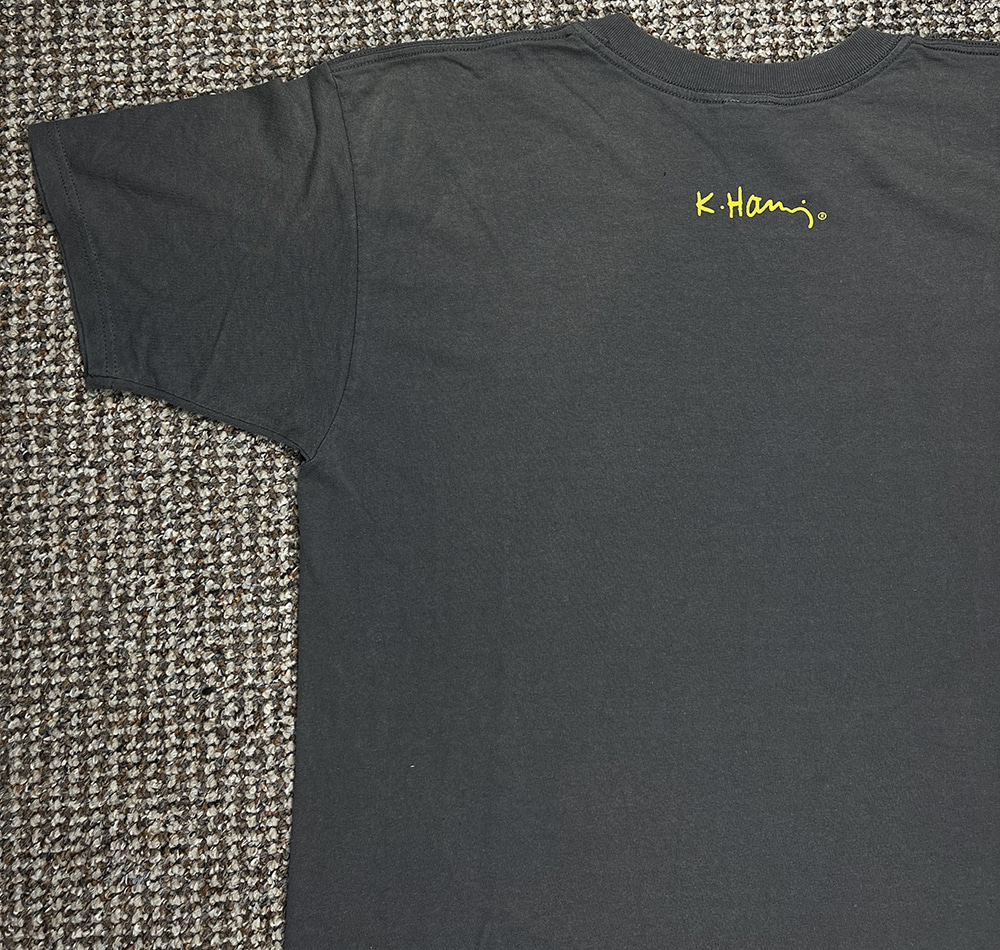 Vintage 1993 Keith Haring x Guggenheim Museum "Children Program"  T-Shirt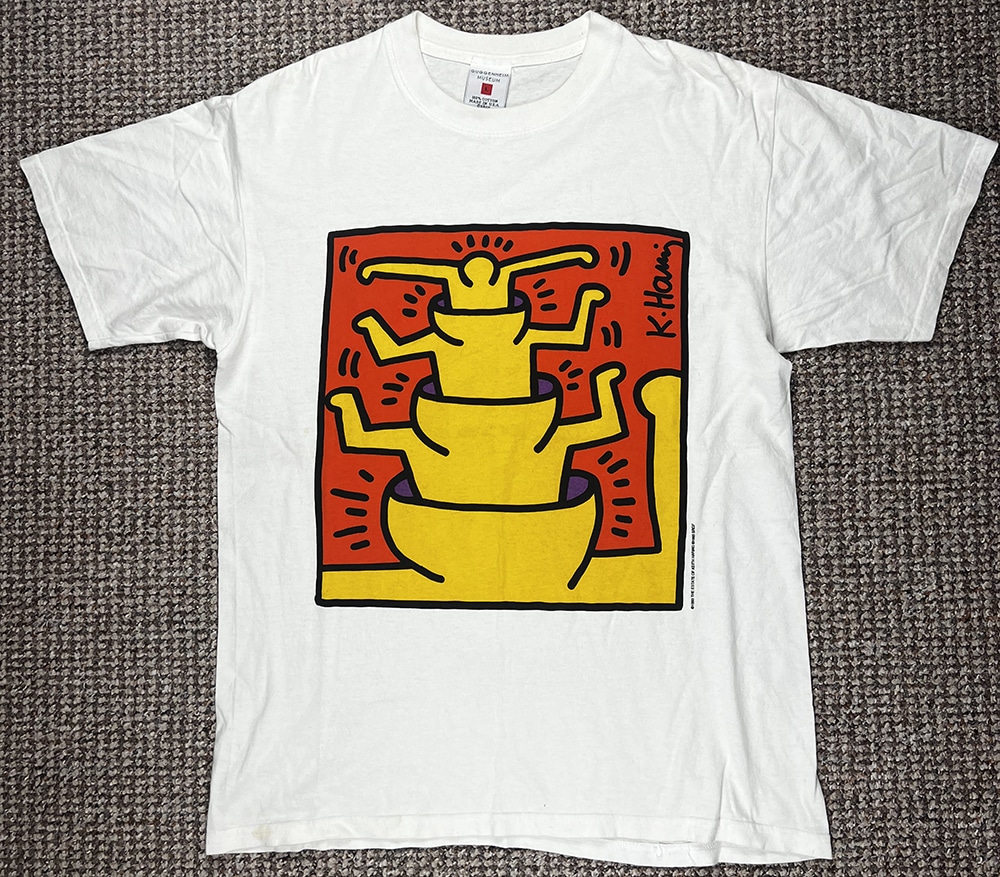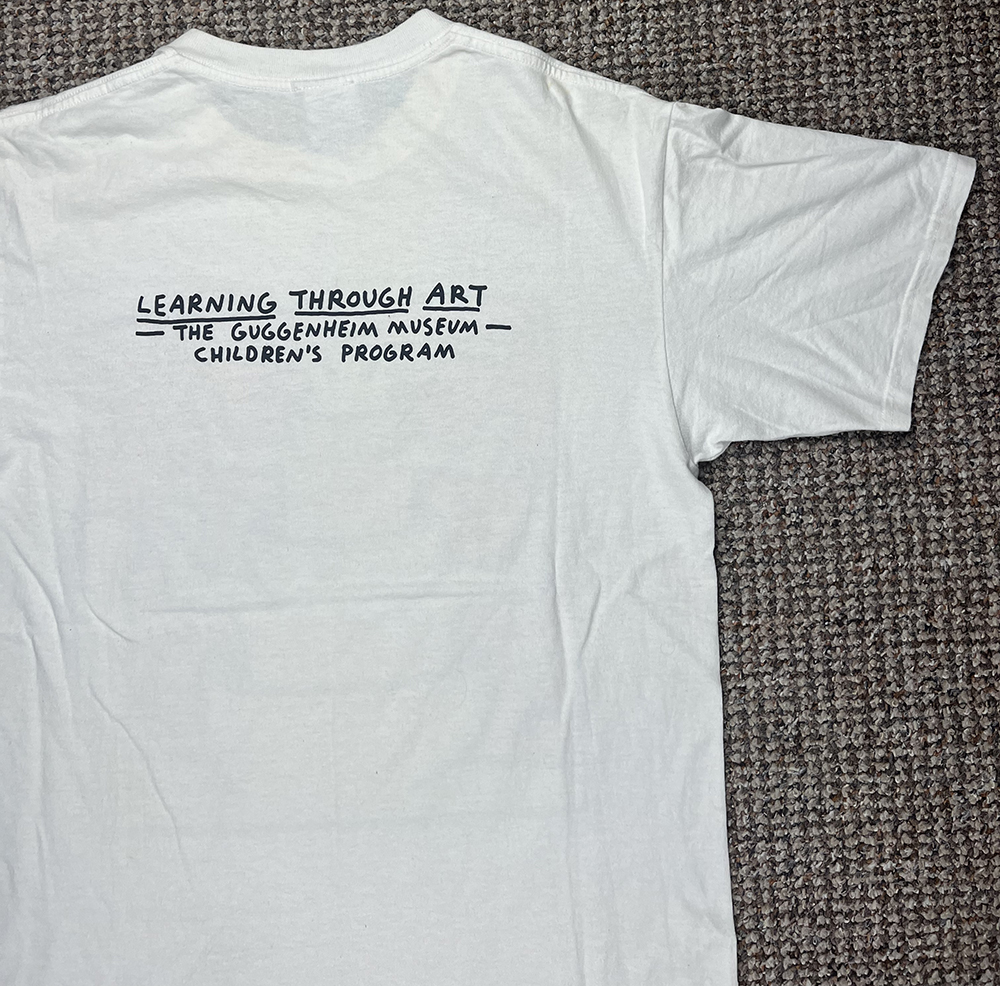 Vintage 1980s Keith Haring "Bill T. Jones" Pop Shop T-Shirt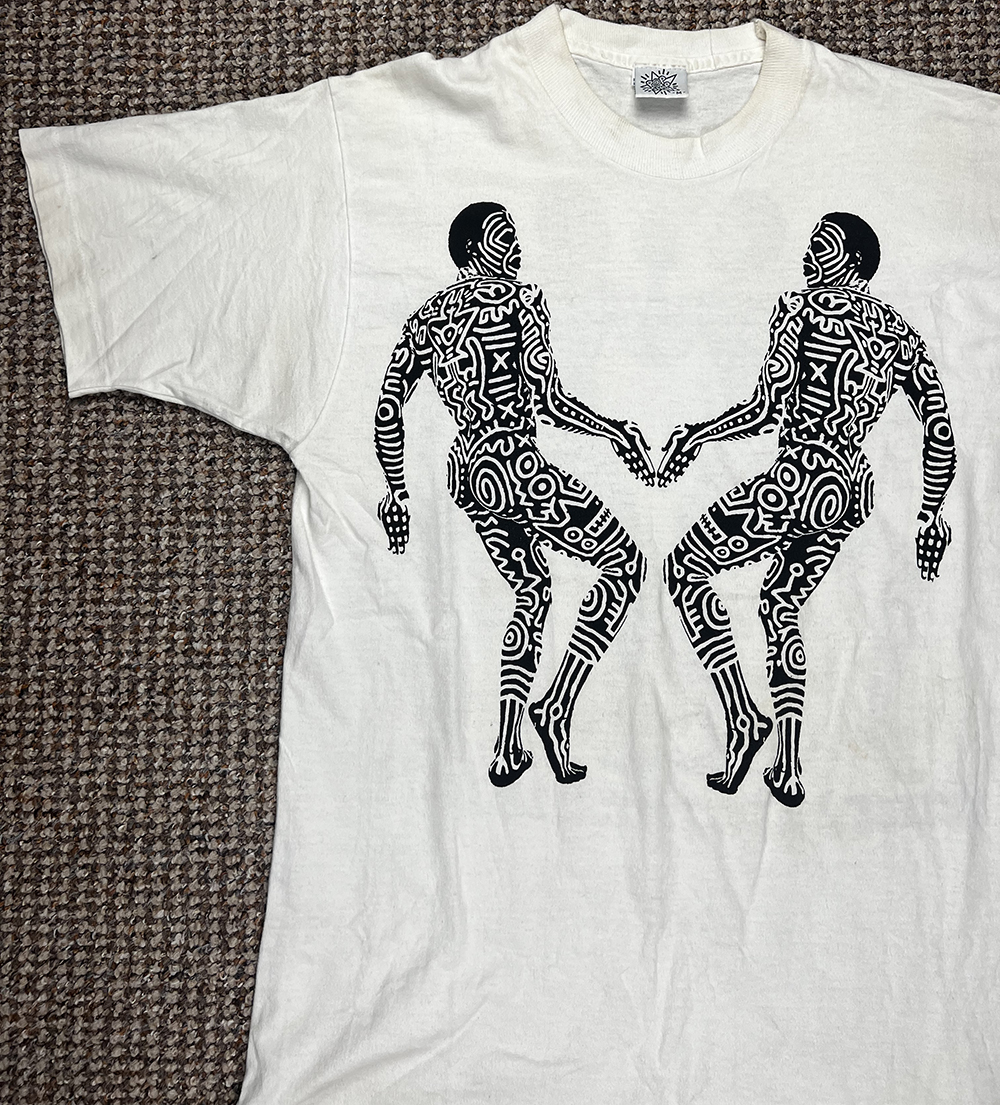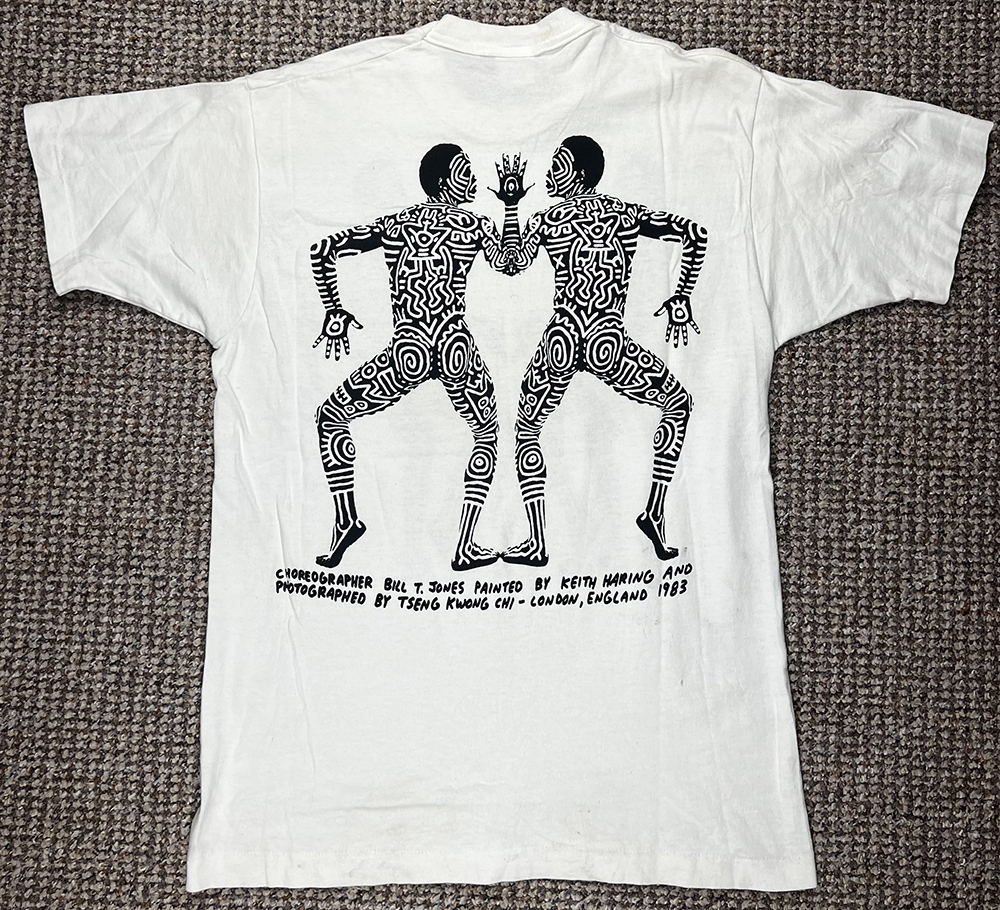 Vintage 1980s Keith Haring "Radiant Baby, Barking Dog" T-Shirt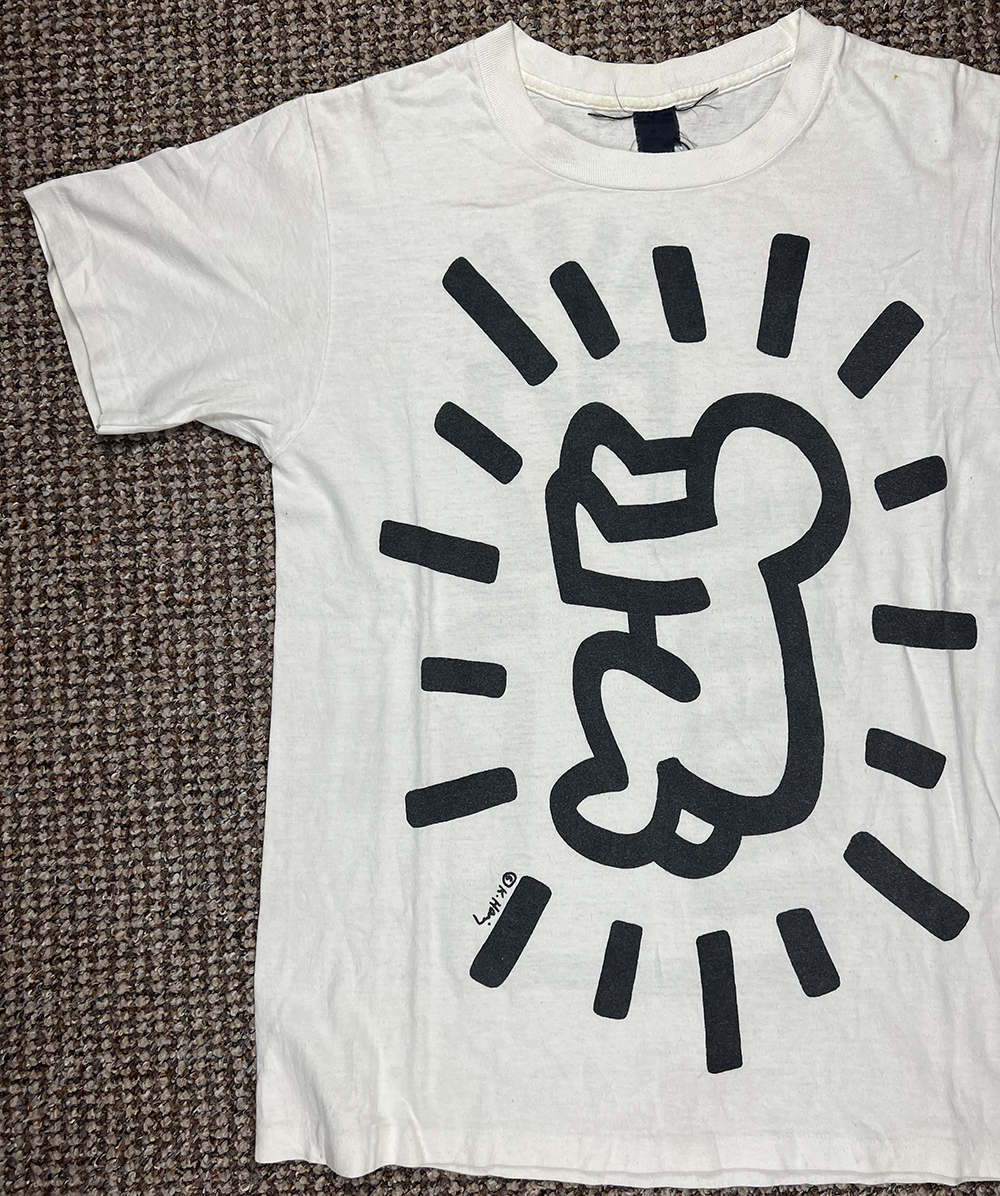 Vintage 1989 Keith Haring 'See, Hear & Speak no Evil' Pop Shop T-Shirt
Vintage 1990 Keith Haring Untitled (People Ladder) T-Shirt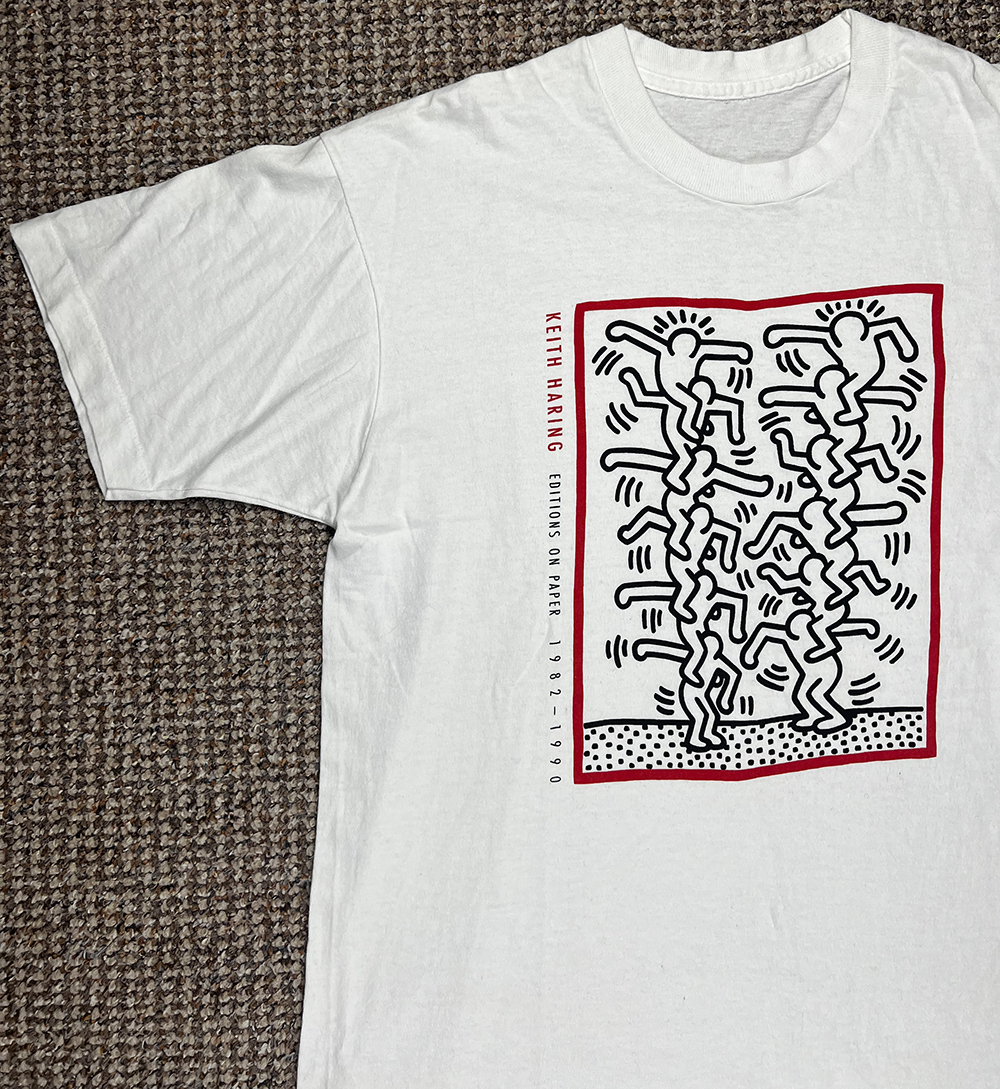 Vintage 1986 Keith Haring "City Kids Speak On Liberty" Signed T-Shirt