Brands
The History and Timeline of Disney Tags: 1972-2010
The Walt Disney Company has a history longer than most entertainment conglomerates, and with that comes an expansive and wide variety of t-shirt designs and tags over the past 50-plus years. Although it's difficult to track the exact years of some of these tags, there are many key factors to consider when helping pinpoint precise dates and eras. As a Disney tee collector, having a general knowledge of park and ride opening dates, company name changes and corporate history is vital in the search. It's important to note that some of these tag designs overlap dates as well.
Walt Disney World (1971-1976)
Walt Disney World branded tags are from around the park's opening in 1971 until the mid-1970s and are likely from before the Tropix Togs tees. Not many examples have been spotted with these early tag varieties.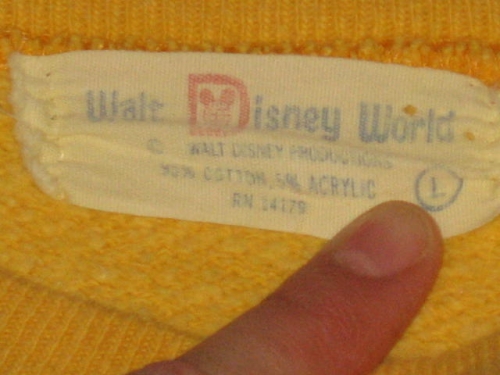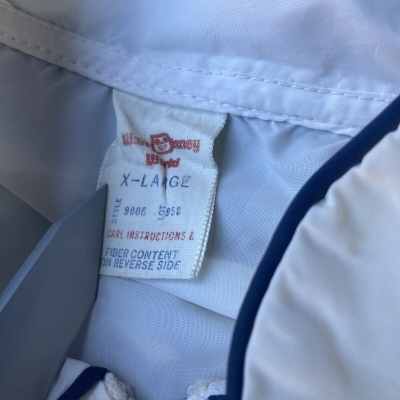 Tropix Togs (1976-1982)
Walt Disney's merchandising stretches back to the late 1920s and exploded with Mickey Mouse's popularity in the 1930s. Disney t-shirts prior to 1976 usually carry the ShirTees or Sportswear brand but didn't get an official licensee until Tropix Togs' partnership in 1976. They are a Miami distributor that created the first recorded graphic tees in the 1950s. Tropix Togs printed multiple Disney characters and park tees for nearly a decade.

The earliest Tropix Togs variety has "Walt Disney Character" written on the top of the tag, ranging from 1976-1979. Older shirts may include "MFG for Walt Disney Distribution Co." Walt Disney Distributing company was founded soon after Disney World opened in 1971. Later Tropix Togs examples seem to have "Walt Disney Character, © Walt Disney Productions" on the tag. The most recent Disney tee sporting the Miami brand I've come across is a 1982 Epcot Dreamfinder piece.
In general, this tag may be the most challenging to pinpoint to an exact date.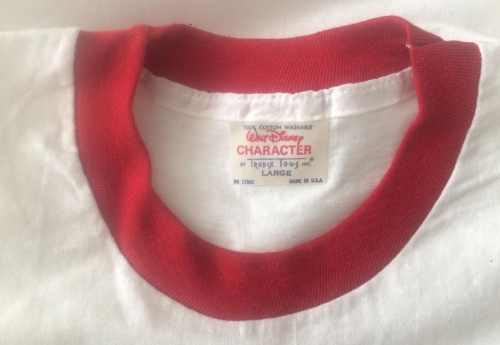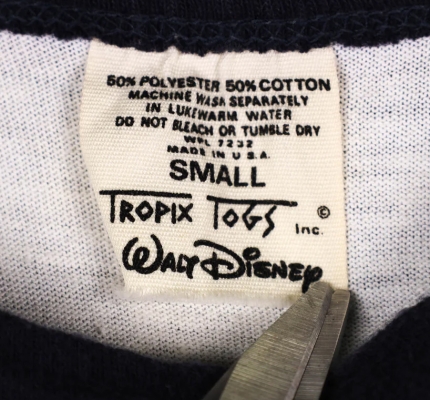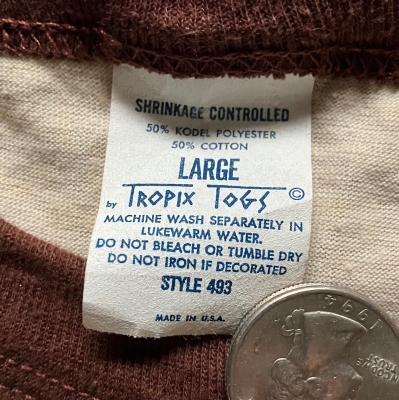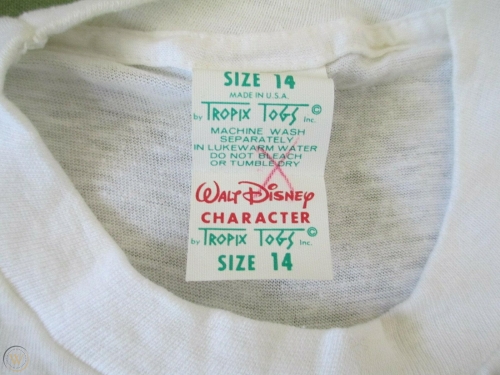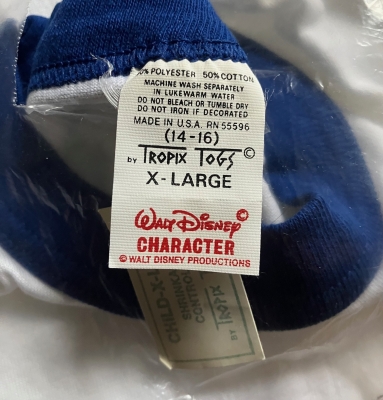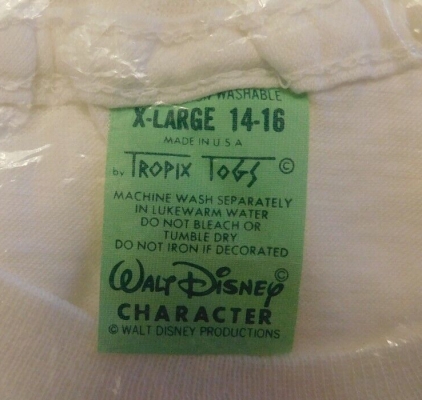 Walt Disney Productions (1980-1984)
Only one variety of this tag featuring the smiling, furry mascot is known to exist, which is most often found on classic Mikey Mouse shirts from the early 1980s, and was phased out soon after the Disney Character Fashions tag was introduced in 1983.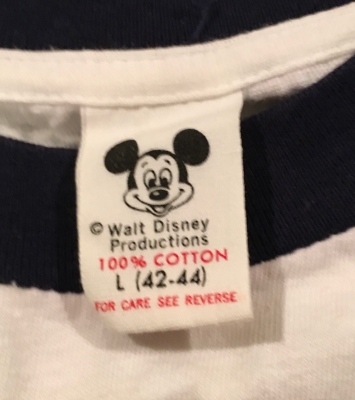 Epcot Center (1982-1988)
Although both tags sport a 1982 copyright, these designs appear on Epcot Center shirts throughout the entire 80s decade. Epcot opened on Oct. 1, 1982.
Disney Casuals (1982)
This rare tag features a design similar to the Disney Character Fashions one but is on a stiff paper tag, not a cloth one.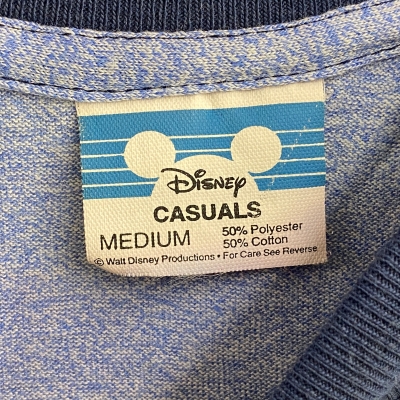 Disney Character Fashions (1982-1993)
This is the most famous and popular of all vintage Disney tags because some of the best Disney designs appeared in the middle of the 1980s. This also ties in with the "classic" period of Walt Disney World, highlighted by Epcot's golden age and the opening of fan-favorite attractions such as Captain EO, Star Tours, The Great Movie Ride, and Indiana Jones Epic Stunt Spectacular.
All shirts that feature the copyright "Walt Disney Productions" on the tag and/or the tee graphic are from before February 6, 1986. Anything that reads 'Walt Disney Company" or "©Disney" comes from after that date. Since this tag only has two varieties and covers the longest time period in Disney tag history, this is key to dating.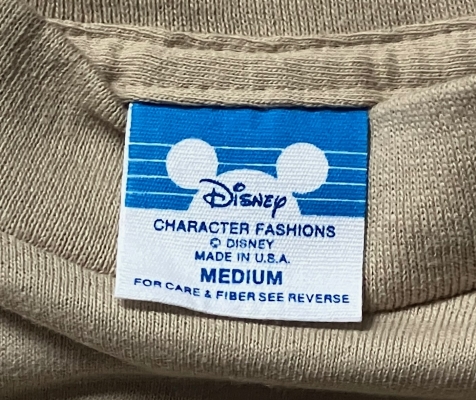 Disney Wear (1982-1996)
This one isn't as easy to date, but I've found tees as early as 1982 with this tag, but it appears to be much more common with late-80s to mid-90s examples, usually on sweaters, thicker material tees and shirts with odd v-necks or a single top button. Has single and double-tag varieties.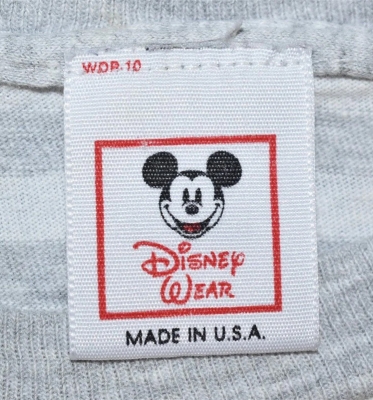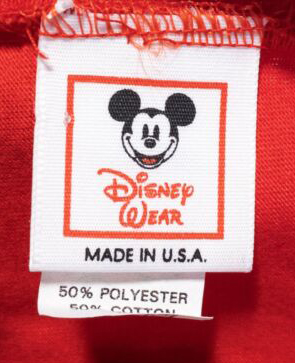 The Disney Store (1987-2005)
The first Disney Store opened in 1987, but most of the tags with black writing on a white background existed from the early 90s to 1998. The side-by-side double tag variety seemingly ran from 1999-2001, and the double-tagged "The Disney (red writing) Store" without the Mickey ears silhouette is on tees from 2001-2002. The ears variety ran from 2003-2005, and print-on tags appear as early as 2006 for Disney Store tees.
An odd pink and blue tag was featured on a 1991 "Beauty and the Beast" Disney Store exclusive shirt.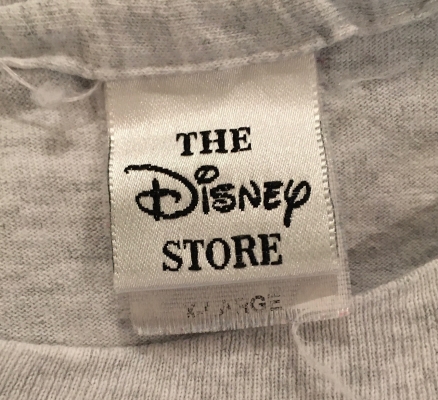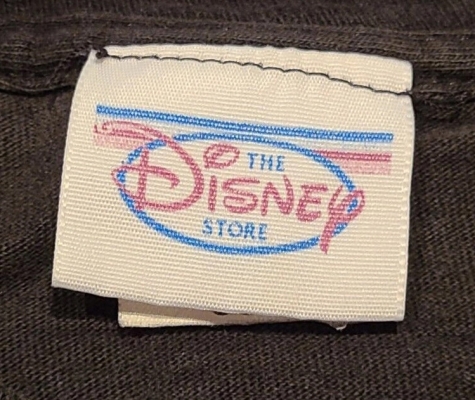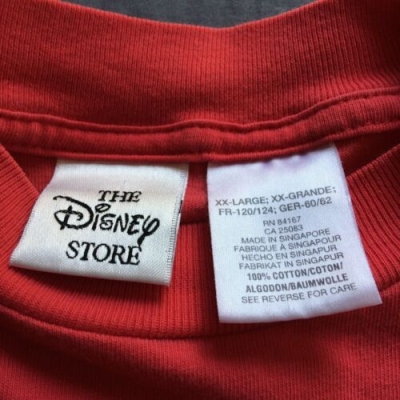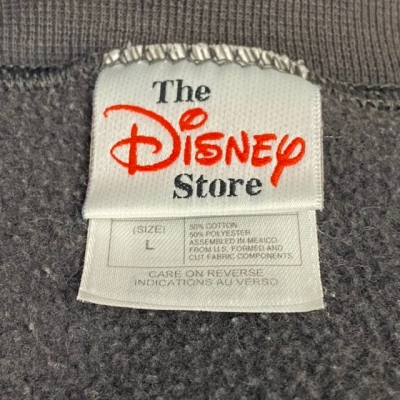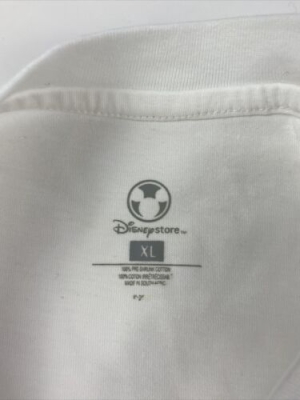 Disney MGM Studios (1989)
The copyright reads 1987, but MGM Studios didn't open until May 1, 1989. This variety is limited to very early MGM park tees, as most MGM gear from the 1990s features other Disney tags.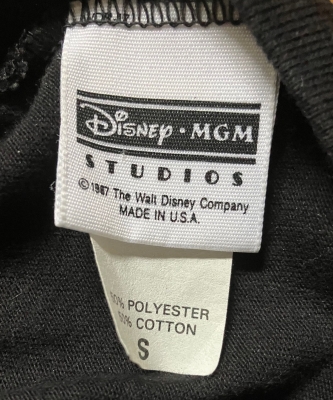 The Walt Disney Company (1992-mid 1990s)
The first example is featured on a 10th anniversary Epcot tee from 1992, backed by a Jeerzes tag. The Mickey graphic is seen on many mid-90s tees. An earlier variety with "Walt Disney Productions" showing the same Mickey face is from before 1986.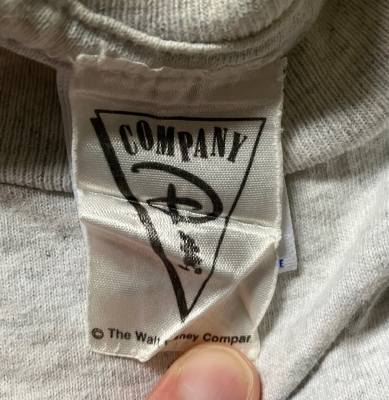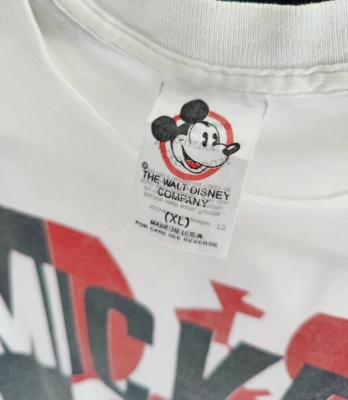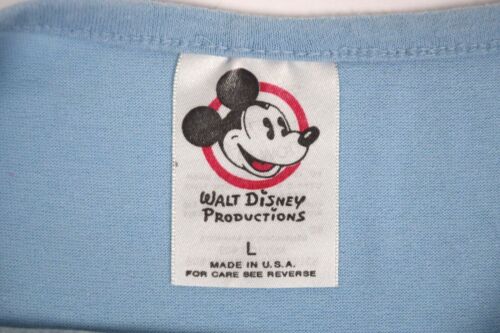 Disney Originals (circa 1992-circa 1998)
This one is difficult to pinpoint, but can be found on Epcot Center tees before the name change in 1994, and on Aladdin (1992) merchandise. The gray variety was likely produced later.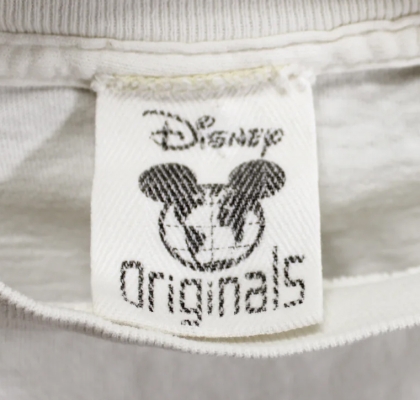 Disney Designs (1994-1997)
After the decade-long dominance of Disney Character Fashions, the 90s were flooded with Disney tag varieties. Disney Designs has two versions: one with "© The Walt Disney Company" on the front with the size on a double tag, and one with the size on the front, single tagged. Many sought-after pieces bear this tag, such as an MGM Studios Wizard of Oz one and a "Lion King" Scar tee.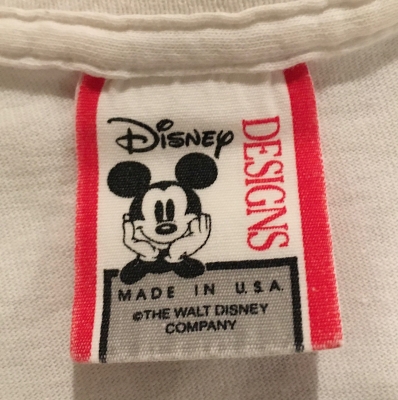 Mickey, Inc (1996-1999)
Mickey, Inc first appeared on theme park tees in 1996. The latest example I uncovered was on an Epcot Test Track piece from 1999.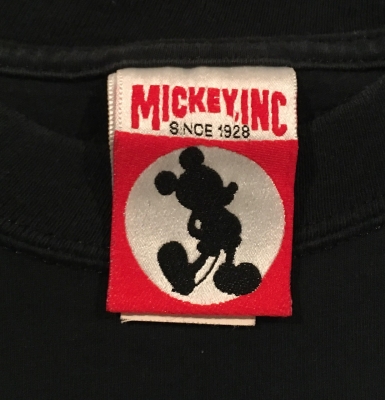 Mickey & Co. (1995-1999)
This fashion line of Disney tees often featured mainline characters such as Mickey, Goofy, Donald, and Minnie. The earliest variety shows Mickey with his hands behind his back, and later ones sport the more common design.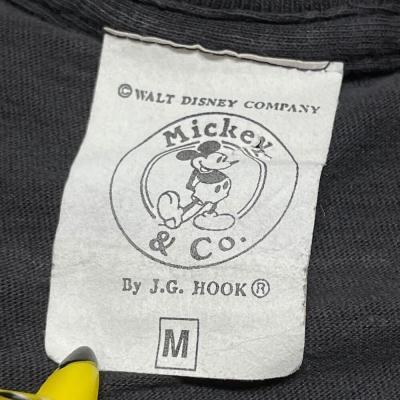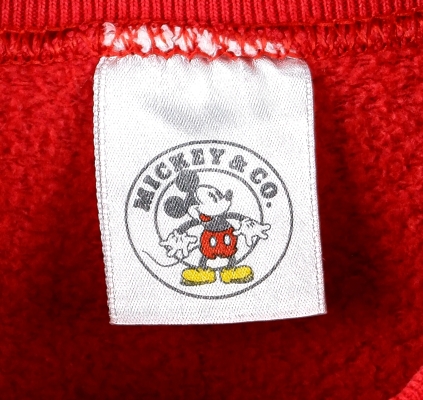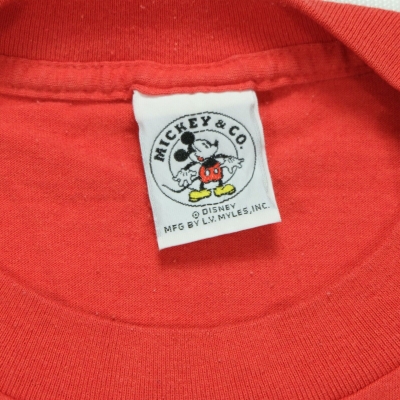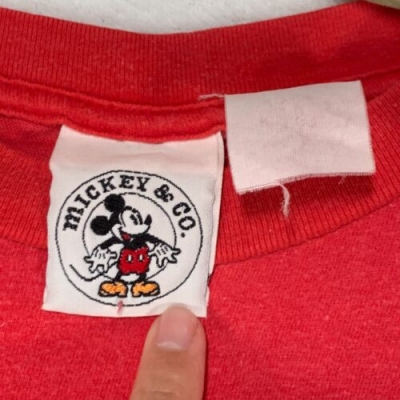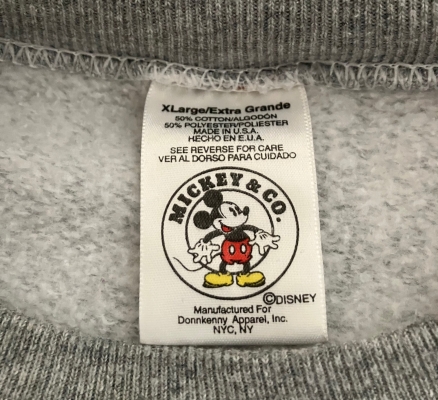 Mickey Unlimited (circa 1997-2000)
Here we have yet another late 90s tag. It appeared on park shirts and sometimes with Sherry's branding. Speaking of which, tag brands such as Sherry's and Velva Sheen can be found on multiple licensed Disney tees dating from the early 1980s to the mid-1990s. Since they are their own separate companies with sprawling histories, they won't be included in this guide.
Walt Disney World (1998-2007)
The earliest example dates to park shirts from 1998. From 2001 to 2005, this seemed to be the only Disney tag (excluding Disney Store ones) being used for merchandise. The 90's reign of mass varieties had finally ended — Disney was no longer the Taggiest Place on Earth.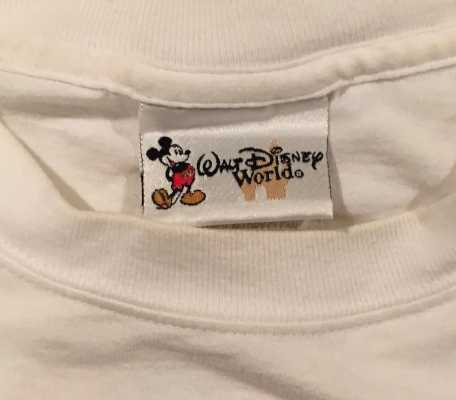 Disney blue tag (2005-2009)
This tag overlapped with the tail end of the first Walt Disney World design.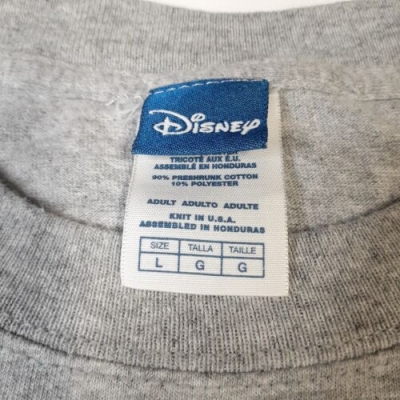 Walt Disney World second design (2007-2009)
This is the last tagged Disney World design, but was short-lived — Disney tags, you had a good run.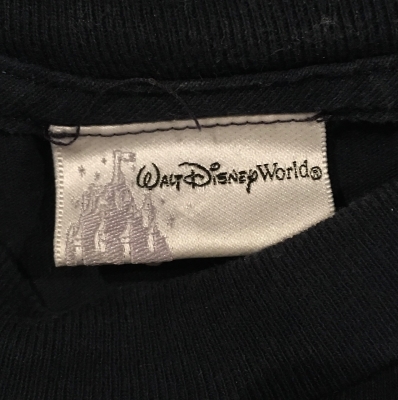 Walt Disney World Resorts tagless (2010-present)
By 2010, Disney's storied tag history mostly came to a magical end.