Brands
Archive of Authentic Vintage T-Shirt Tags Often Suspected as Being Fake
From time to time a vintage t-shirt tag is suspected of being a counterfeit, when it actually isn't. This is a sign of the times – we live in the era of convincing fake tags and none of us want to be fooled twice. Sometimes there are elements to a tag that are inconsistent with other versions and it sets off alarm bells. Other times it's because the tag is lesser seen and most are unfamiliar with it – so it's assumed to be fugazi. (After nearly 20 years in this business – I still see vintage t-shirt tags that I'm unfamiliar with – so if you see something new, don't assume it's fake until you can prove it.)
If you have any tags you'd like us to investigate, get in touch here.
Vintage Brockum Worldwide "Made in China" T-Shirt tag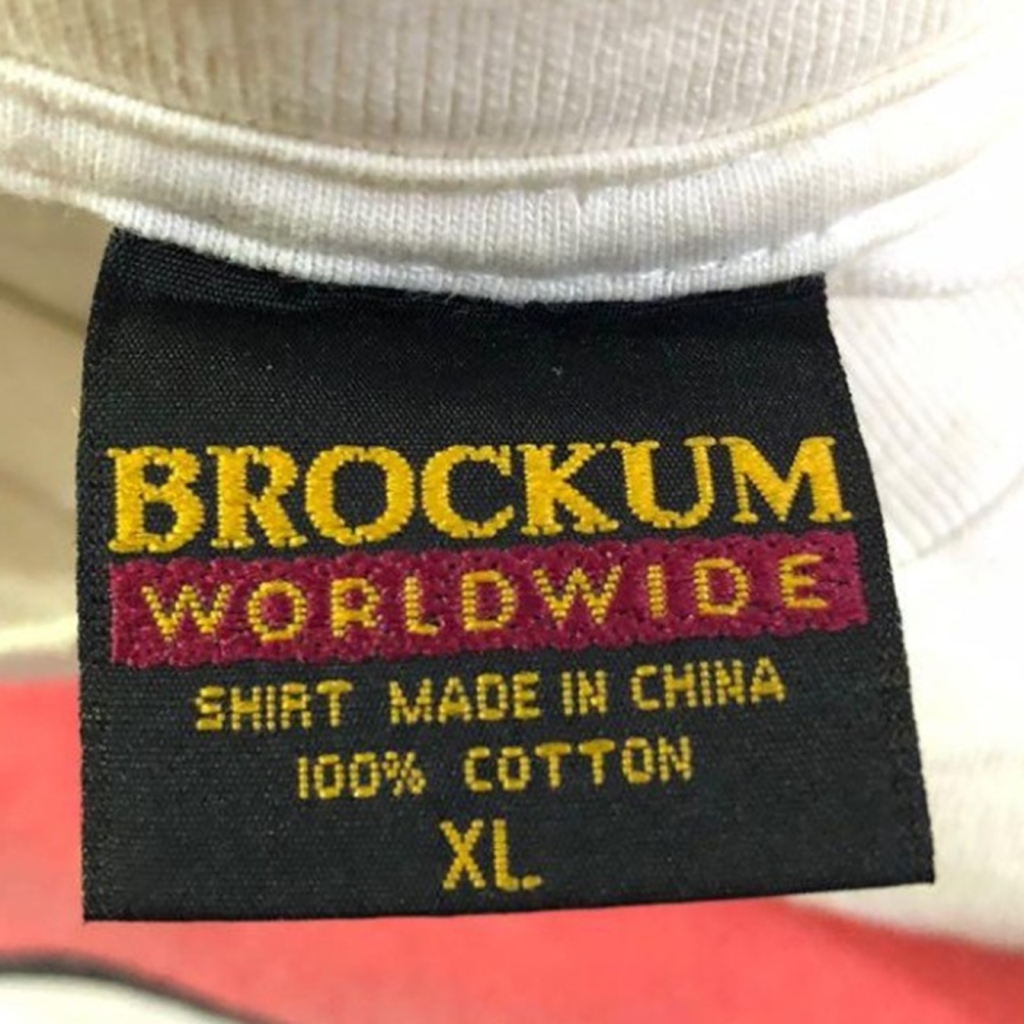 If you flip over these tags they usually read "Printed in Australia by ACME Merchandising."
So they are legit. The detail in the front of the tag is something counterfeiters have never properly achieved.
One user cited spotting t-shirts with these tags on Ali Baba and Ali Express – but this can be explained. The people behind these repro operations often use photos of actual vintage t-shirts, which they likely sourced from a genuine eBay listing.
One theory on BMIC tags, is that they often seem to be reissues of previous Brockum prints. So if you have one of these, and it's a shirt that purports to be from the early to mid 1990s, it may not be the OG version, but it is still vintage. However, more research is required to determine the validity of this.
As a side note, we're currently investigating another BMIC tag, that has a misspelling on the back "SYCNEY, AUSTRALIA." It appears to be a vinyl-type, printed tag, rather than one made up of threads (woven.)

Vintage GIANT T-Shirt Tag (with lowercase URL)

It seems as though most GIANT tags that include their URL are uppercase, but the lowercase ones are legit, too. The thickness of the GIANT font is also okay in this instance, however, if the font is that thick on a "By Tee Jays" version, it's fake. You'll also notice this one is sewn-in on the outside of flap, inside the collar. And, oddly, the thread appears to be clear. There's also an additional white finishing thread with 4 notches. This is all a-ok!
Vintage Massive Best FOTL Tag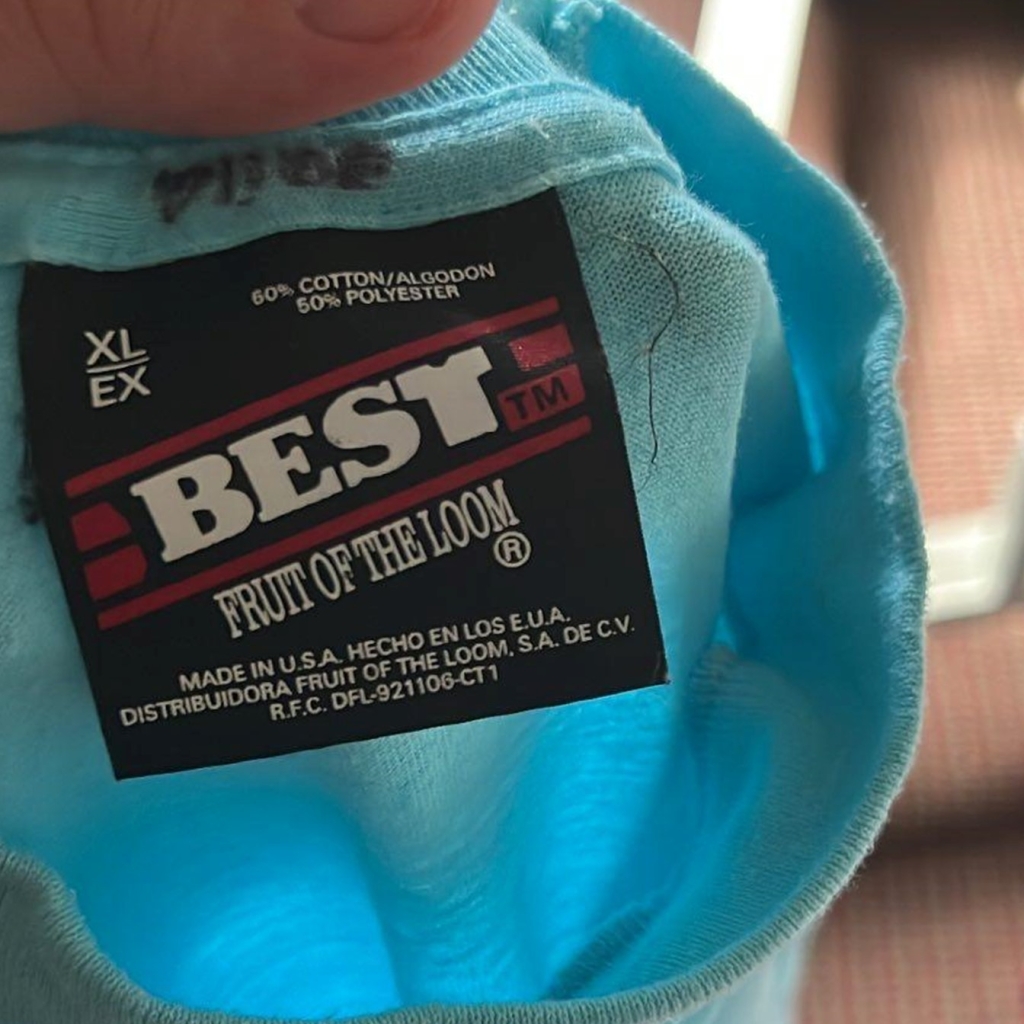 These BEST big boys aren't super common and currently have no explanation as to why they are so big, but they are real. Several members of the community have shared what print is on these tags, and they are most often prints that have zero value.
VINTAGE TULTEX TAGS WITH "COTTON" FADED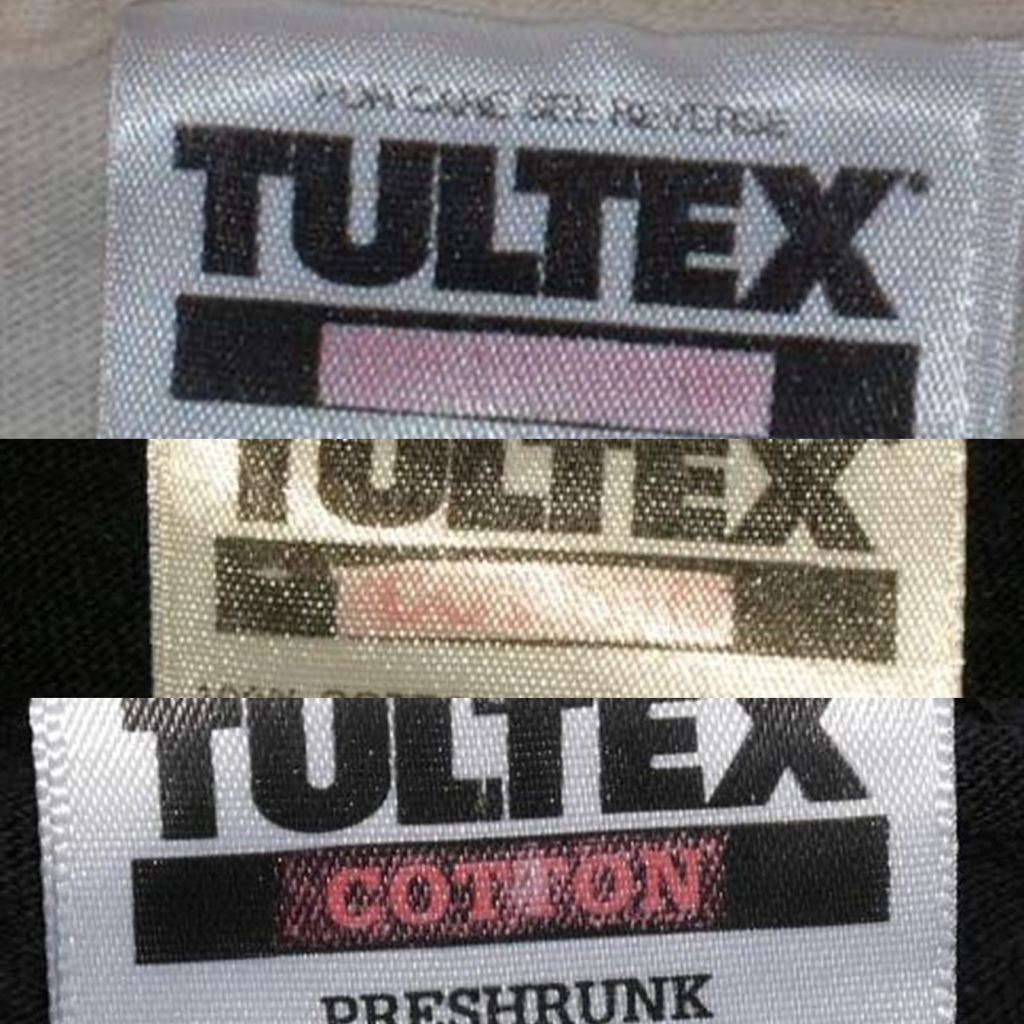 TULTEX with misbehaving "COTTON" text on the block. Varying degrees of bizarre fade here, but all are the real deal. Have a look for yourself in our archives, where you'll see photos of Tultex tags that were uploaded over 10 years ago with these exact fades.
VINTAGE REDWOOD & REDWOOD SPORTS WEAR TAGS
REDWOOD makes cameos on all sorts of late 90s tees – including band tees, where they seem out of place. They aren't.
VINTAGE UNITED SPORTS T-SHIRT TAG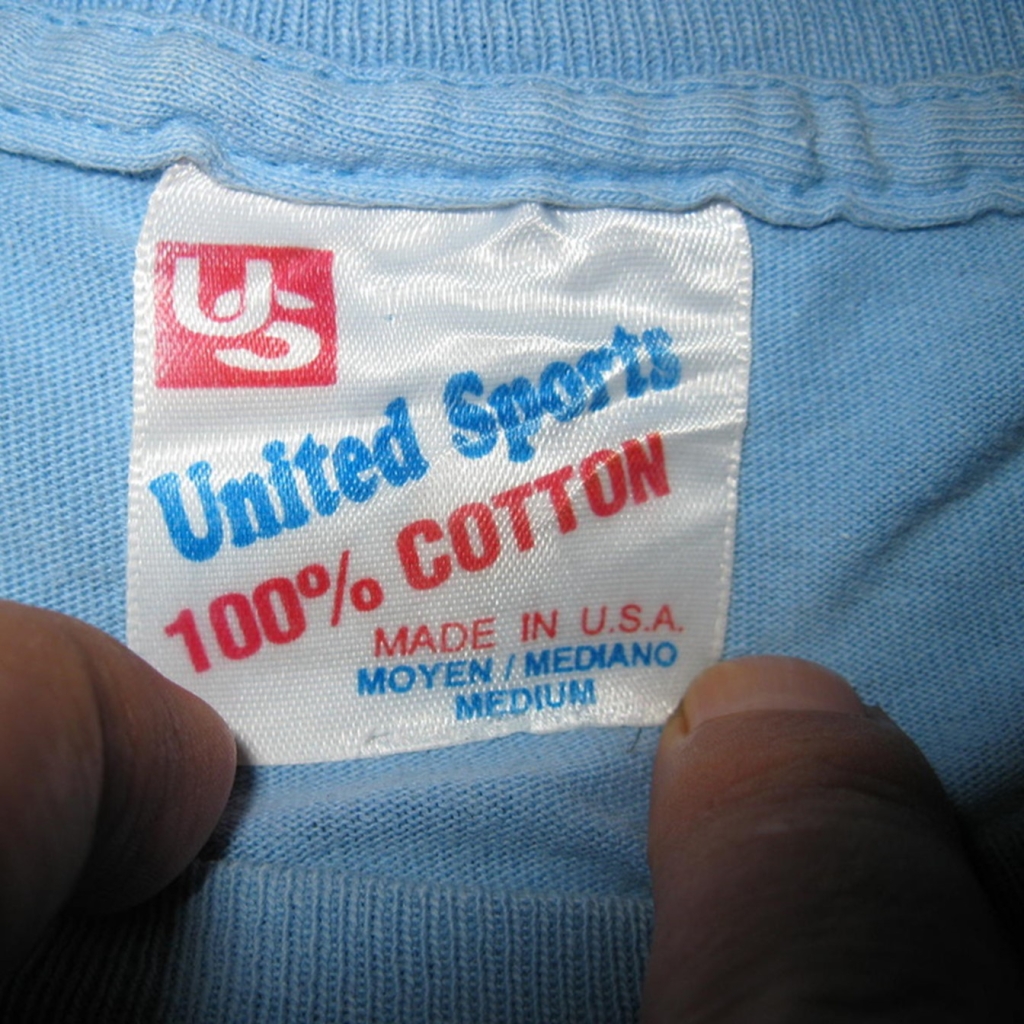 UNITED SPORTS' origins are not fully known, some say Japan – but they appear to be from mid-90s to early 00s, and sometimes feature throwback images that are likely not licensed, but these tags are vintage.
Vintage Screen Stars Made in [not USA]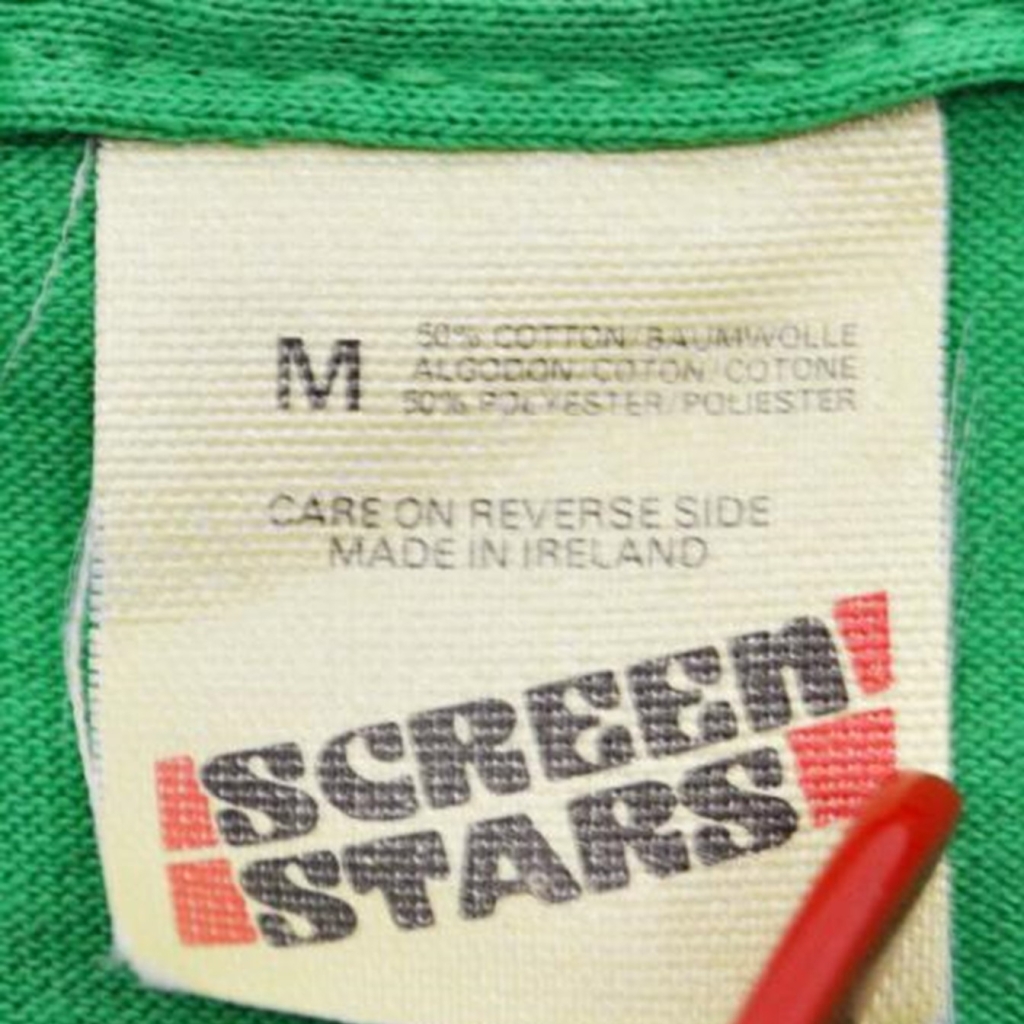 Ireland, Canada, Mexico, and El Salvador are all legit, and from the 1980s/1990s before free trade was a thing. 1980s Screen Stars tags have a wide variety of odd variations, you can find more examples here.
VINTAGE MURINA TAG EXTRA TEXT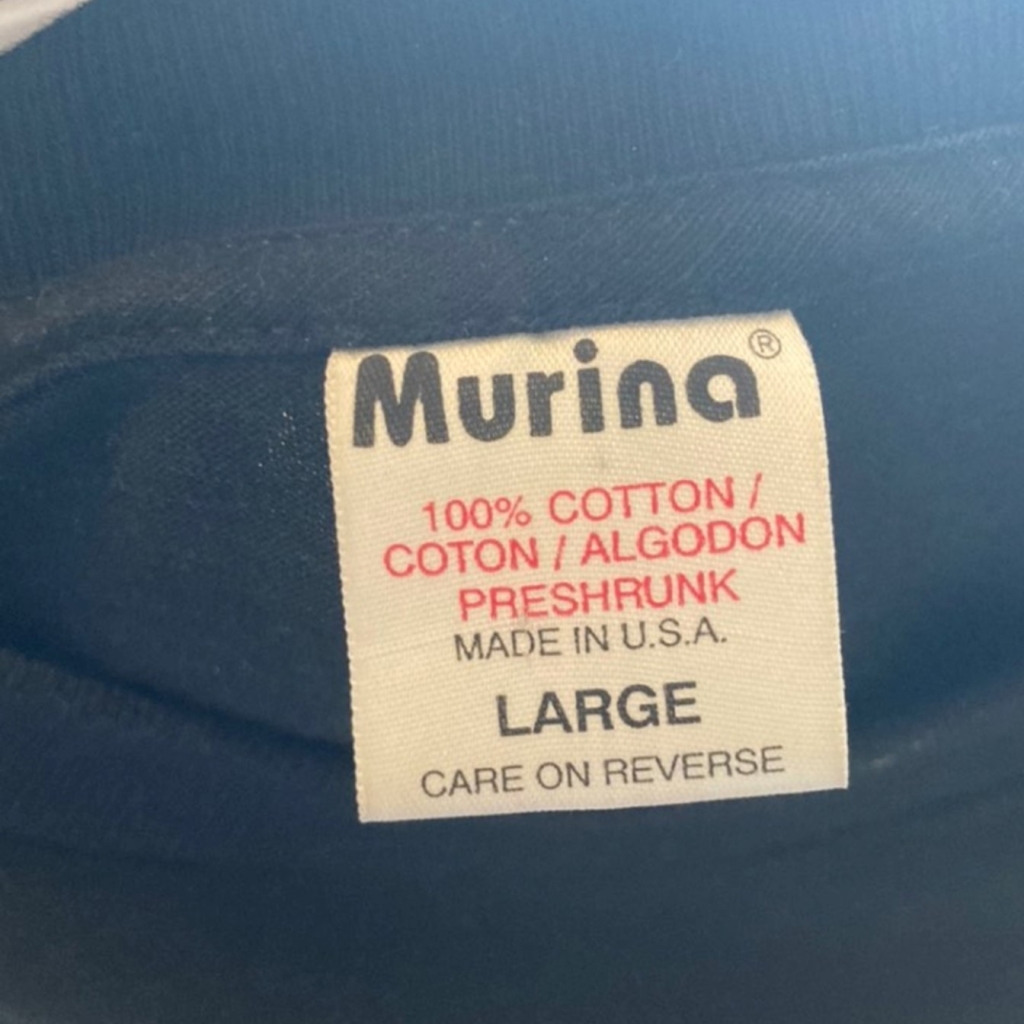 This unconventional Murina Tag often sets up alarm bells. Murina's super basic tag design is often assumed to be the only
one. This one is totally fine too.
Vintage Sun Island T-Shirt Tag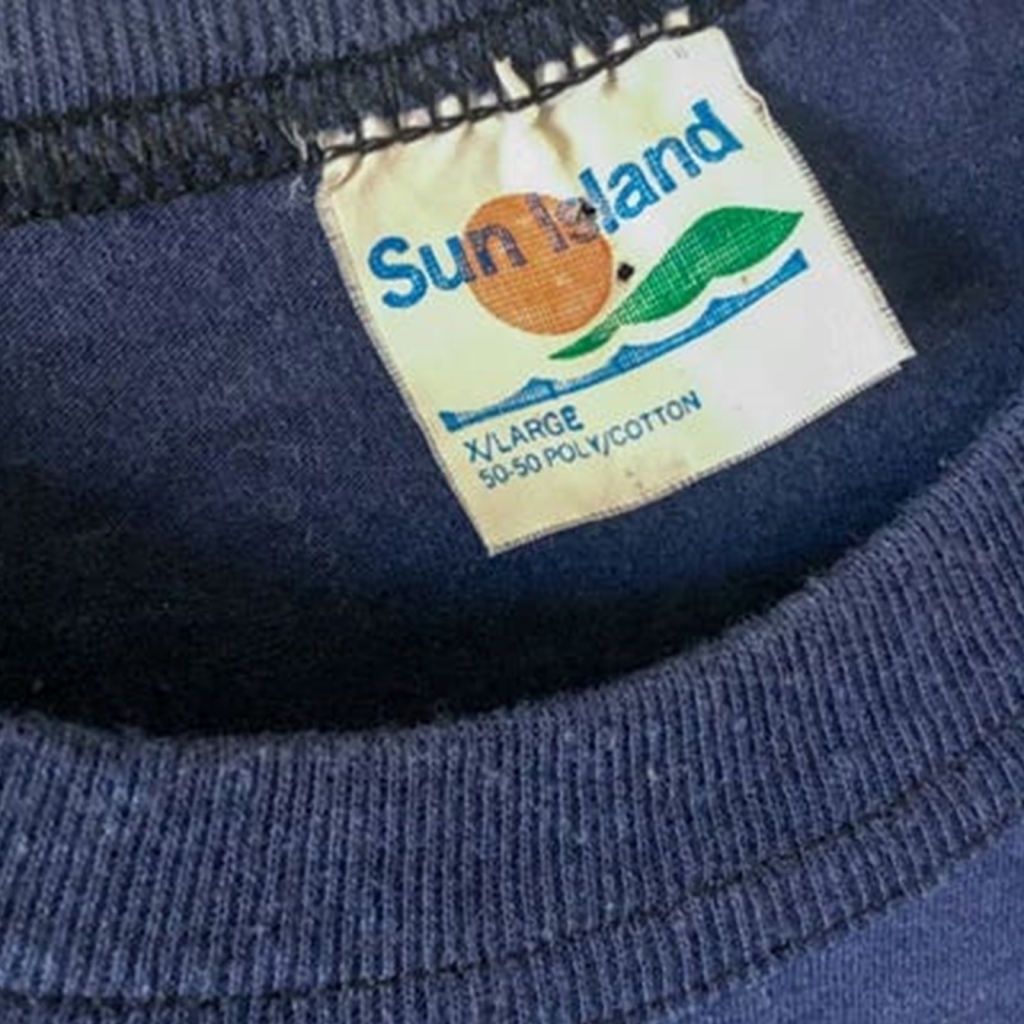 Sadly, Sun Island is often mistaken for Bay Island. It was born in Jamaica in the 70s, SI often features novelty and tourist prints – but often Reggae vibes – including Bob Marley tees.