Celebrities
Shia LaBeouf Takes Stroll in LA, Exposes Genitalia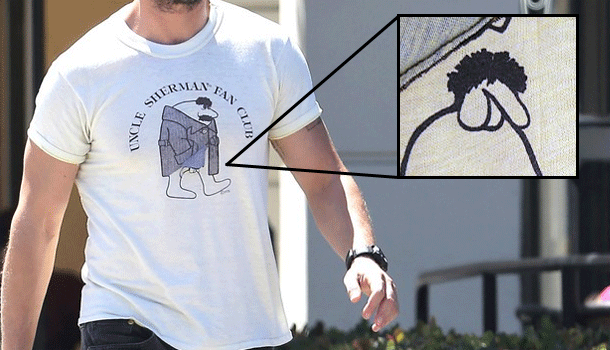 …on his vintage t-shirt, thank god. Although it's not a far fetched headline!  Remember he admittedly took a picture of his junk in order to land his role in Nymphomaniac. And disturbing Shia headlines occur far too often. Like the other day in NYC when he chased a homeless dude around in an effort to take his hat. Later that evening he was arrested for acting like an idiot during a showing of Cabaret at studio 54. He subsequently told the cops "I'll f*** you up." Allegedly.
Anyhoot, the only reason I'm talking about this dink is because he's a serious vintage t-shirt wearer. Once I noticed the Uncle Sherman t-shirt, I did a little Google image investigation. To my surprise I found Shia is quite often spotted in vintage Harley Davidson and other random vintage tees.
Annoying antics aside, Shia invokes anger because he's a part of the formula that ruined one of my favorite franchises. Yes, I'm still super pissed about the last installment in the Indiana Jones series. But I have to give him credit in the vintage t-shirt niche for his obscure Uncle Sherman tee. It also provides a nice segue into its history.

The 1970s were the golden years of streaking and nudity. A company out of California called Flasher Fashions had a Pet Rock-esque hit with the Uncle Sherman doll. With a quick flip of his trench coat one got to peek at Sherman's bits and pieces. It sold so well the company then manufactured an anatomically correct Aunt Sophie doll. Once they maxed out on genders they released a smaller "Pee Wee" version of Sherman, because back then size didn't matter.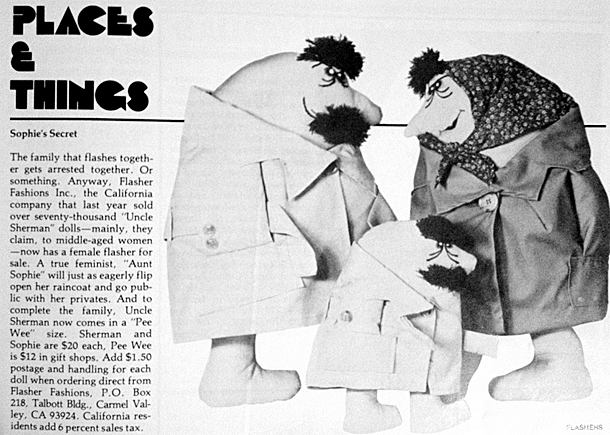 As Flasher Fashions were raking in the bucks they decided Sherman needed to be on shirts. A well placed flap of fabric was mounted on the shirt as to preserve the interactive peek-a-boo novelty. The t-shirt inspired people to reach out touch each other. It was a primitive and more perverted version of the Hypercolor tee, 15 years earlier.
With our beloved vintage t-shirt currently in a bear market we need more positive celebrity roll models wearing them. After the passing of the angelic DJ AM we've been stuck with creeps like Terry Richardson and Shia Labeof.