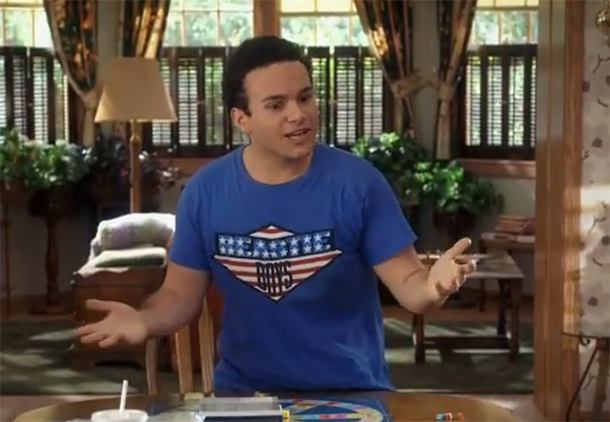 This week's episode, Big Baby Ball is by far our favorite episode so far. Is it because it references the classic Sylvester Stallone arm wrestling flick Over The Top? Nope. Is it because it features some of our favorite 80s board games? Negative. Maybe it's because Trivial Pursuit is a Canadian invention? Nah.
It's because Barry is sporting a genuine Beastie Boys t-shirt provided to the show by yours truly. After we put together a complete guide to the vintage tees in season one, the show's creator Adam Goldberg tweeted us…
@defunkd And this is the my dream shirt for the show. I wore it for YEARS... http://t.co/JetfddNpkO

— Adam F. Goldberg (@adamfgoldberg) May 15, 2014
and floated a request. Turns out this particular Beastie Boys tee is nearly impossible to find in a size that would fit Barry, so it was a tall order. But we like to make vintage t-shirt dreams come true.  So we asked our vintage tee friends from all over the globe if they had one stashed away. Finally, one appeared in Japan, tracked down via our Instagram friend ttnn1988vintage. (I must say, no country comes close to the 1980s vintage hip hop tees that Japanese collectors have.)
Anywho, we got the tee in our hot little hands were in contact with the show's costume designer to deliver it. The sale price you ask? $0. Because the tee and size are on the rare side, it's on loan, so it will be making its way back home. But not before making a few more cameos and if rumors are correct, a big cameo in a special themed episode…
And if you're looking to get your torso under one of these, there's one available in our marketplace right now! Check it out here.