How To
How to Tell the Difference Between Direct-to-Garment VS Screen Printed T-Shirts
We've outlined several methods counterfeiters use to create convincing vintage t-shirt knock-offs in our guide to Authenticating vintage tees – but modern direct-to-garment printing technology is one that required further investigation.
Can DTG be used to create convincing counterfeit vintage t-shirts?
I got a crash course on DTG back in 2007, when I was tasked with having shirts made for fellow attendees of a bachelor party. (Because I'm the "t-shirt guy," and my pals still don't understand I don't make t-shirts *@#$&!) I didn't know anything about DTG (direct-to-garment) at the time, but there was a spot up the street from my place advertising full-color t-shirt printing. The most attractive part was that I could order a small number of tees. Using the traditional screen printing route to pull this off would have been way more time-consuming, and far more expensive (if I could even find someone to do a small 15-tee run). But I'd also have to have a graphic artist design the shirt and create color separations, then of course pay the one-time setup fees, have the screens made, etc.
It was recommended by the shop owner that we used white, 100% cotton tees, and he had plenty of double-tag Gildans in stock. During this process, the water-based ink attaches to the cotton, so if there's a synthetic fiber involved, the design will be muted, as it doesn't attach to polyester.  The shop owner showed me a few examples printed on black tees, and it was obvious white was the only option.
Later that day I emailed the shop owner the .jpg file I had created and then went in to watch them get printed. They took about 5 minutes each, and the results were…okay-ish. Even though it was a high-res image, the end result didn't reflect that. The photo I scanned at the highest resolution – looked fairly faded, and the colors were washed out. But whatever! A few hours later I came back and he had all 15 printed on various sizes and my bachelor party responsibilities were done (aside from surviving a series of gentlemen's clubs in Montreal.)

At the time I was not very threatened by this t-shirt printing technology. It did have certain applications for fakes though. Any one-color print, specifically 70s-type prints, if used on a light, worn shirt, could be convincing. Because it instantly looks worn and faded, and once combined with an old shirt, that can be a killer combo.
But I wasn't seeing it being used in those instances, people using it were getting greedy and trying to pull off multi-color shirts that were more valuable. Shortly after the hangover from the bachelor party subsided, a Humpty (RIP), Digital Underground tee I had won in an auction on eBay arrived in the mail. After my experience with DTG, I immediately knew it was fake and exactly how it was printed.
Instead of returning it, I decided to make the shirt the subject of a now completely outdated, "How to Spot a Fake" article, that clearly showed the difference in quality when compared to a screen-printed version. It also showed how a tiny bit of bleach would affect the DTG ink while having none on a screen-printed version.
Fast forward to 2023, and the quality of DTG has drastically improved and is now a cause for concern.
What year to DTG t-shirt printing become available?
Apparently, the tech was invented in 1996 but wasn't until 2005 that it became an industry among tees and started to be readily available to consumers. Given they aren't 20 years old, the earliest t-shirts printed with DTG aren't yet considered vintage, but it won't be long. So if you are able to determine a t-shirt is DTG, it's not vintage (yet.)
The DTG Printing Process
Check out this video of the DTG printing process, how impressive the final results are, and how it could be used for counterfeiting.
Not only can it be used to accurately print high-quality images, but those images can also now be printed, and look amazing, on black t-shirts. The tech no longer relies on the ink being absorbed – it behaves more like screen print ink does. That said, it doesn't use the same type of ink, more on that later.
From a production standpoint, with DTG, someone counterfeiting a shirt no longer has to make color separations for screens, so it makes their job that much easier. The print is made from a solid image, which might even already be floating around the internet. Plus, you can print fewer tees with less setup and financial investment.
I was curious about DTG so decided to see how good it was at pulling off a multi-color, extremely detailed image.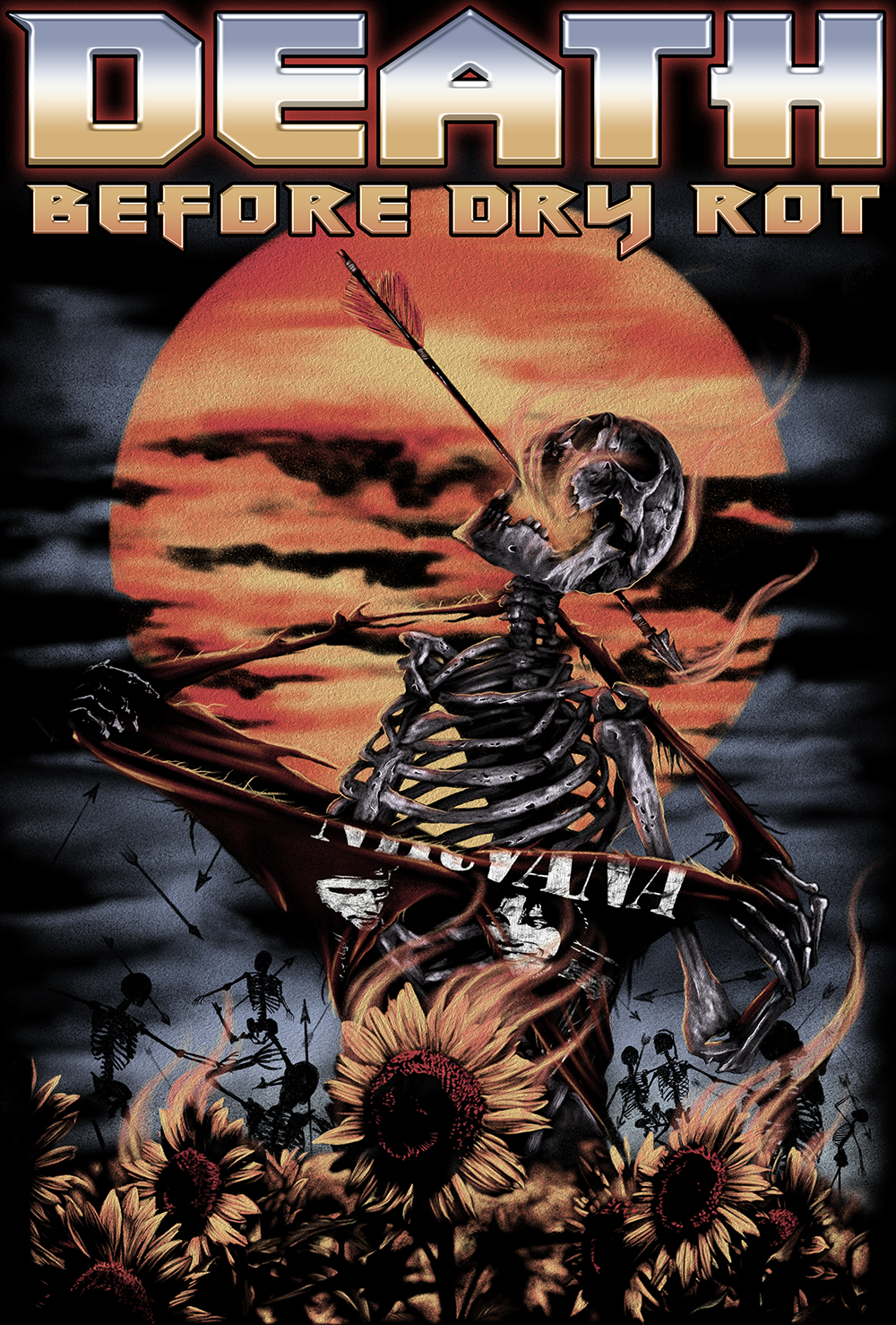 BTW, if you suspect your t-shirt is dry rotted, we have a guide to detecting it.
Putting DTG to the Test
I hired a very skilled digital artist who goes by RFRJT and pitched the concept: a 3D Emblem-style dark and detailed print. (BTW, the idea was inspired by a tattoo that a member of our community got – I reached out to him and got his full blessing for the project.)
But would the design hold up on a t-shirt?
The answer is, yes.
As you can see below, it turned out wonderfully.
We printed up 20 of these, so if you're interested in purchasing one, get in touch!
Obviously, there's a visible difference in the color vibrancy, but that's to be expected going from a high res design to a t-shirt. But this is one of those scenarios where the more faded effect it has, can play to the favor of counterfeiters – because it looks naturally worn.
From what I've read – DTG ink isn't as durable as screen printing ink, so you can also expect it to fade quicker.
It does have an ever so slightly gummier feel to it than screen print ink. But when I compared the example I had printed against screen prints, I failed a blind test more often than not.
But I was most impressed by the final details and gradients that mostly held up…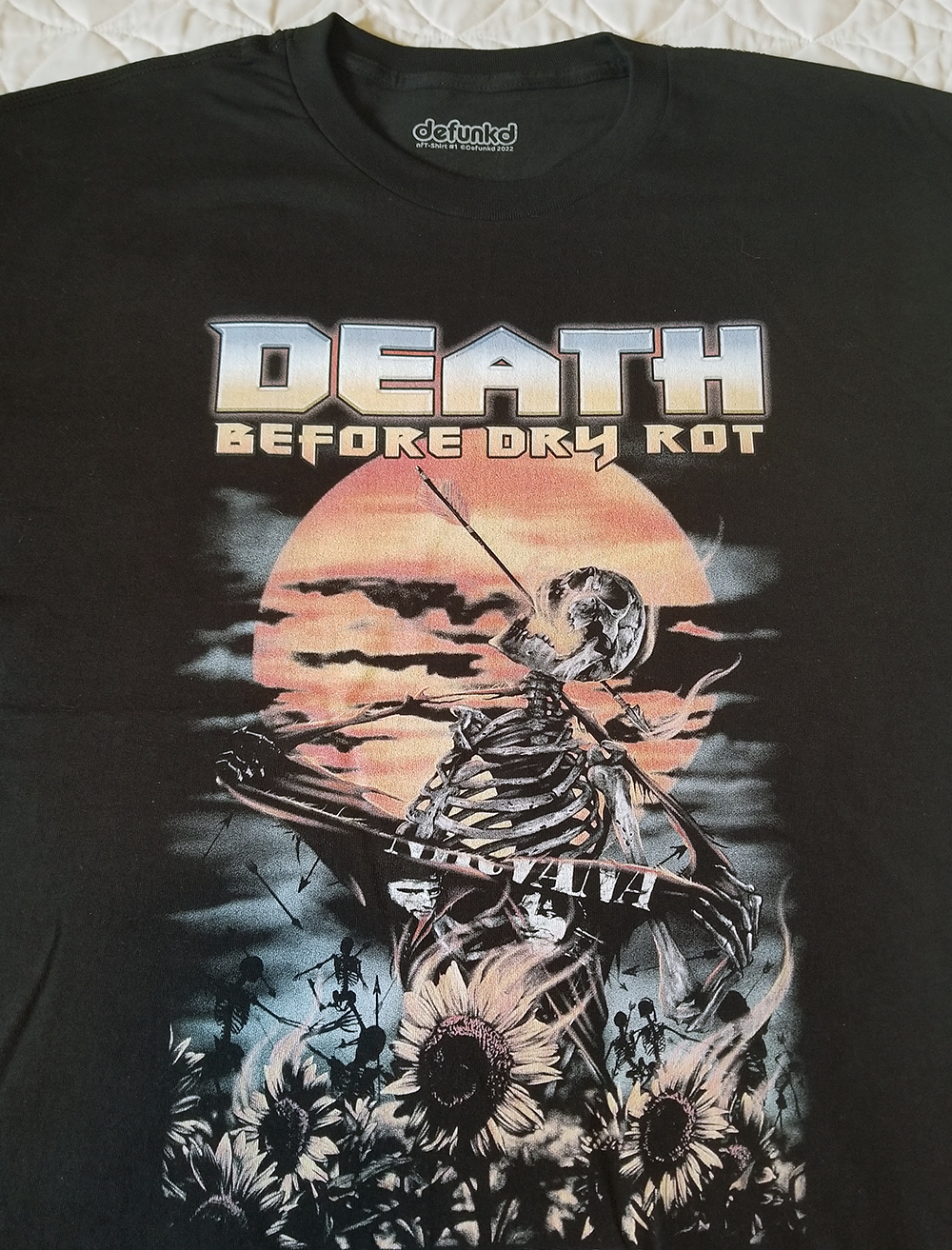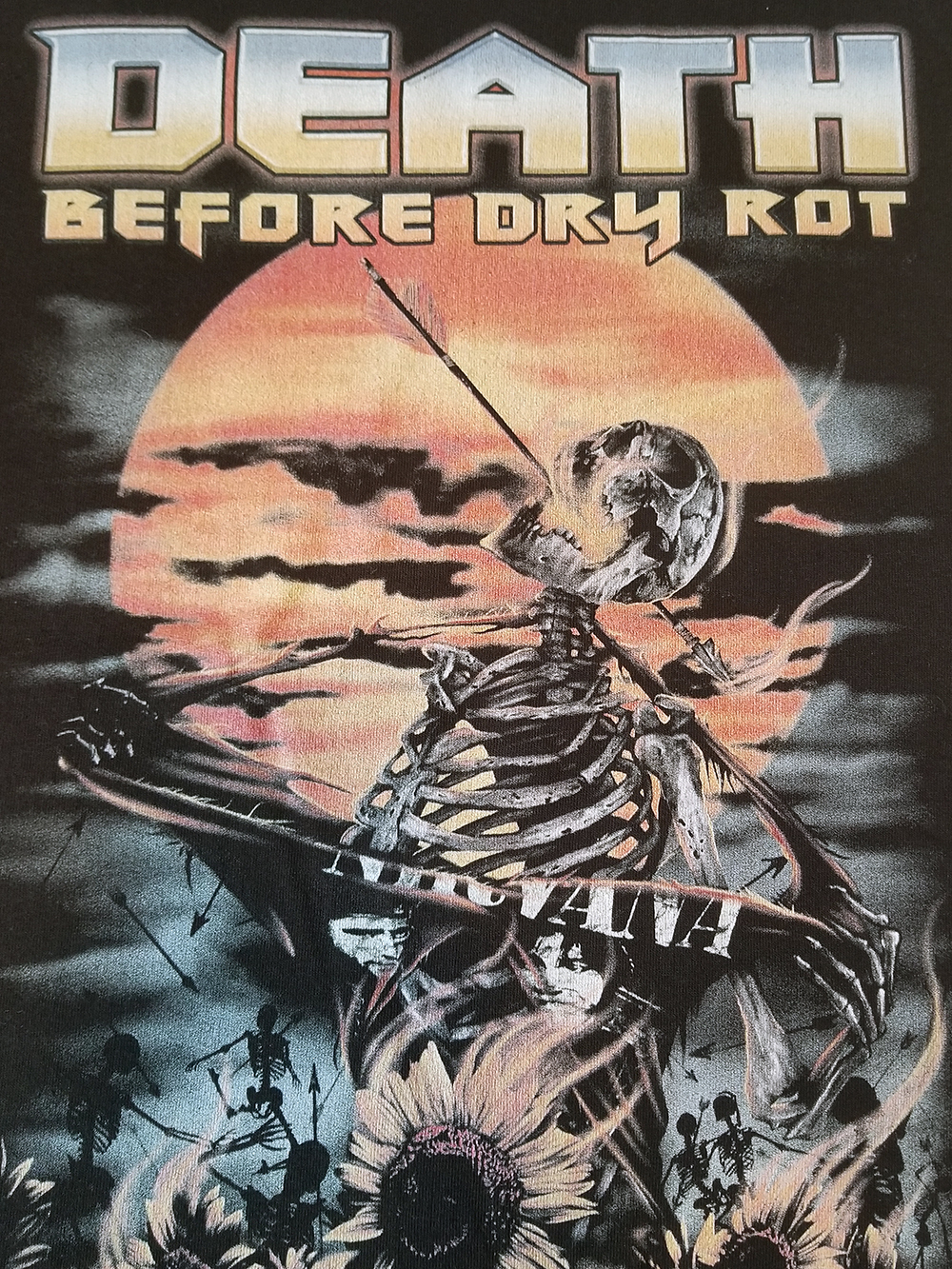 How tell the difference between a DTG vs a Screen Print while authenticating
To get the answer to this we (once again) consulted with a veteran screen printer Named Brett, a former employee at Wild Oats, who is still very active in the business today.  He gave us the scoop and provided this handy graphic.
The inks are very different.
Screen prints generally use Plastisol, and DTG uses aqueous textile inks which are water-based.
DTG ink will age differently, instead of cracking like a screen print, it will appear like chips and pulls.
In screen printing, you'll see the half-tone dots, while with DTG ink you're more likely to see the fabric pattern.
If the print is made up of only solid colors, your best bet is to examine the ink for cracks vs chips.
DTG ink will also tend to have a softer feel to it than Plastisol.
So if you suspect a DTG machine may have been used to create a "vintage t-shirt," the above tips will help you make that determination while authenticating.