My Vintage T-Shirt
A Heroic ILM Employee Rescued a 1979 Bootleg Tee From George Lucas' Wrath
My Vintage T-Shirt is a section written by our readers. Thanks to Shawn Keeler for sharing these shirts and a wonderful story about a legendary artist and dad. If you have a rare vintage t-shirt and a great story please contact us.
My father Ira Keeler worked for Lucasfilm, also referred to as Industrial Light and Magic (ILM) from 1981 to 2001. During his 21-year career, he worked on many films. Empire Strikes Back, Return of the Jedi, the Back to the Future trilogy, the Indiana Jones trilogy, E.T., and Roger Rabbit, just to name a few. Ira collected many letters, photos, and other keepsakes from the films he worked on.
Probably to no one's surprise my Dad was very proud of his storied career at Lucasfilm. To show his pride he always dawned two things, an ILM – Star Wars crew t-shirt and his beloved scrapbook in which he stored all of his photos of the projects he worked on. Both of these merge into one as my Dad often worked on his models in his beloved t-shirts.
One such t-shirt was his Martinez Electric "Power behind the Force". In one particular photo my father is working on the "Pickle Ship", a nickname given to this rebel ship because of the oval bumps all over it. According to my Dad, Lucas would often inspect the progress on the ship and demand more detail. My memory is vague on the relationship between Martinez Electric and Lucasfilm other than that back then before there was PG & E, there were smaller utility providers. I believe Martinez Electric supplied electricity to Lucasfilm's San Rafael film studio.

Another popular Lucasfilm crew shirt is the iconic Lucasfilm baseball 3/4 sleeve in maroon. These shirts being really popular in the early '80s could be seen worn at the film studio, wrap parties, screenings, and the annual 4th of July family picnic at Lucas's Skywalker Ranch. In this particular photo my Dad, wearing his iconic shirt, is showing the progress he has made on his iconic Biker Scout miniature model. This would become the pose-able model used in Return of the Jedi. So many memories of my Father in this iconic shirt.
But there was one particular item my father was proud of and often spoke about – an old Star Wars shirt he had kept safe for many years. He got this particular shirt between New Hope and Empire. He told me this story time and time again – the tees were used at ILM as shop rags because they were bootlegs. It's brown in color with a print on the front. The print is an illustration of an old, grey, bearded man in a brown cloak who closely resembles Obi-Wan Kenobi. By his side is a pilot in a blue and orange jumpsuit tinkering with a robot closely resembling RD-D2. Both figures are silhouetted behind what appears to be Darth Vader's helmet. The words "Trust your instincts" are in bold white lettering. Nothing on this shirt says that it's an officially licensed product of Lucasfilm Ltd.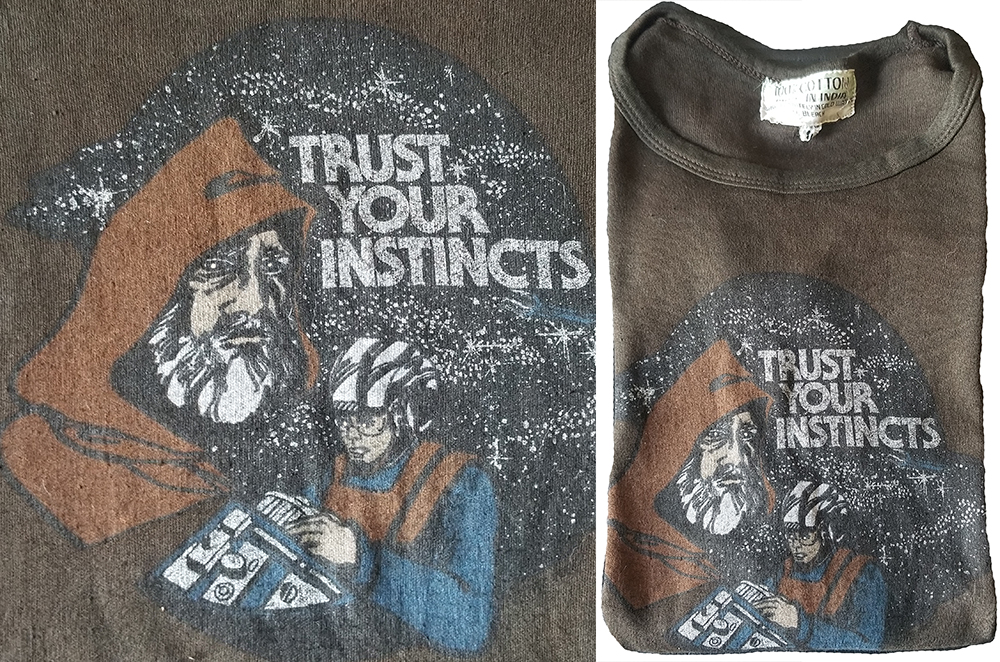 The story goes that George Lucas was furious that these bootleg shirts were for sale without his permission. My father wasn't clear if Lucas purchased all of the shirts or somehow got them from filing a lawsuit. Either way, Lucas had many of these bootlegs and told employees of ILM to use them as shop rags. My father, thinking this would end up being a treasure one day, kept one safe from certain doom.
Thankfully, he trusted his instincts.
This shirt was safely stored away until it was discovered after he passed away on April 15, 2021.
Many of my dad's co-workers and close friends who may have remembered this story have all passed on. The few that I reached out to couldn't recall where the shirts came from but they were certain of two things: One, these were not crew shirts, and two – Ira had a better memory than they did.
Thank you for letting me share my Dad's story.
Shawn Keeler