How To
Thrift Trip Advisor: Headphones & Hand Sanitizer
It's been nearly a decade since my first multi-day marathon picking trip. One of my best friends Glen (@alloriginalsvintage) and I set out in a four-door Pontiac Grand Am to hit ten states in ten days. As a hip-hop and soul DJ, he was already skilled in digging for records. My grandfather was a picker and I grew up going with him to yard sales and flea markets which turned to mid 90s thrifting as a way to find "weird clothes." Glen and I mostly bought records and old boom boxes but had an eye for anything interesting or vintage. We either slept in a tent wherever we could find to set one up (private property included) or in the front seat of the mid-sized sedan. We ate Chef Boyardee at trunk temperature from the can (photographic proof below) and created a mixed body odor that took weeks to leave my car, but we had an incredible time. Since then, he hasn't gone on another similar trip but I became addicted.  It isn't for everyone, but I fell in love with the freedom of the road and have since done it more times than I can count.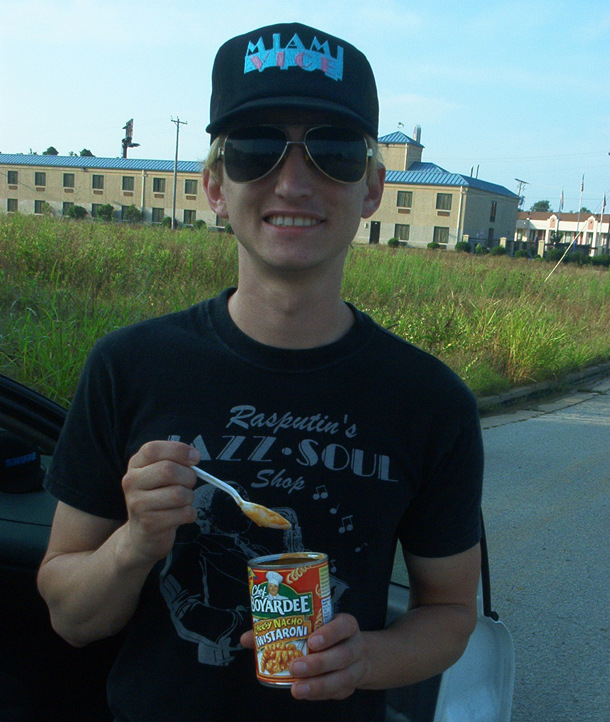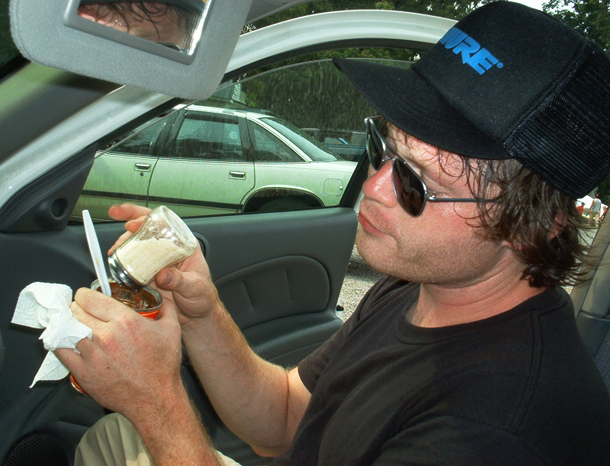 I recently had a rare opening in my schedule, so I seized the opportunity and started packing. Duffle bag full of clothes, check. Laptop, check. Sleeping bag and pillow, check. That was the extent of packing for the five-day solo thrifting marathon to follow. I didn't really have any destinations planned other than generally just heading North. I'd be leaving the morning after Memory Vintage (who I met on the Defunkd forum) and his band on tour from NY crashed at my place. I'd hoped giving strangers a place to stay while I was on the road would pay off with karma and score me a couch or floor to pass out on. It didn't.

Tuesday morning I said goodbye to my guests, threw my sh*t in the car, and hooked up my trailer. By keeping all the product in the trailer, I can easily lay my back sets down and almost stretch out all the way with my head in the rear of my SUV when it's time to sleep. My plan for the day was to hit as many thrift stores between home in Knoxville, TN, and Lexington, KY. While that drive is only about 2.5 hrs long, it would take all day to get there while hunting. There's plenty of vintage America eye candy along the way – like this defunct mini-amusement park.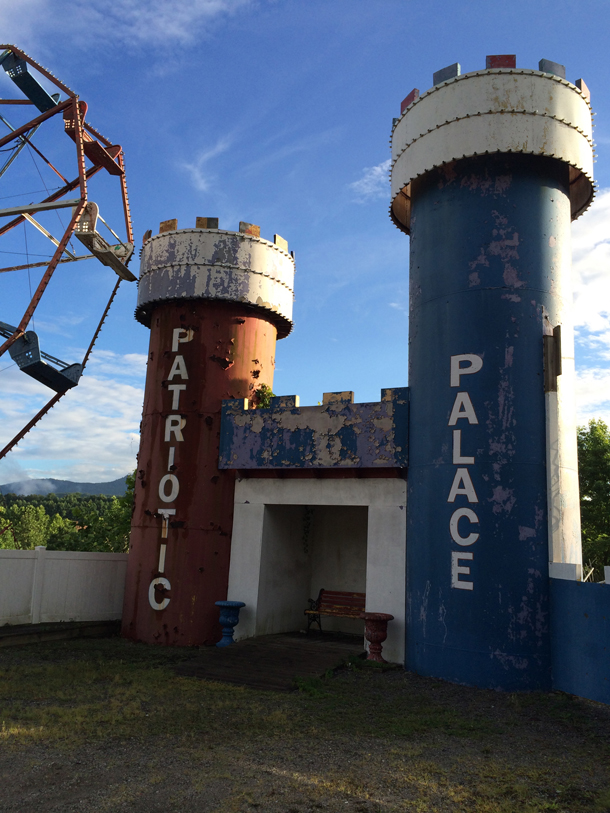 You must be this high seriously high to ride.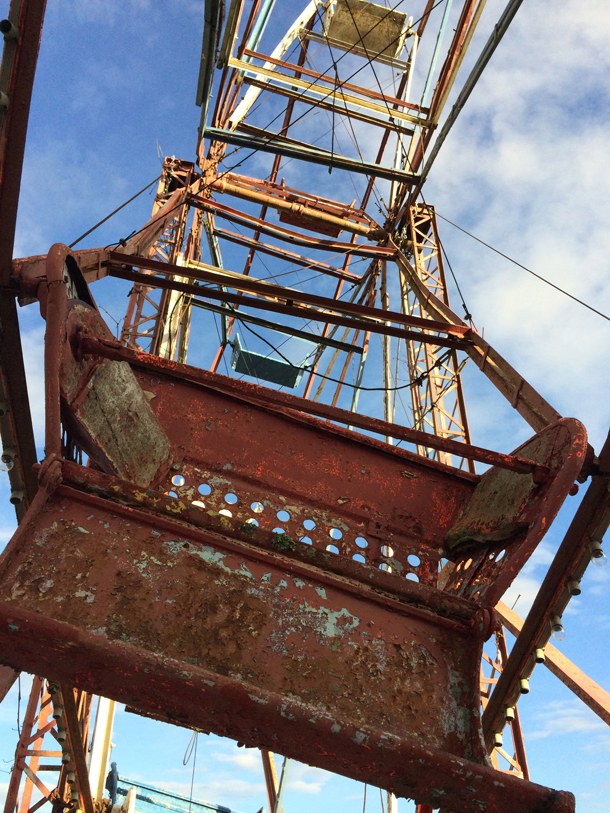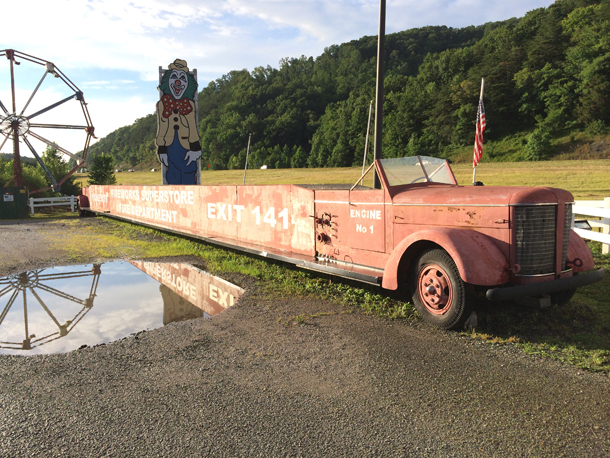 My first stop was a Goodwill in a no-name town in rural Tennessee, the kind I typically feel like is free from any competition. But within the first few minutes, I realized I was wrong.  "Nice ink. My wife and I used to do tattoos out of the house until we got busted.  Now I just grow weed." I turn to my side to see a middle-aged, one-legged man in a wheelchair. We exchange small talk for a few minutes before he tells me that he's looking for clothes to sell on eBay and that he does really well on brands like Ralph Lauren. He also shares a hot tip about vintage Asian design martial arts shirts like the one he's wearing…which is really just a modern tribal print button-up. Even though he's clearly an inexperienced vintage clothing picker, I know that he'd scoop up 90s Ralph Lauren based on the name alone without having any clue about LoLife demand. The same goes for the frat boys that show up to the thrift stores in crews to get costumes for their throwback parties. And of course, the ironic hipsters thinking that Motley Crue shirt is hilarious. The competition is always there, the trick is just to beat them to the punch.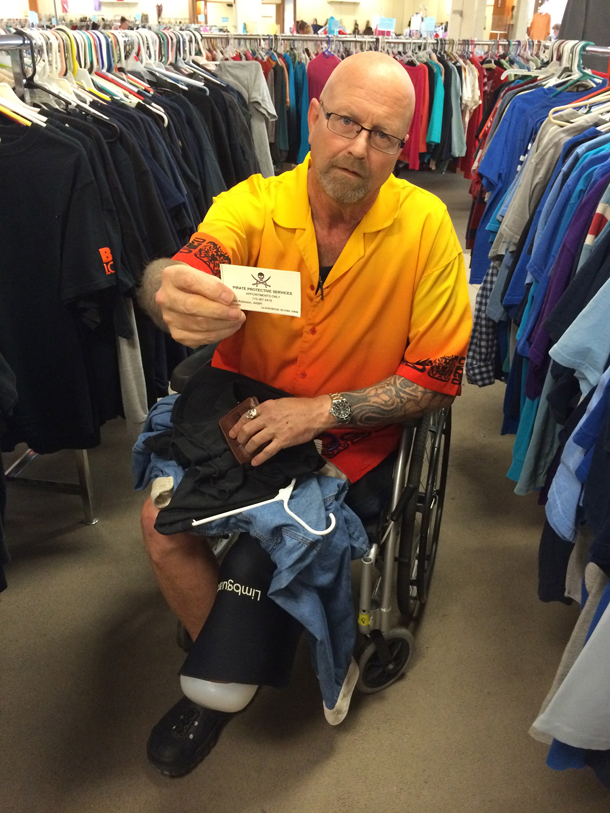 Most days on the road are hectic and nonstop. From the minute the doors open until they kick me out at night, the goal is to not miss any picking time. Route planning is either done at McDonald's using their free wifi before the thrift stores open or at night, planning the next day somewhere with wifi and good beer. I like to make a list of all of the thrift stores in a city and then enter them into Google maps and order them in order strategically so I can minimize drive time.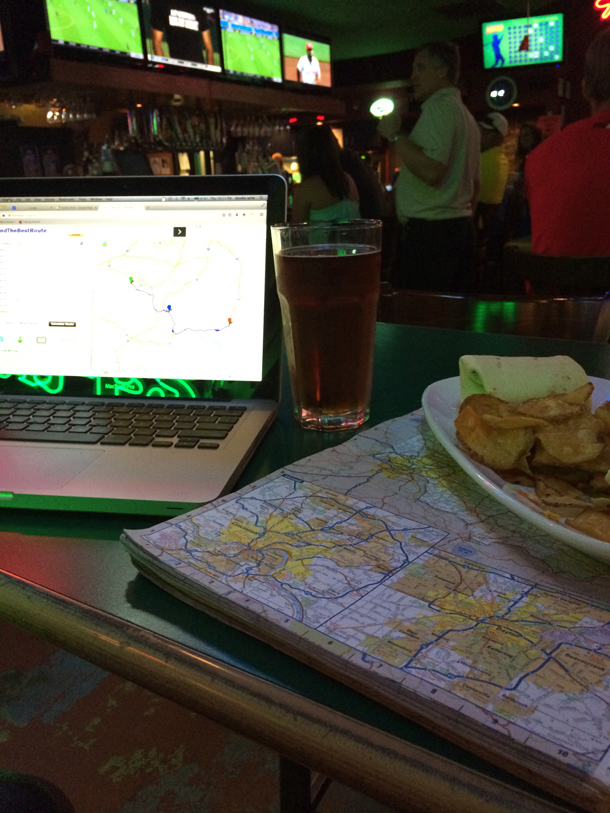 Once on the road for the day, meals are always fast food, and even stopping to use the restroom is postponed until it's an emergency. Of the hundreds of items picked over multiple days, I'll be lucky to remember just a few of them.  99% of the pickings aren't big moneymakers, but $10-$25 pieces that can keep the business running. Occasionally high-dollar items are found, but we consider them a bonus. We hit the road to find quantity.
Nights on the road are where things can get pretty interesting. If you're not paying for hotels and don't know where you're going to sleep that night, the adventure begins. Normally I sleep at highway rest areas, but sometimes they're a little out of the way and it just doesn't make sense to drive to one. I've pulled into quiet neighborhoods with street parking and slept in front of a house, in hotel parking lots where cars are expected to be parked overnight, and even in 24hr store parking lots like Wal-Mart or grocery stores. Regardless of where, safety is always a concern. If someplace feels sketchy, keep looking. Michael Jordan's father was murdered at a rest area while sleeping in his car.
Mary, a solo woman trucker that I met early one morning at a rest area in Ohio always travels with her pitbull for rest area safety. We had a few laughs and both agreed that older white guys are the scariest. In my experience, they mistakenly think I am at the rest area to get some action (think George Michael.)  The best bet is to park under a light as close to other people as possible and never roll your windows down far enough for someone's arm to reach in.
Once I figure out where I'm going to sleep, I'll either kick back in the car and watch a movie on my computer or hit the town. Sometimes I find incredible venues with a cool band or DJ, other times I'm convinced I've found the most boring city in America. Every once in a while I'll make a friend or two, but generally, people don't want to talk to the rough-looking guy at the bar that's been sitting alone for the last two hours. This trip I stumbled on a hole in the wall bar in Dayton, OH called "Hole In The Wall." A turntablist duo going by the name Skratchmatik was running their weekly hip hop night, and as soon as I heard them tag-teaming cuts over the Nas "Affirmative Action" instrumental, I had that feeling like I discovered something incredible. Dayton was a rough town with lots of cool people, but nobody was interested in making friends with a gypsy that night. That's usually the case. You find yourself doing interesting things, but somehow you still feel like you're observing from the outside.
The emotional toll from waking up on the road is what I struggle with the most. After the first night of sleeping in the car, I begin to feel disconnected from everybody around me. Like I'm somehow not as human as they are anymore.  This progressively intensifies each day and I become more dependent on always having headphones in. Sure I get tired of the same fu*king songs I hear over and over on "Goodwill Radio" or even worse the Christian radio stations that many thrift stores use, but mostly I need headphones to keep people from talking to me. There are only so many times you can hear "you got enough shirts there to last you all year! harr, harr, harr!" before you can no longer fake a smile. The isolated feelings are part of what makes these trips therapeutic though. Peripheral sightseeing, weathered roadside attractions, and Highway exits like "Big Bone Lick" all contribute to what makes each trip a necessary adventure. I realize this sounds a bit over-dramatic, but there are very strong emotions that come with being alone on the road for days and everybody handles it differently.
The five days went by quickly and I was happy to return home. This trip took me from Knoxville, TN through Lexington, KY then up to Cincinnati, Dayton, and Columbus, OH and back through Cincinnati again before arriving back home. Spent a ton of money, put over 1000 miles on the car, worked a crazy amount of hours, and put one more Wax and Threads thrift adventure under the belt. It will take weeks for us to process the thrift haul for online sales, but that's name of the game. This isn't a way to get rich quickly, but over time you can build a strong inventory doing what you love. If you're willing to put the work in…just don't forget the headphones and hand sanitizer.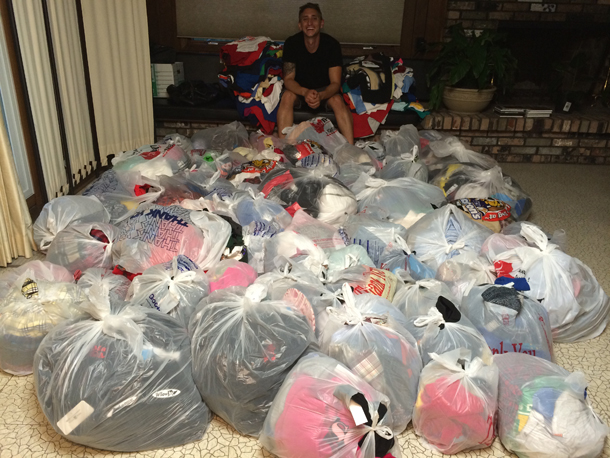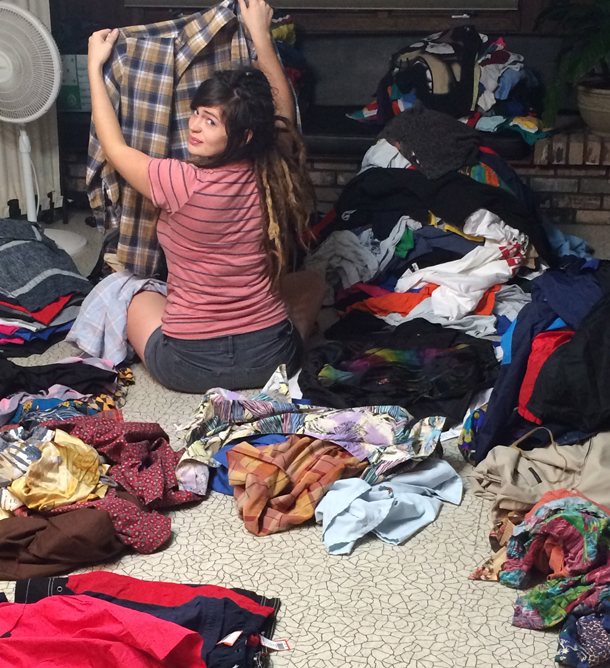 I know what you're thinking, "so what tees did you find!?" After the initial sort was completed, here's a handful of highlights: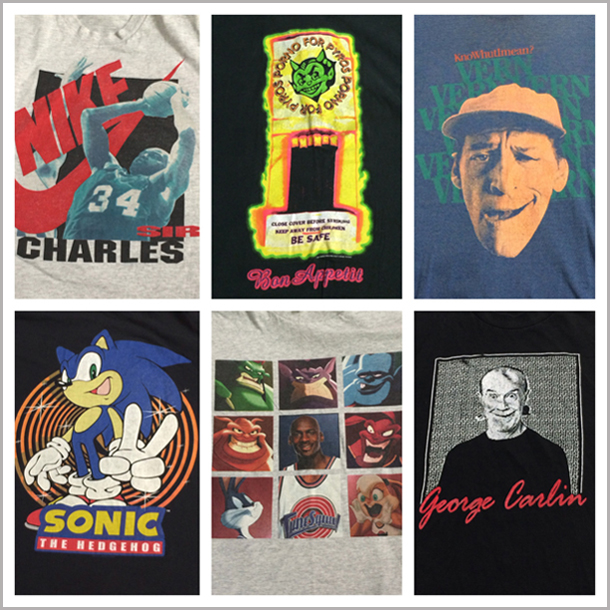 The Final Tally
Days in trip: 5
Hours worked: 78
Miles driven: 1044
Fast food meals: 13
Friends made: 0
Dollars spent: Don't want to think about it
P.S. Showering becomes the most refreshing experience on these trips. It's amazing how little we think about it until you only get one every three days. The best place to clean is at a truck stop. There are apps to help you find truck stops (or travel stations), but they're usually pretty easy to find. You just go to the counter and tell them you want to shower – but usually, they already know. You hand over $10 and they hand you a receipt with a shower number and a code on it. Most of the time there is a lounge area with a TV, an arcade, laundry room, and tables with electrical outlets for your wait. Every few minutes a new shower number is announced over a speaker and when your number is called, you go back and find your designated room. You punch in the code on your receipt into the door and inside you find a clean shower, toilet, small bar of soap, and a couple of clean towels. Not sure what the time limit is, but usually it takes about 30 minutes to feel like you again.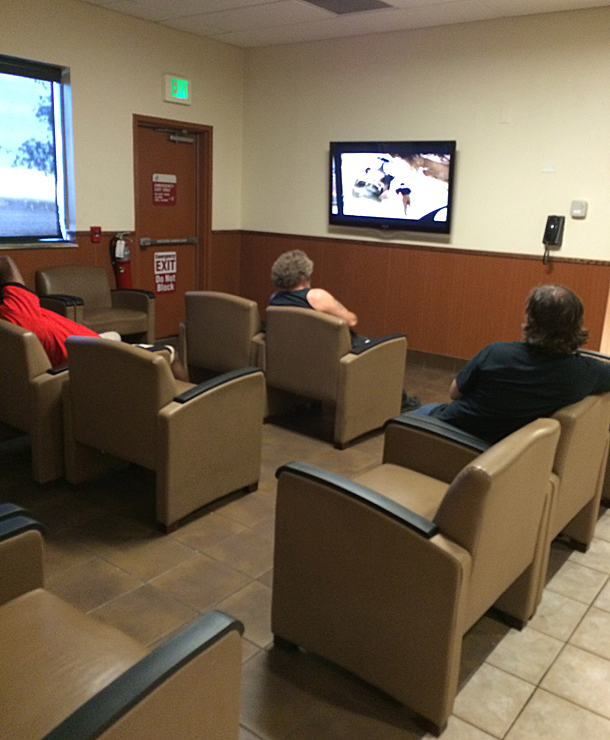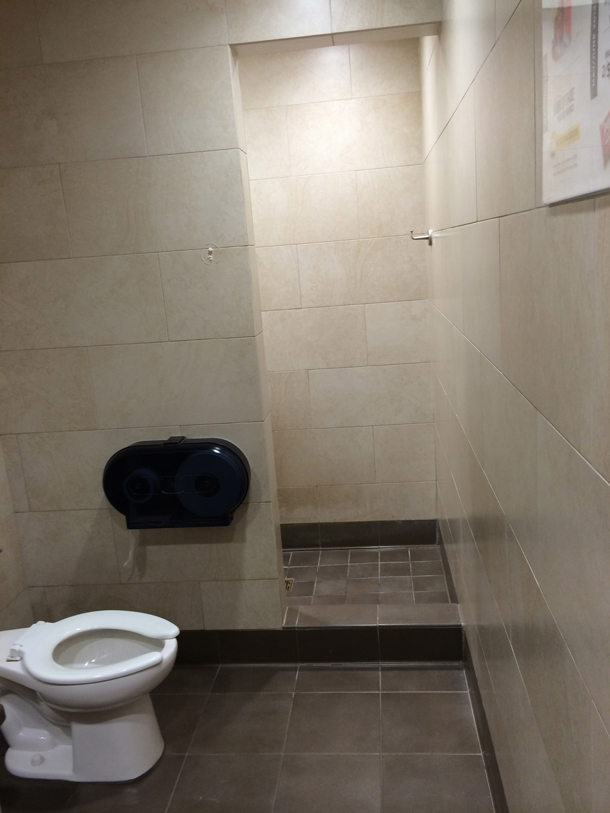 Vintage Clothing Thrifting Road Trip Tips
Use a vehicle with plenty of room for storage AND sleeping.
Map out the route using a thrift store locator and your favorite map app.
Fast food is your friend, especially for wifi.
Get some rest by parking overnight, under light, in the vicinity of other people.
Empty lots at shopping malls or Walmarts are a great option.
Bring a laptop for entertainment at night.
Eat, refuel, rest, shower, and use the toilet at truck stops.