Jackets
The High Cost of The Lo-Life
Who would have thought a Ralph Lauren sweater featuring a polo outfitted bear would be pursued by those on the cutting edge of hip hop fashion? Not me, but I like it, I like it a lot. The style's roots are in NYC where a gang formed in the late 80s called Lo-Lifes ("Lo" short for Polo) made colorful RL gear their fashion of choice. Today certain shirts, sweaters and jackets sell on eBay for up to 10 times their original value – so sporting Lo comes at a high price.
Ralph's certainly benefiting from plenty of free endorsements. Hip Hop icons like Raekwon are frequently photographed in his vintage gear, producer Just Blaze reportedly has the largest collection of it in the world, and Thirstin Howell III has a song titled, "Polo Rican" biggin' it up and basically saying FU to FUBU. Needless to say modern artists like Kanye, Drake and Chris Brown have all sported it.
How long will this trend continue? It all depends on whether or not Ralph Lauren can keep his hand out of the "cookie" jar. Can he pass up the big bucks that would result from re-issuing these popular designs? If so, the trend is here to stay.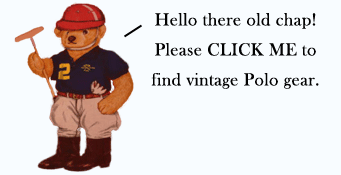 [Update 10/17/13: Ralph Lauren reportedly reissues P-Bear sweaters for their "Bring it Back" line. And Polo launches RLVintage.com offering vintage direct from the man himself. Coincidentally, the prices for some of these pieces have dropped.]
[Update 23/09/15: Polo revives the Polo Sport brand, yet has little effect on the sought after vintage pieces.]
Where's the best place to find it? We're always stocking and re-stocking Polo Sport as it rolls in and quickly rolls out here. But you can use the links below to search for specific in demand Polo Sport items across eBay.
Which vintage Polo items are the most sought-after? It's not the shirts with the little guy on the horse, or we'd all be rich. It's mostly the clothes that fall under the Polo Sport brand which was introduced in 1993 and then went defunct in 1998.

Click the highlighted terms below to search for various Polo Sport Terms:
The "P-Bear" and his multiple incarnations (skiing, golfing, in a tux or just hanging out) are hugely popular in sweater form.
Anything "P-Wing," which is basically a track and field symbol (a shoe with wings) on sweatshirts and jackets.
Any of the elaborate "P-Wing", "Stadium" polo shirts with all-over prints featuring various types of sports.
Anything with "cookies" on them – which is an embroidered circle containing Polo branding.
Jackets and hoodies that read, "Snow Beach," or have an Indian head or tiger.
Pretty much anything with a USA flag, or any combination of the above features.
And the Holy Grail of vintage Ralph? Get this: the 100% silk polo crest shirt (below bottom right) recently fetched more than $2,300 on eBay.