How To
How to Frame a Vintage T-Shirt and Protect It Using Museum-Level Standards
Every t-shirt collector has at least one tee they consider a holy grail. Perhaps it's worth a small fortune, or maybe the sentimental value is through the roof. Whatever the case may be, that poor shirt will likely spend eternity locked away in a vault.
But what if I told you there was a way to proudly, and safely, display it on your wall?
We did a little digging and found the best t-shirt frame that uses scientifically backed protective materials.
Enter: SHART.
(Short for shirt/art. I think. I hope. But you certainly won't ever forget the name.)
SHART offers a frame with "TRU VUE" glass that will shield your t-shirt from up to 99% of UV rays, preventing damage from the sun's rays. Obviously, we don't recommend putting your shirt frame in direct sunlight, but it will be safe under regular indoor lighting conditions. It's the exact same "conservation grade" glass museums use to protect their priceless artifacts.
Here are the specs and there are more details on TRU VUE's website.
But the material inside the frame is also super important.

SHART uses a patented closed-cell polyethylene foam insert that "protects, preserves, and keeps your tees safe."
This exact material is described on page 11 of the SPNHC's (The Society for the Preservation of Natural History Collections) "Materials for Museum Collections" PDF:
Inert, moisture and chemical resistant, energy absorbent, light-weight.
Further, the National Park Service lists this foam on page 3 of their "Safe Plastics and Fabrics for Exhibit and Storage" PDF.
No harmful additives and ozone friendly. 
Translation: rest assured, your t-shirt will be safe and sound!
This project was inspired by a Prince tee in my collection. Sadly, I recently discovered it has been ravaged by dry rot. After crying in the fetal position for three days, I pulled myself together and started thinking about ways these shirts can be repurposed (besides using them for dry rot research.)
The good news is that in most instances of dry rot, the print on the t-shirt is slightly more sturdy because the screen print ink acts to reinforce the damaged fibers. So at the very least, I can showcase the t-shirt's artwork. But with SHART's frame, you don't have to alter the shirt at all. I might as well preserve the whole thing, in the event dry rot is cured one day. Maybe I'll open my frame years from now and be able to bring my t-shirt back to life. Kinda like Walt Disney, that's why he's cryogenically frozen right? (he isn't.)
Until there is a cure, this Prince t-shirt will become art.
How to Frame a Vintage T-Shirt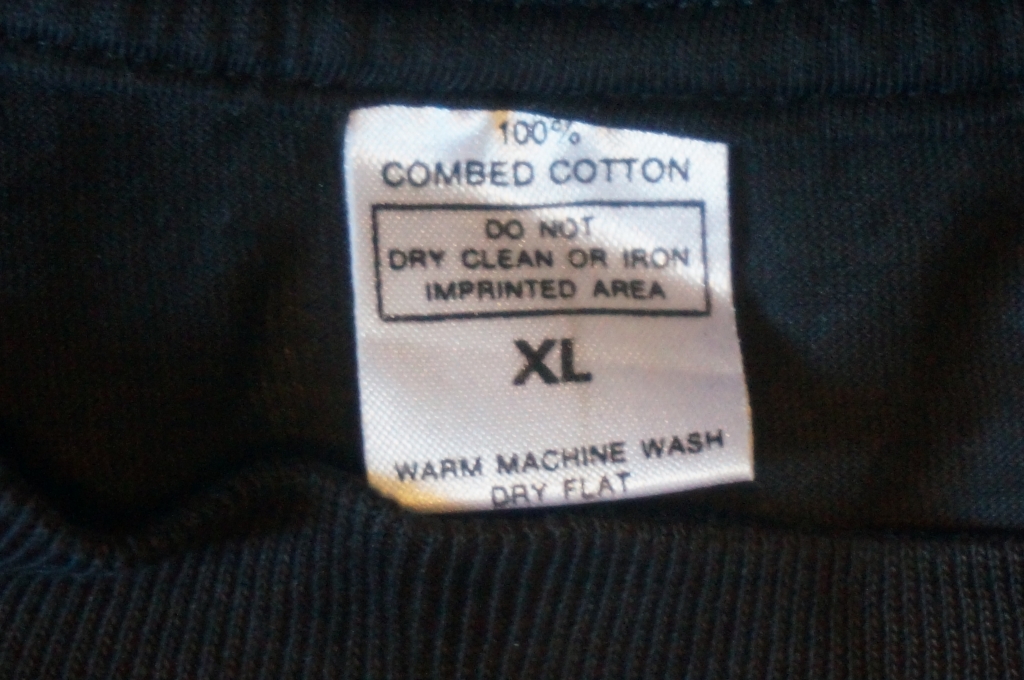 Trigger warning.
Here's what you'll get in your SHART package (BTW, the UV glass isn't standard on their frames, more about this later!):

First things first, position the foam insert behind your t-shirt and neatly frame up the portion of the print you want to be displayed.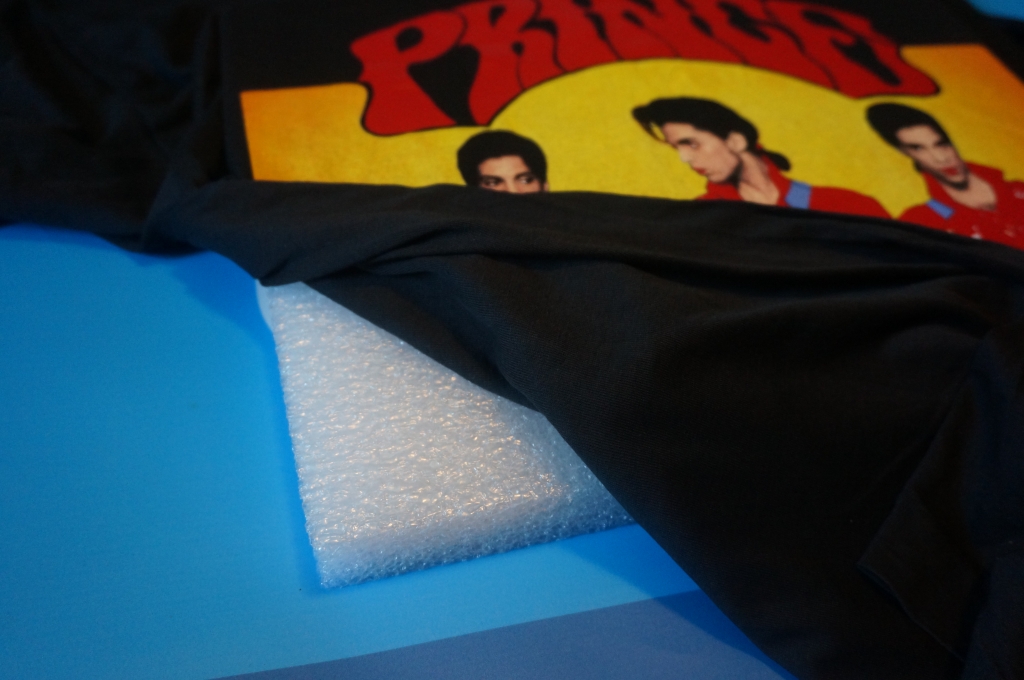 Pull back the protective plastic on the UV glass.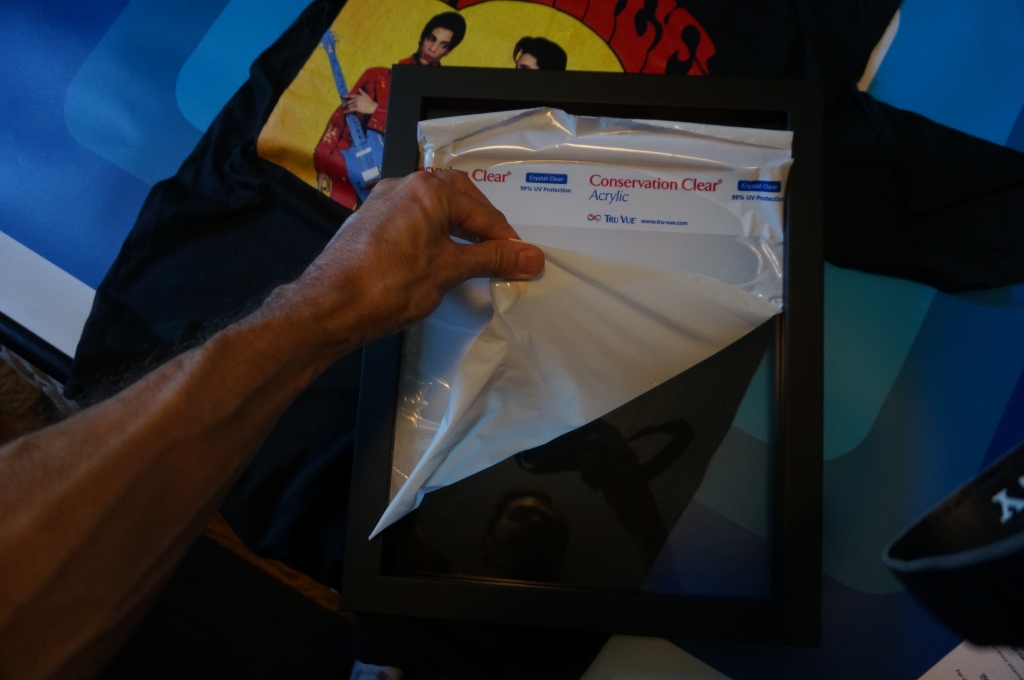 Put the frame over the t-shirt and foam, making sure that the hardware for hanging is in the correct spot.
Pro-tip #1: Have a lint roller handy, the glass can be a little static-y, and dust and dog hair (RIP Casey) can get trapped on the inside.  I recommending rolling your shirt first, and also bring a delicate cloth to remove anything on the inside of the frame.
Flip it over carefully and then neatly fold the remaining fabric of the t-shirt inside the frame. Figure out the best fold so that there are as few lumps as possible. It doesn't have to be perfect.
Pro-tip #2: Do this on a soft surface so you don't scratch the front of the frame.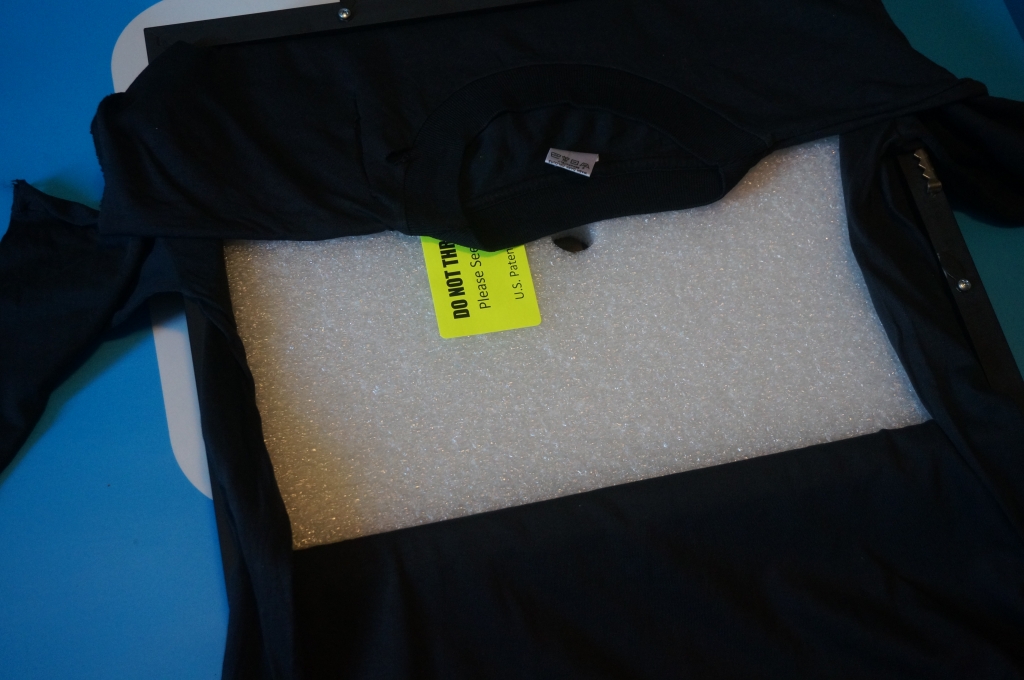 Pro-tip #3: Make sure the pointed tabs are parallel to the frame and don't stick out. (I almost snagged my t-shirt on the one in the photo that's sticking out.)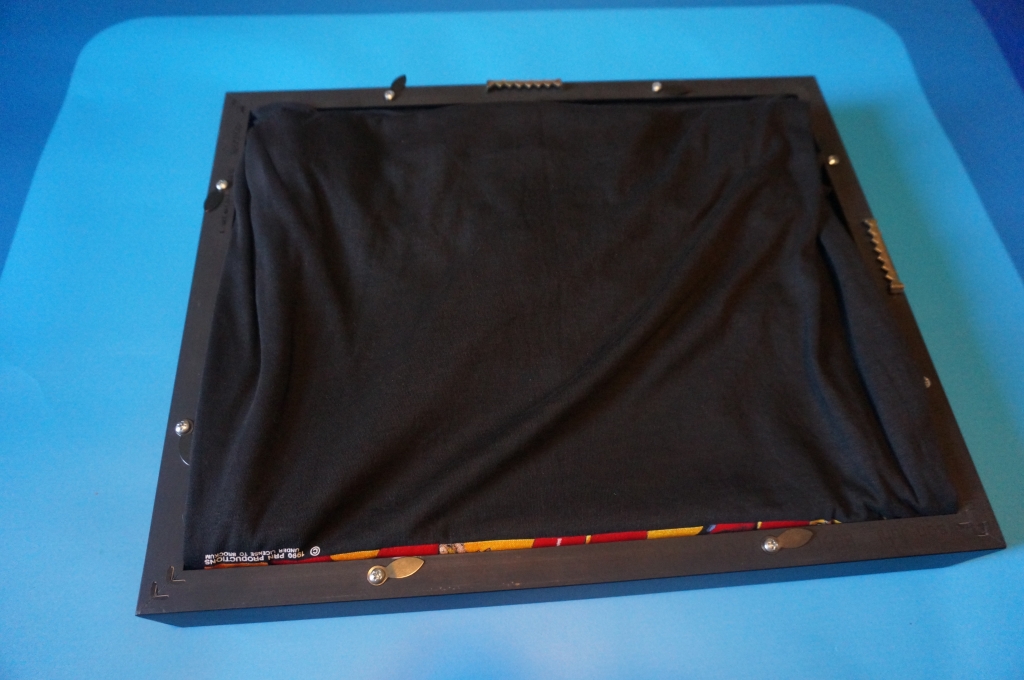 Rotate the tabs inward and screw them tight. You can also gently push down the pointy part to secure the backing even more.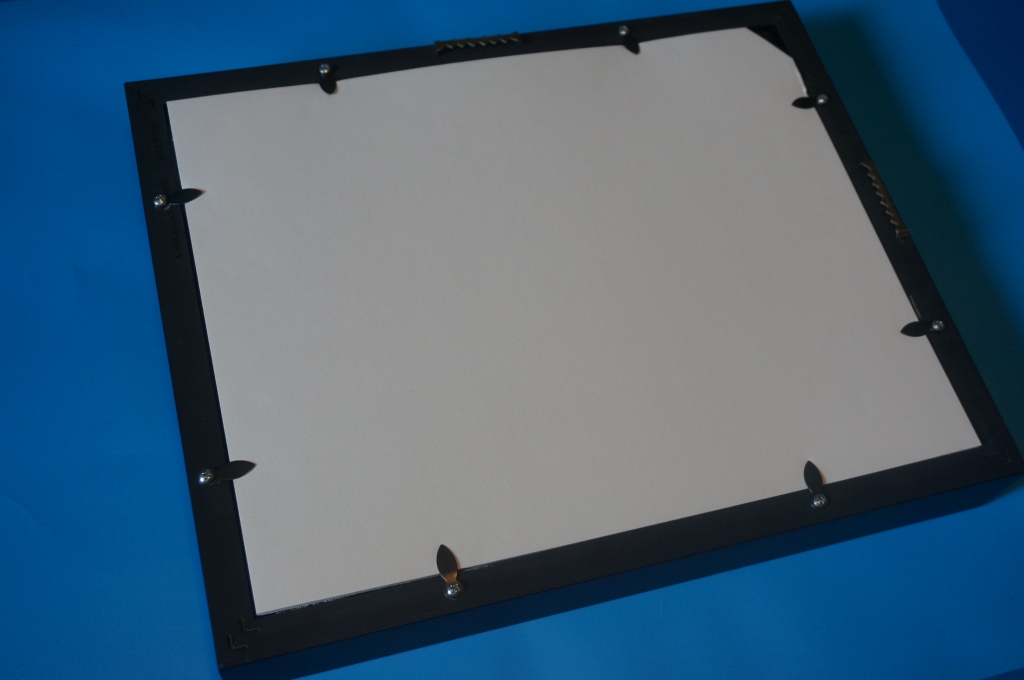 Voila. Beautiful.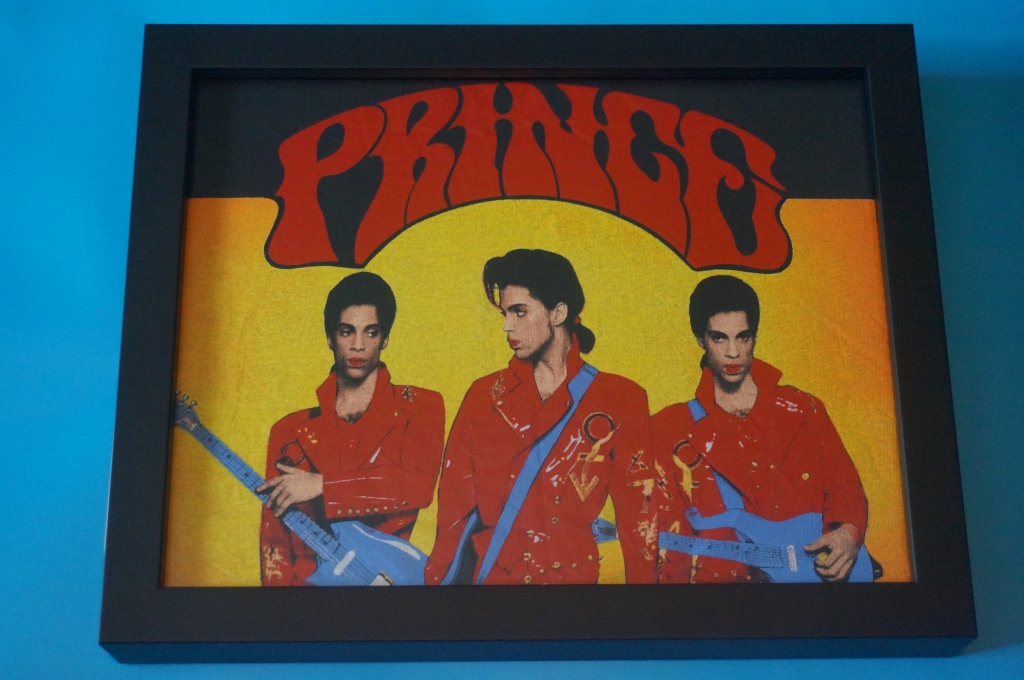 Things to Consider Before You Buy a T-Shirt Frame
Size of the print
In the example above, the print worked out nearly perfectly with the frame. The width of the print was almost identical to the visible area inside the frame (the only detail that was lost is the tip of Prince's guitar.) Before ordering you should map out what the space on your shirt will be within the visible area of 10.5"x13.5". Oh, there's dual mounting hardware on the back so you can hang it vertically or horizontally.
Mega-prints and especially all-over prints aren't great candidates to be framed like this, because there's no real focal point to the print.
1970s and 1980s prints are a stellar choice because they weren't too big.
Size of the shirt
The Prince tee above is an XL from the 1990s and took a bit of fiddling with to fold inside the frame so the back panel was flush. I checked in with SHART and was told there are no issues with more modern XLs. But I suspect an XXL might be too big for a SHART.
Regular or UV Protection Glass
Heads-up! The UV protection does not come standard on SHART's frames and it can't be added via purchase through the site. You have to know a guy, and thankfully we do!
Email Todd (info@shart.com) and tell 'em Jimmy sent ya, and he'll hook you up with the UV glass for only $10 (it's usually a $20 upgrade.)
If you're not concerned about UV protection, you can use DEFUNKD as a coupon code and score 10% off all purchases made through the SHART website. It will be applied automatically when you use this link.
Jimmy founded Defunkd in 2004 when he started selling vintage t-shirts online. 20 years of experience later and he hasn't looked back since. Actually, he looks back all the time given he's a sucker for nostalgia. For more, check the history of Defunkd and Jimmy's Expertise.