Collections
An Interview With a Guy Who Collects Vintage Jesus T-Shirts, Religiously
Not long ago, vintage religious-based t-shirts were a tough sell. In fact, the religion category on our website was among our least popular. But everyone loves a great comeback story, especially Jesus. One of the things we love about the new age of vintage t-shirt wearers is their appreciation for niche tees. We've seen collections of anatomical, recording studios, adult swim, and serial killer tees. Hell, even vintage Country t-shirts are having their moment, which is a sentence I never thought I would write.
To help us make sense of all this we caught up with Javier, the man behind the @vintagejesustees IG page.  He undoubtedly has the biggest collection in the world, which sounds like a big cross to bear, but he's totally nailing it. Not only does he collect vintage but he's also created his own modern t-shirt brand and a percentage of his sales "go back into the kingdom of God."
Javier is a force of positivity and we absolutely love his passion.
What's the Holy Grail of vintage Jesus t-shirts?
For me, the Holy Grail is more Holy less Grail. I love what these tees represent for me it is a mash of things – I love Jesus, vintage, art, fashion, rarity. So I think the thrill of the chase in discovering tees I've never seen before is the holy grail. Having run this page for 2 years I love going online and finding a Jesus tee I've never seen before and being like WOW!! That feeling is always so good. But to answer your question I really have all the grails I've been looking for now. The last two I was searched for two years for and got them both on the same day.

I spent $1,500 on two tees.  (That's the most I've ever spent on tees. ) I'm used to spending $30-60 but these are two I had been searching daily for two years.
View this post on Instagram
View this post on Instagram
Once I hit those I feel like my bucket list was fulfilled. There are still some I want like the Warhol Jesus tee. But apart from that looking just for stuff I've never seen before.
What's the earliest known Jesus tee?
The thing with Jesus tees is that I feel like the first ones had to be part of certain ministries of movements. Prob more like merch for crusades etc. that is something I definitely want to research more.
What's the most you've ever seen a Jesus t-shirt sell for?
Most I've sold a tee for was the Jesus lighting American thunder for $1k on 1980s virtual flea. Just like all vintage AOPs and rarity sell best.
Do you collect t-shirts from other religions?
I wear these tees and have this page because I actually believe that Jesus is who he says he is. So that is why I rep these tees so hard and really is my focus and passion. As far as other religious tees I would pick them up before when I sold all vintage. But now that my focus is on my VJT page and Modern Revival I don't pick up really anything. Plus I think it would be confusing to see me rocking a pentagram
Do t-shirts that feature the devil bother you?
I have tees that have Satan on it like "Satan is a poo-poo head". But to be serious that stuff doesn't scare me or bother me at all I know that Jesus is victorious and Satan is defeated. I didn't grow up a Christian so I saw a lot of tees like that growing up and some of the art is great and the death metal fonts are always amazing. I have respect for all vintage and art. There def is a line where I'm like "Yo, this is way too far when the point is being disrespectful." I wouldn't buy it for myself unless it was for a reference of art.
My goal is to have modern-day vintage vibes. Have designs and vibe that was back in the '80s and '90s. More graphic-based designs not just some small font on a tee. Which is cool and all but I love the vintage crazy graphics. When I started the brand a few years ago it seemed like the culture was more focused on hype wear like supreme but now 3 years later. That has changed the trends back then was minimal and just fonts so I wanted to revive old designs with a modern take. Hence modern revival.
I would love to continue to grow it and for it to be an inspiration to all that wear it.
What's your best-selling Modern Revival tee?
I really like my first tee which was the "only one will save your soul " I had the tee idea for 2 years before ever making it. Also a few years ago it was impossible to find anyone who would print AOP now it's pretty easy to find a supplier. But my first was my past favorite. But whatever I make next will continue to be my best.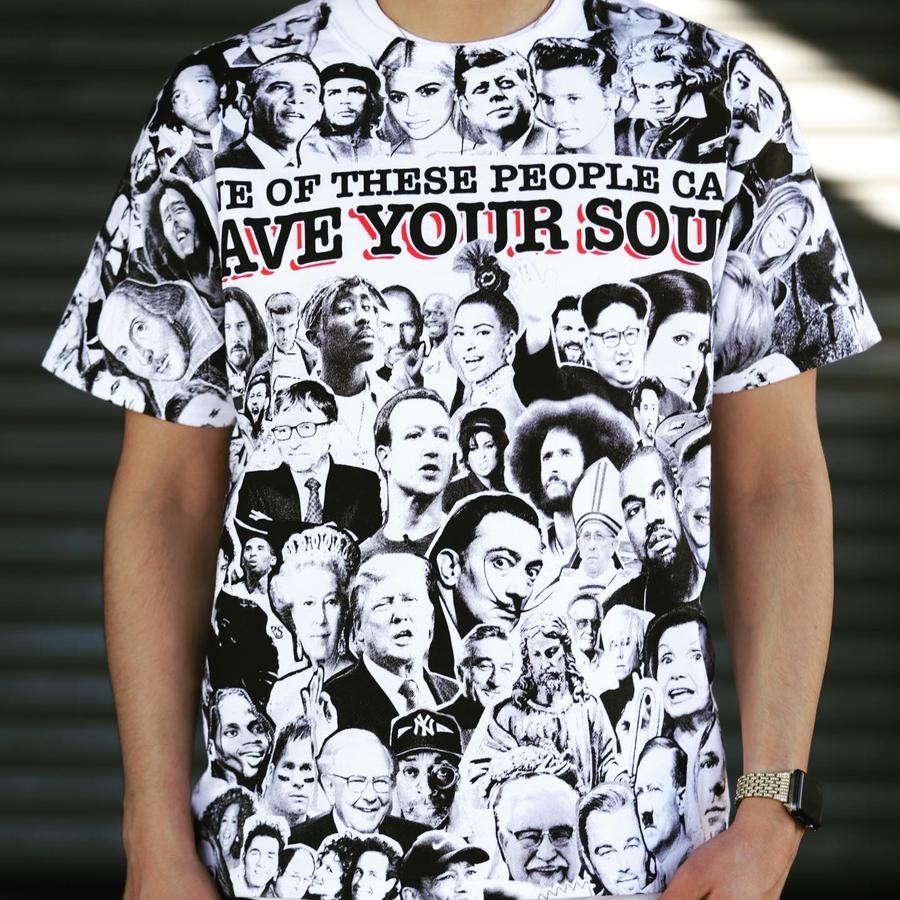 What are your thoughts on some who push back against modern bootlegs?
Bootlegs have been a topic of discussion in vintage lately for me I'm all for it. I'm inspired by the entire community. I love that people design t-shirts that they wish they could find. Knowing these will be vintage someday is exciting.
Tell us about your forthcoming book? When is it out? How many shirts are featured?
The book is still in the works it has been a more in-depth process than I had anticipated. I have about an estimated 700-800 t-shirts photographed. It is something I would really like to get done by Easter if possible but it will be done right rather than rushed.
We asked Javier to share some of his favorite Parody-based vintage Jesus t-shirts and he did not disappoint.
Movies and TV
Vintage The Matrix Parody T-Shirt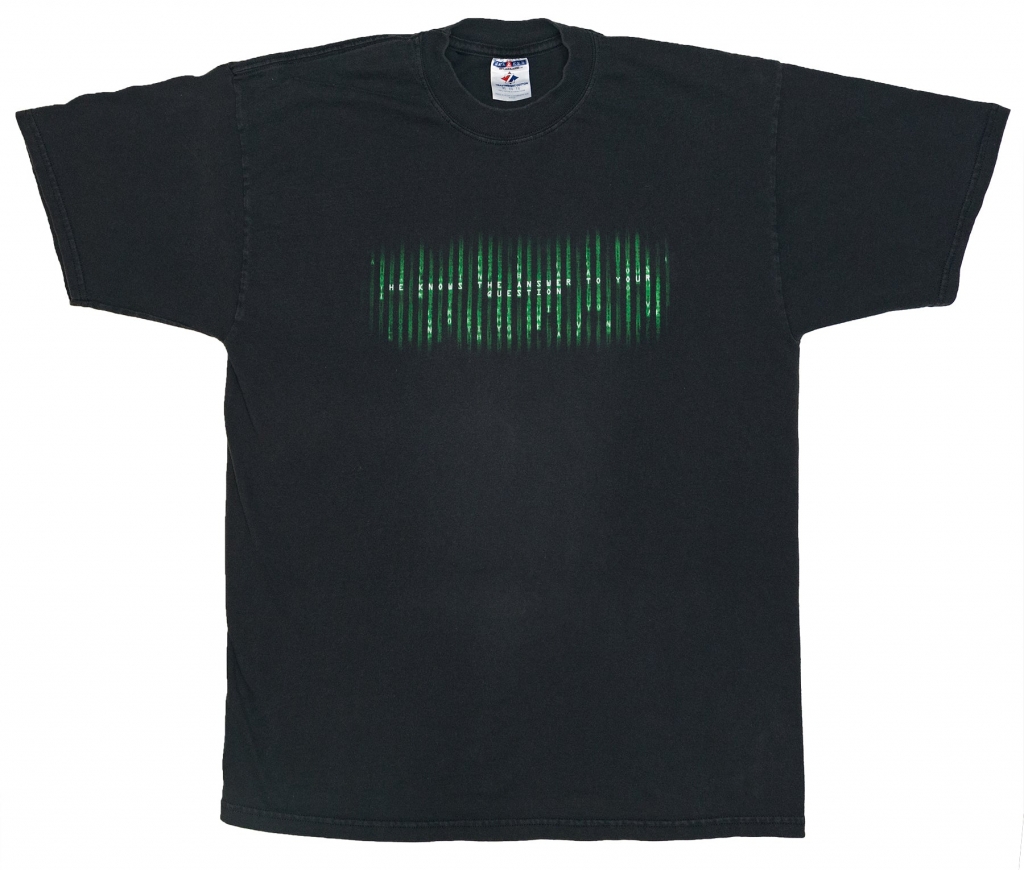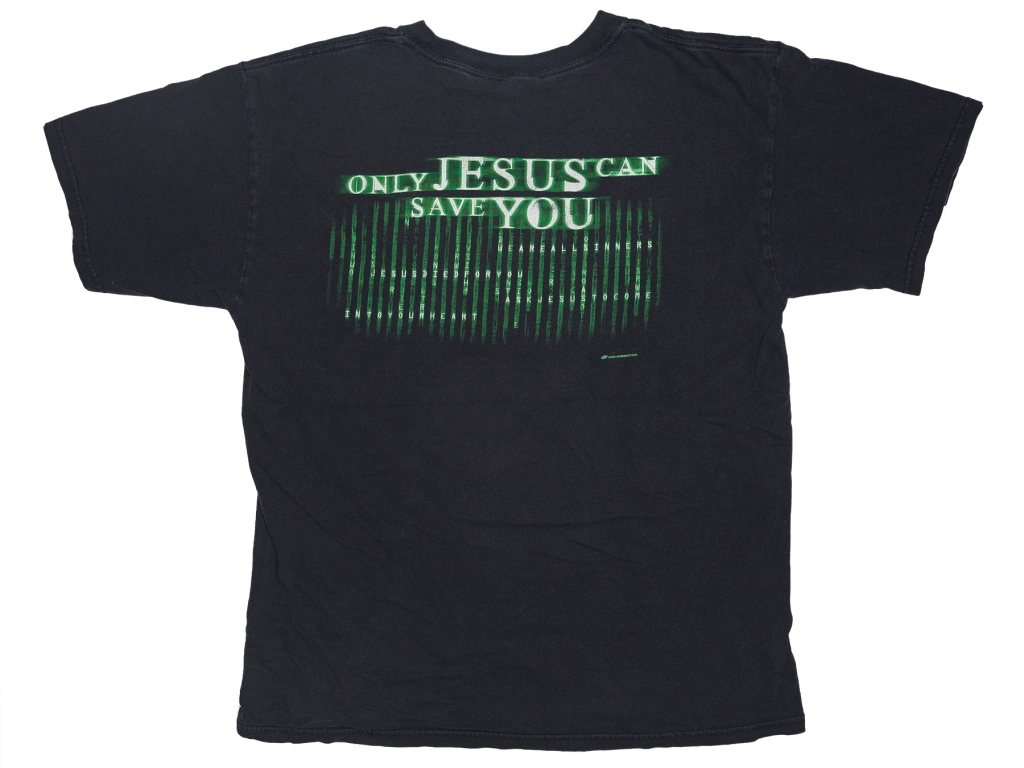 Vintage Home Improvement and Sitcoms Parody T-Shirt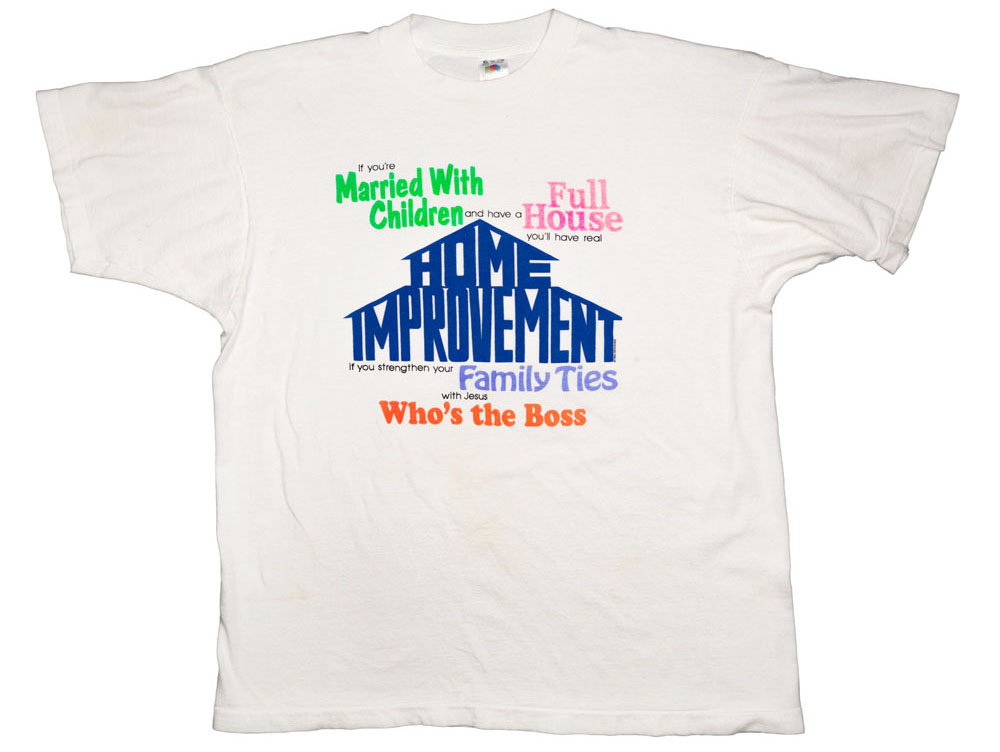 Vintage Scarface / Sacrifice Parody T-Shirt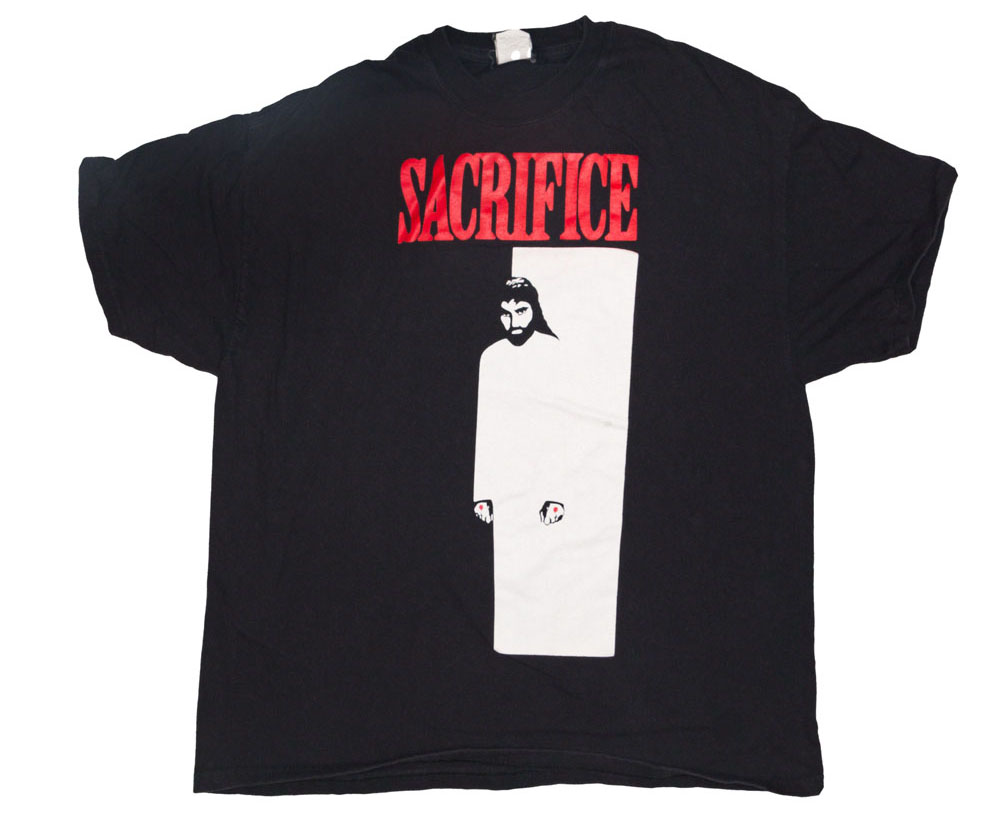 Vintage Wayne's World / God's World Parody T-Shirt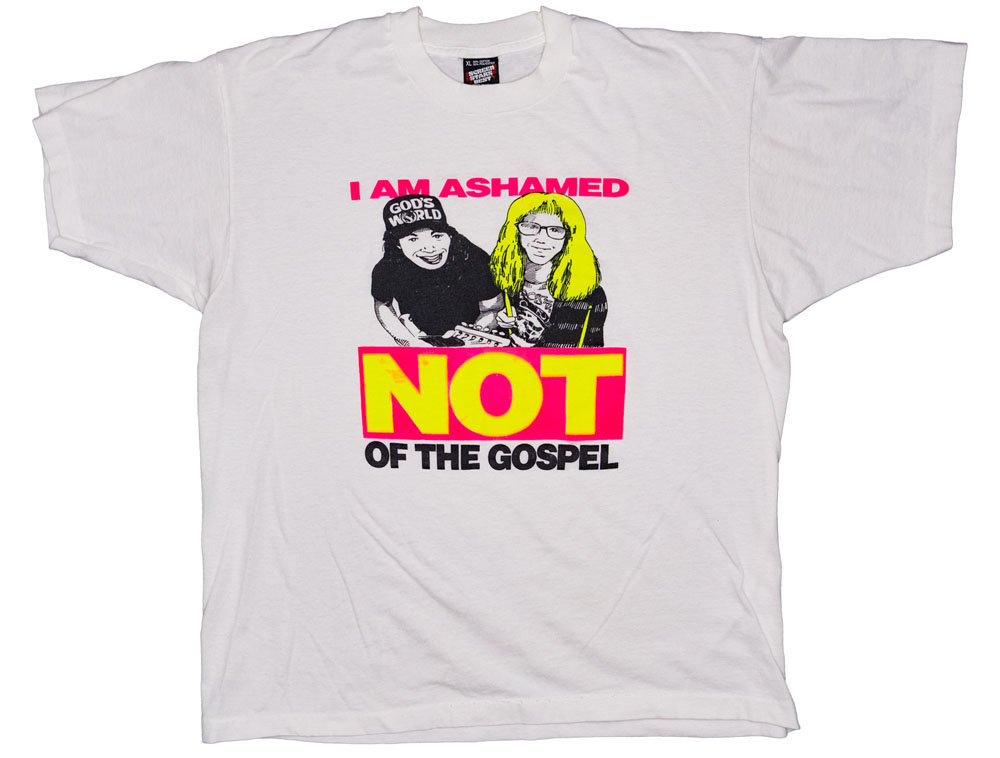 Vintage NWO / NOW Wrestling Parody T-Shirt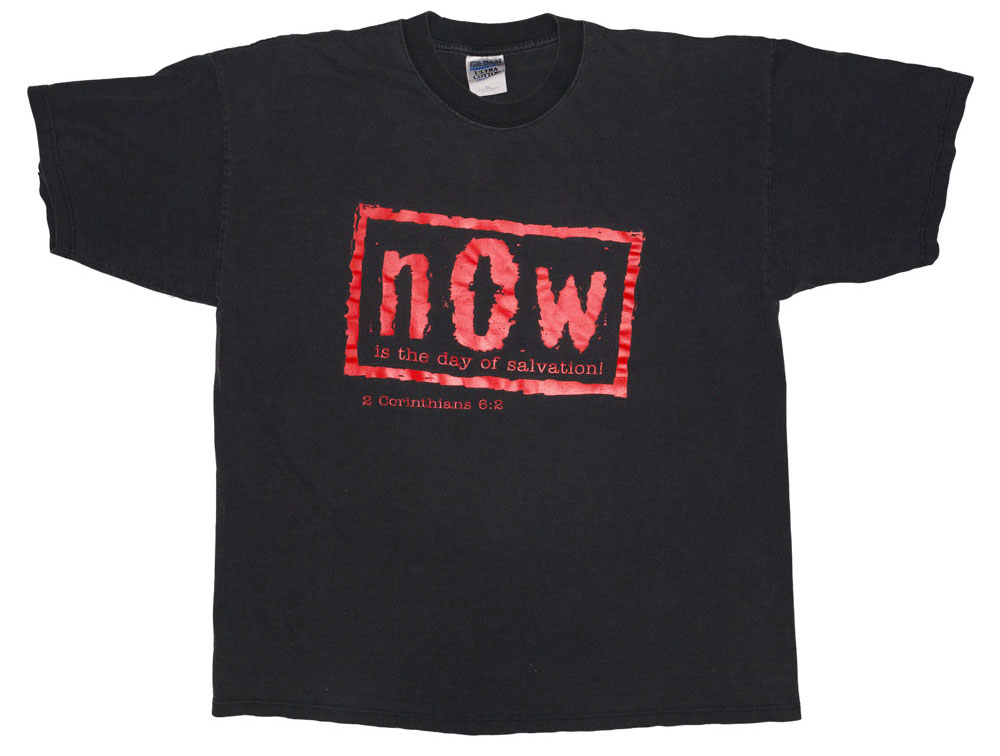 Vintage The Lion King of Judah Parody T-Shirt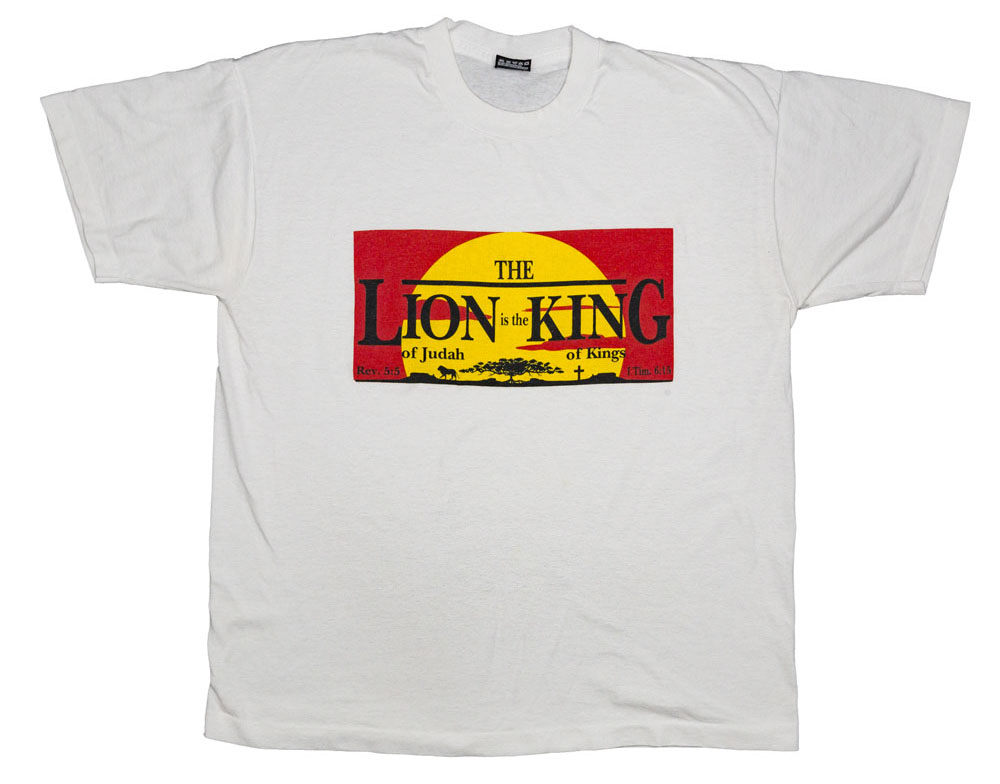 Vintage Austin Powers Awesome Powers Parody T-Shirt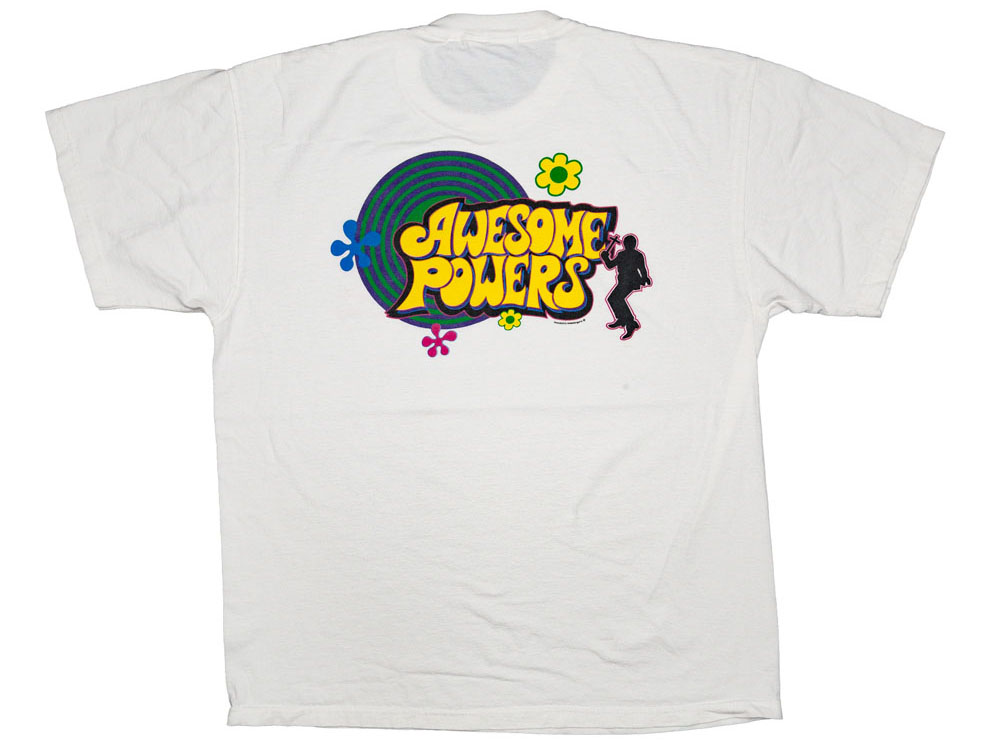 Vintage That's All Folks Looney Tunes Parody T-Shirt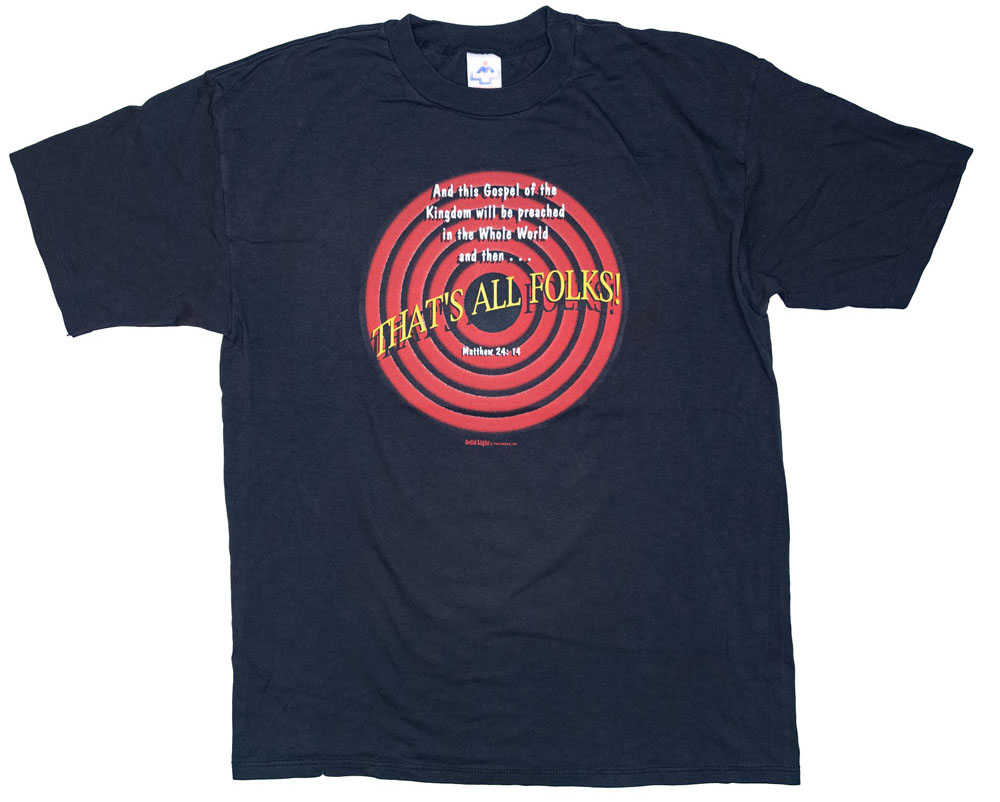 Vintage Star Wars Parody T-Shirt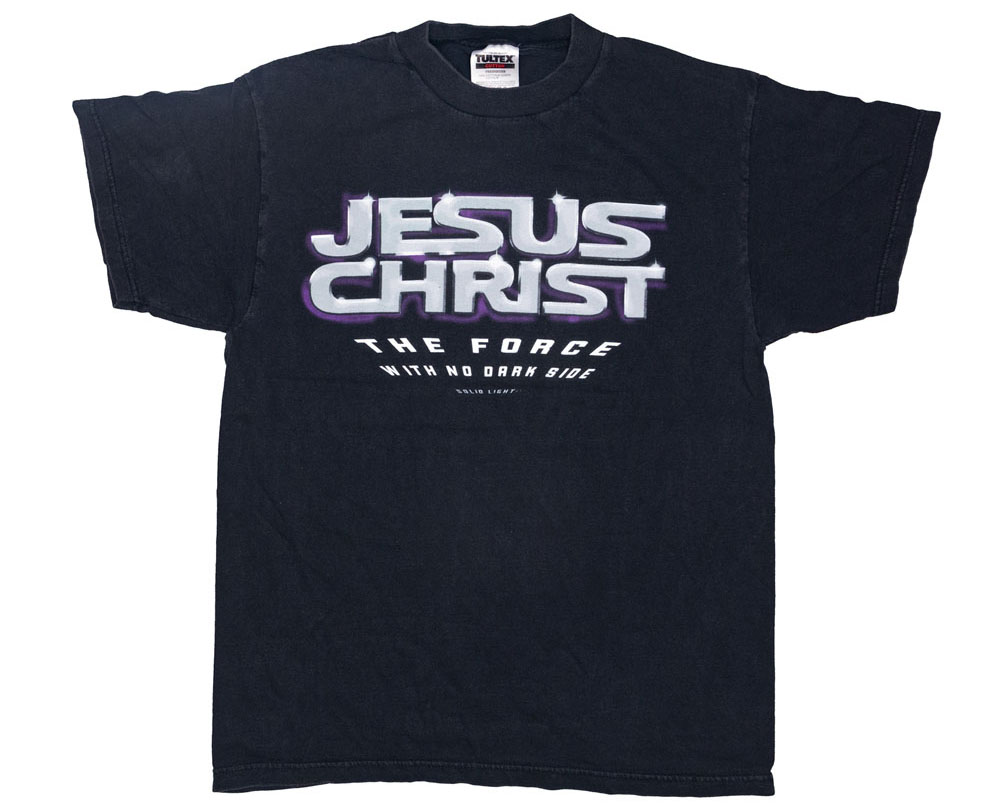 Vintage Dick Tracy Jesus Christ Parody T-Shirt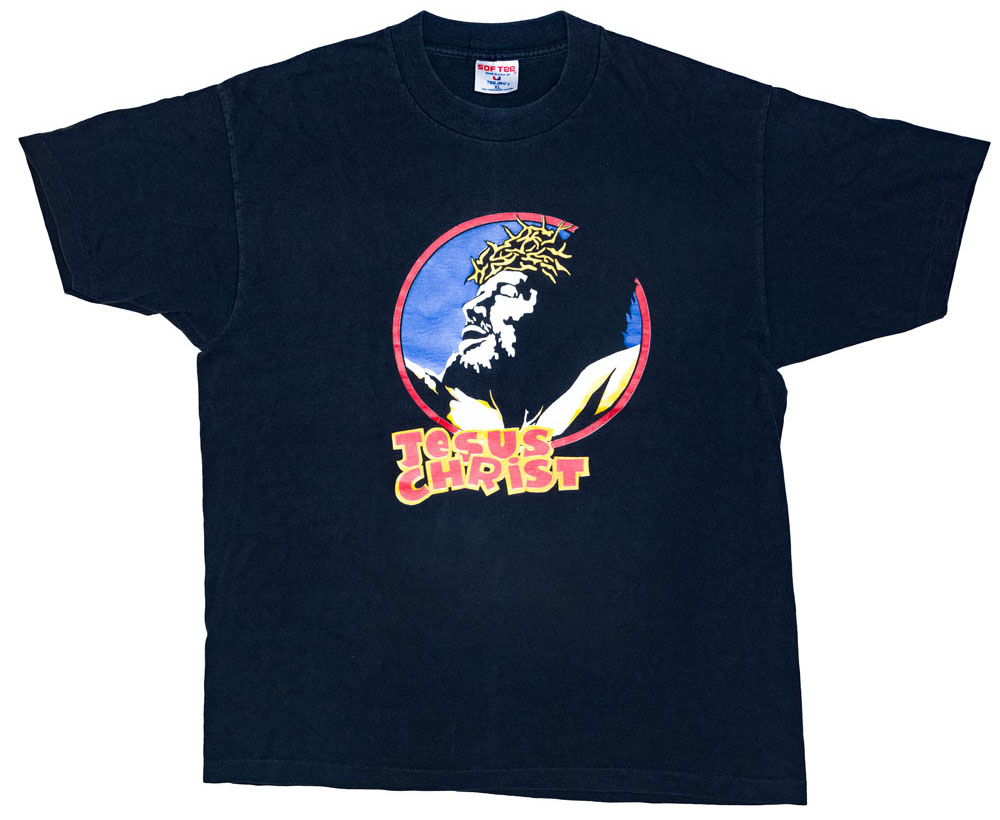 Vintage Godzilla Godzwill Parody T-Shirt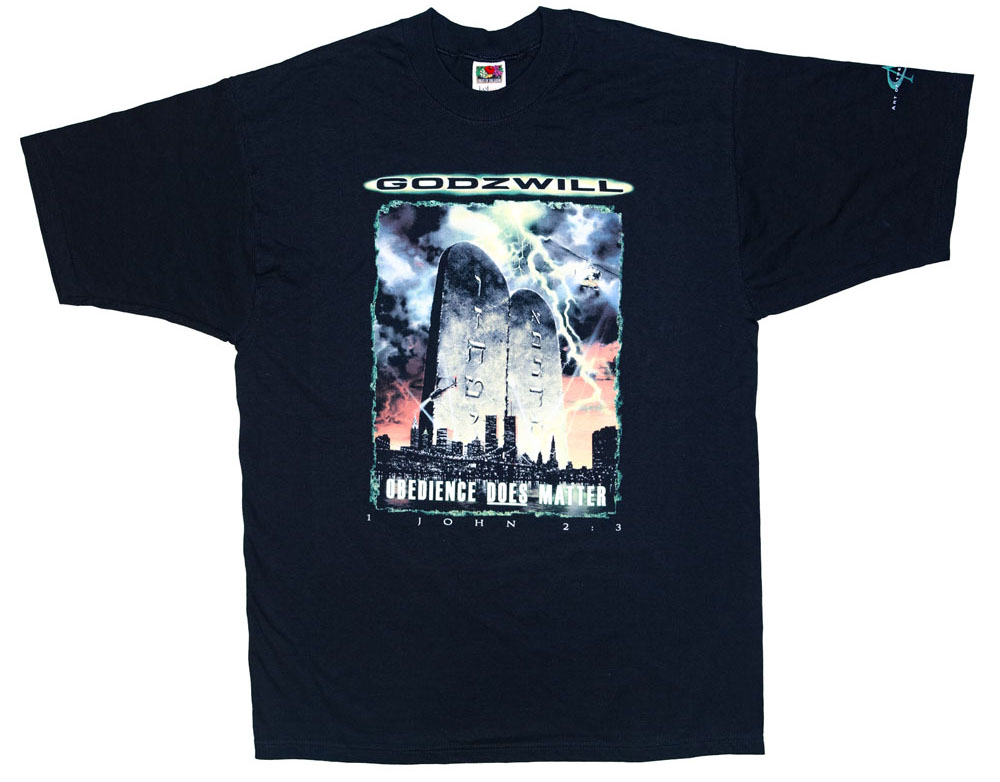 Vintage Harry Potter Jesus is The Potter Parody T-Shirt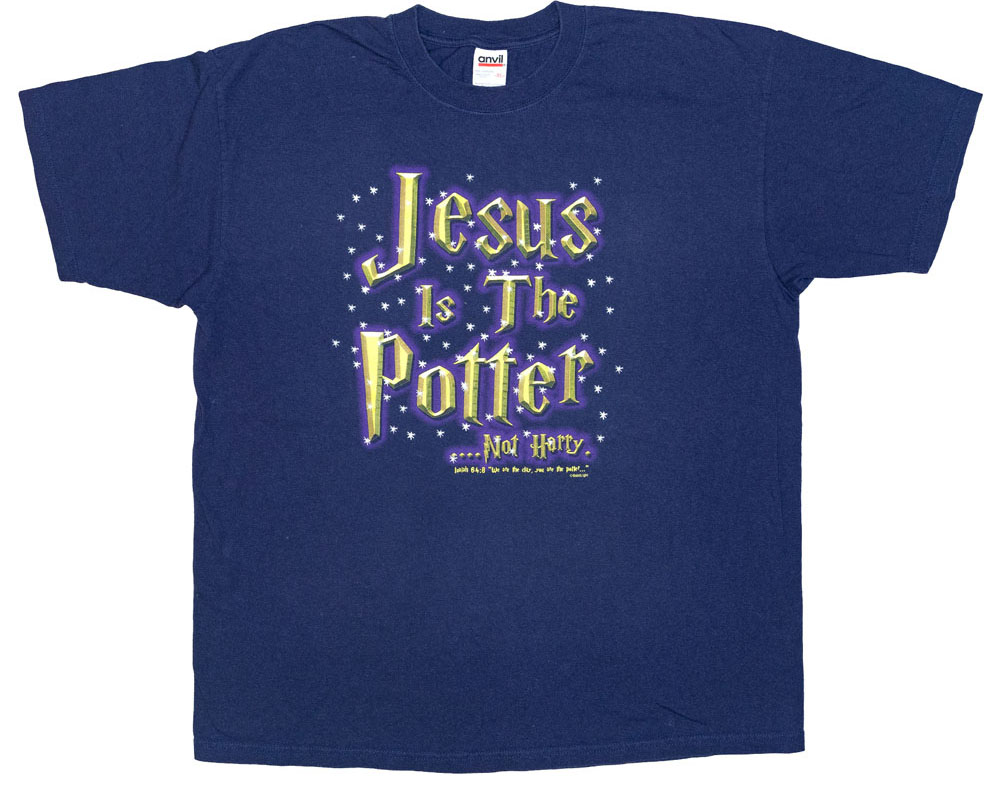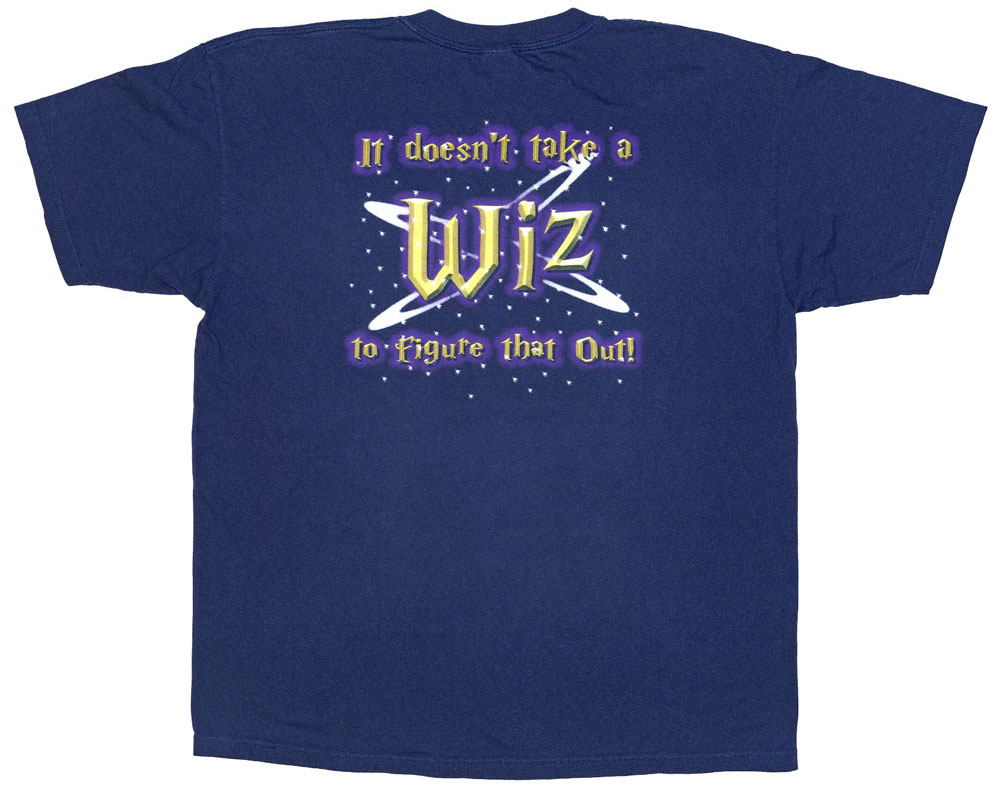 Fashion and Footwear
Vintage Air Jesus Jordan Parody T-Shirt

Vintage JC Obsession Calvin Klein Parody T-Shirt

Vintage Forever Bless FUBU Parody T-Shirt

Vintage Reeborn Rebok Parody T-Shirt

Vintage I Don't Guess I Know Guess? Parody T-Shirt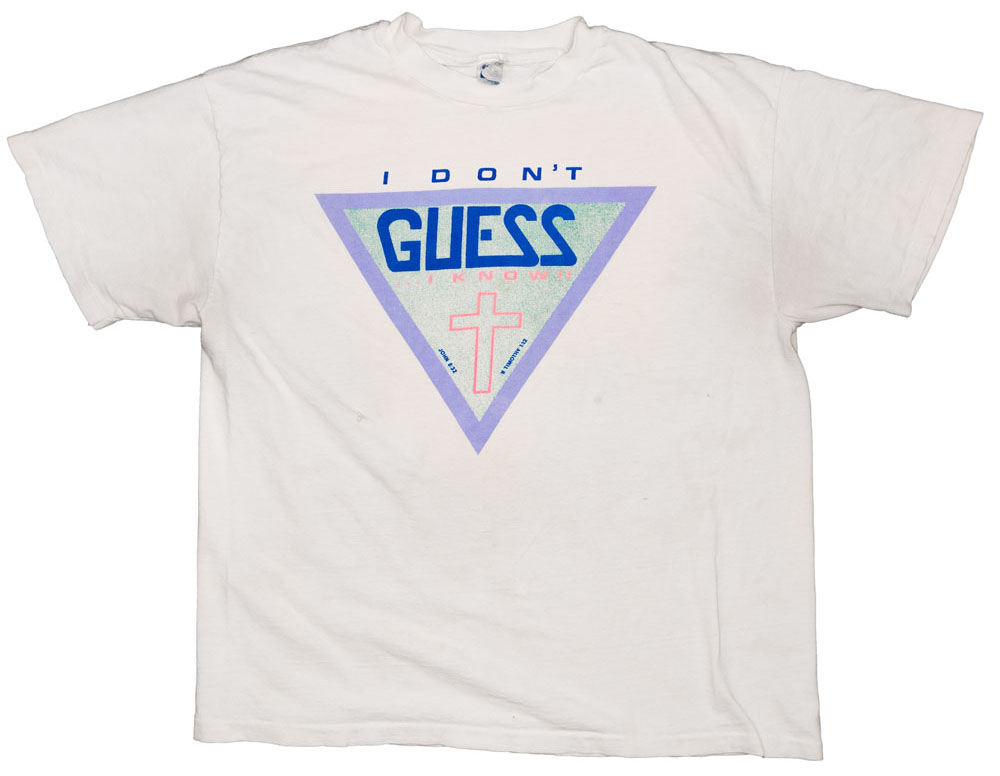 Vintage Faith Fila Parody T-Shirt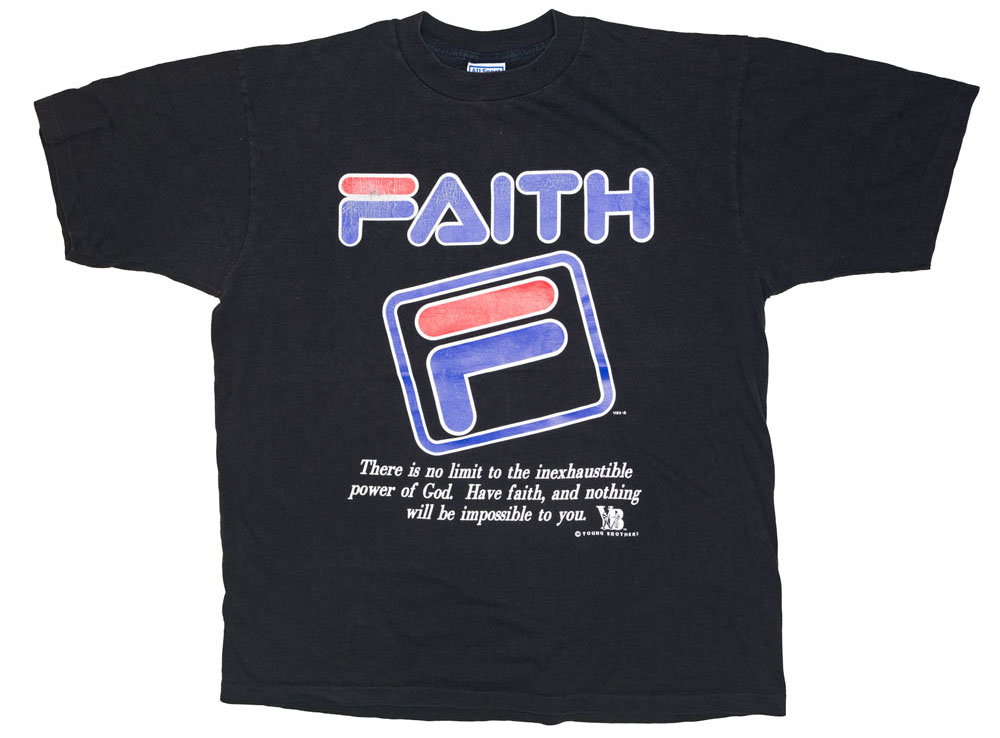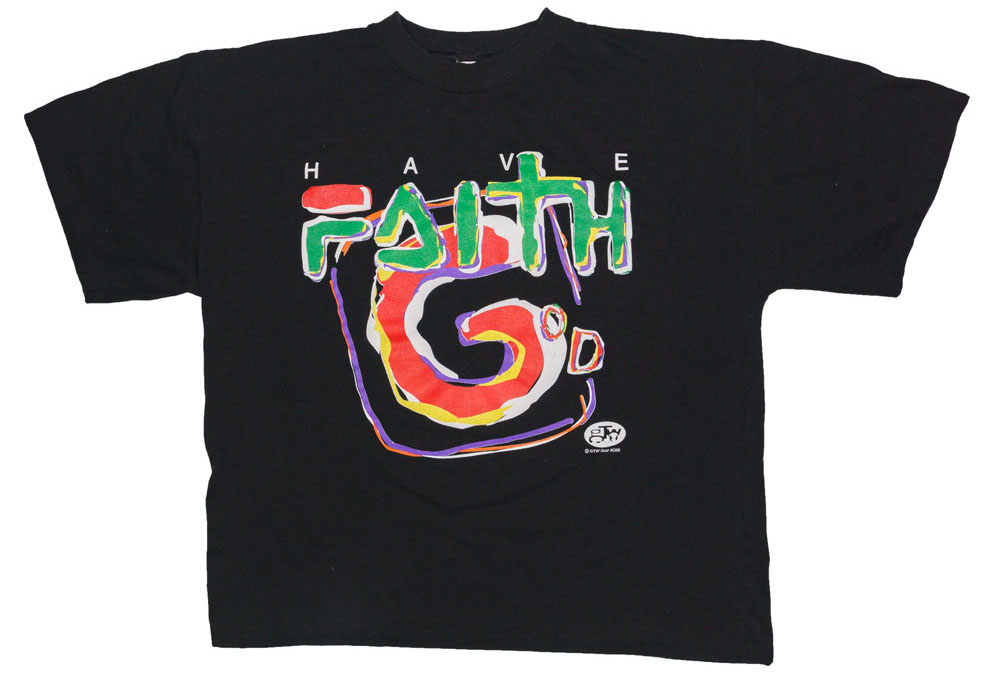 Vintage Jesus He Did It Nike Just Do It Parody T-Shirt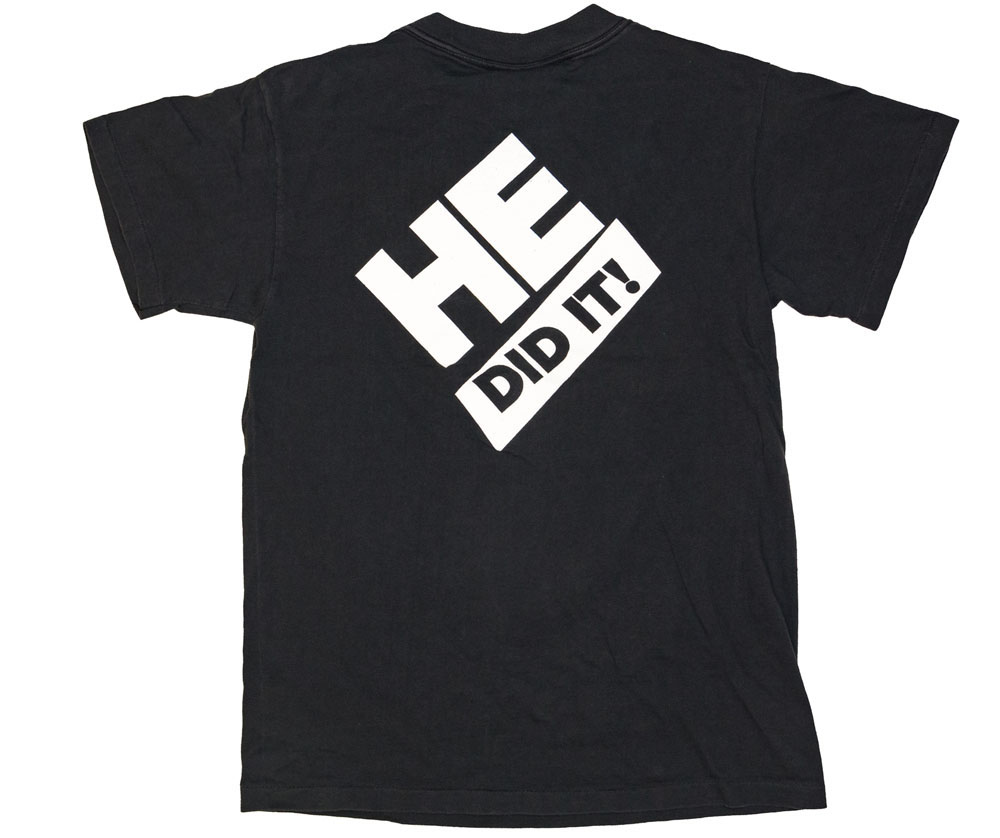 Food and Drink
Vintage My Jesus I'm Lovin' Him McDonald's Parody T-Shirt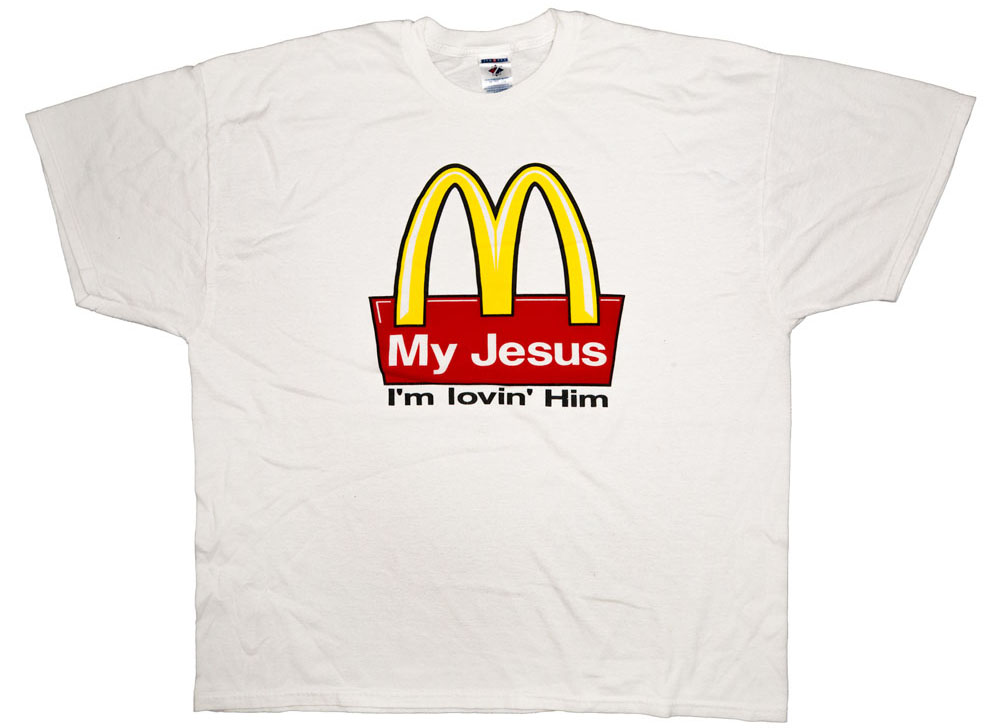 Vintage Hisway Subway Parody T-Shirt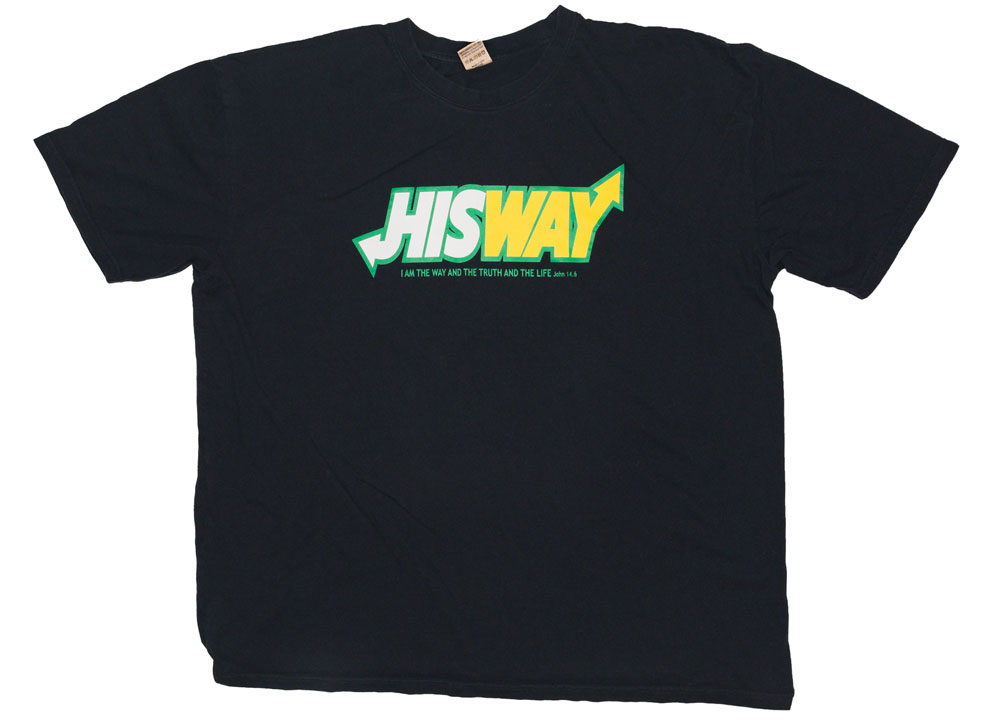 Vintage Godsword Gatorade Parody T-Shirt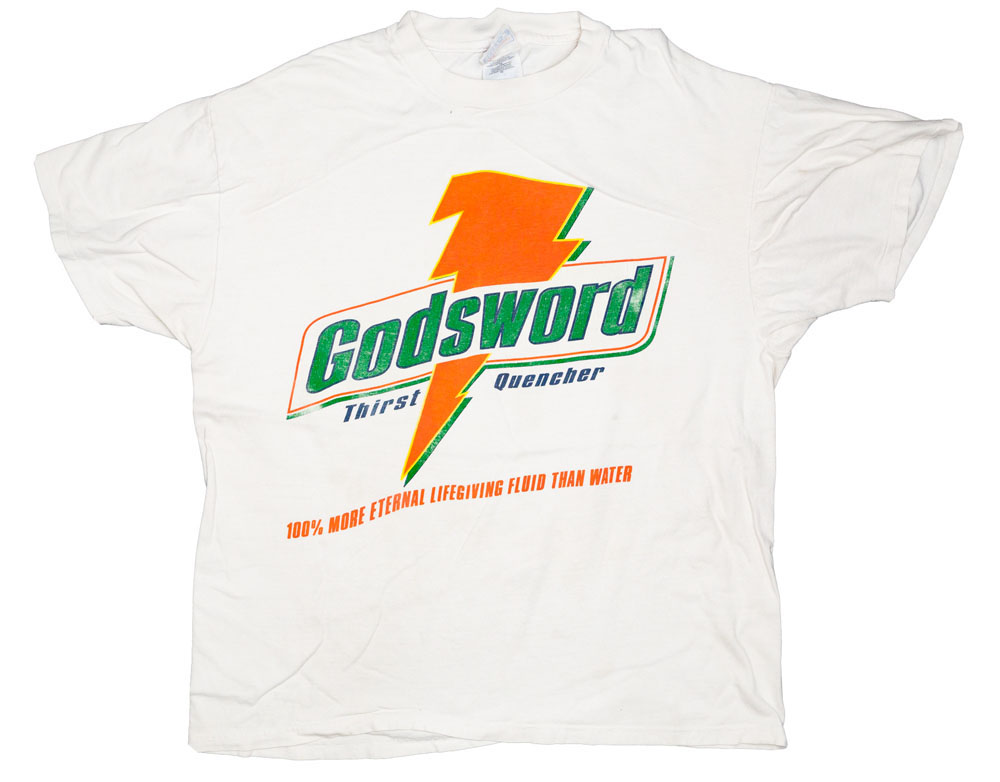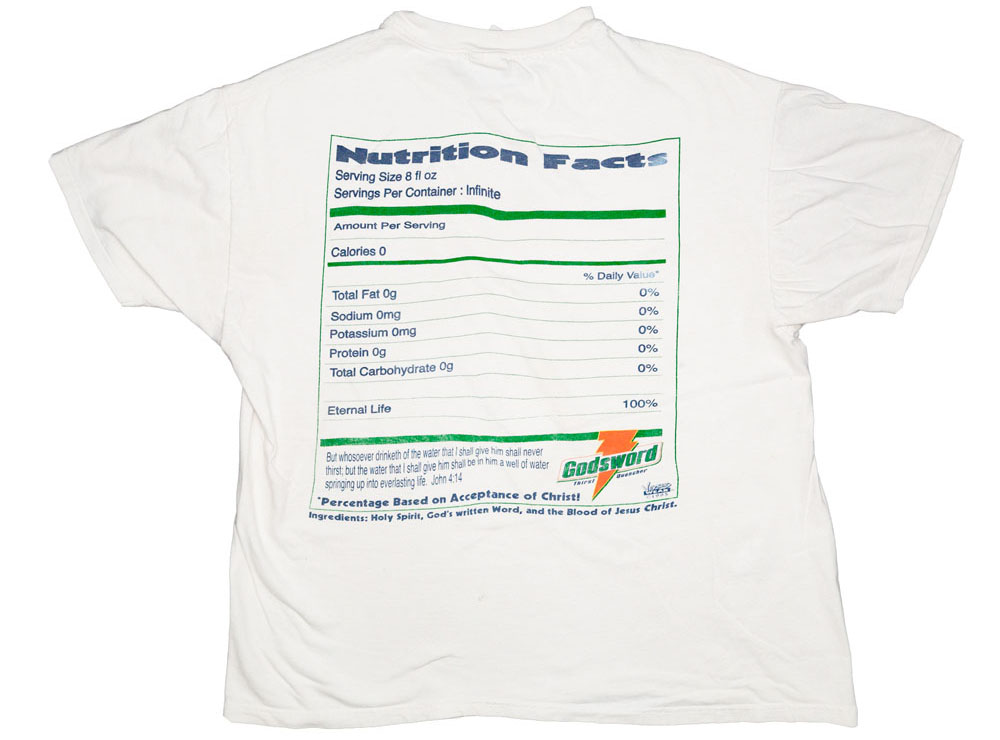 Vintage Jesus Choice of the Last Generation Pepsi Parody T-Shirt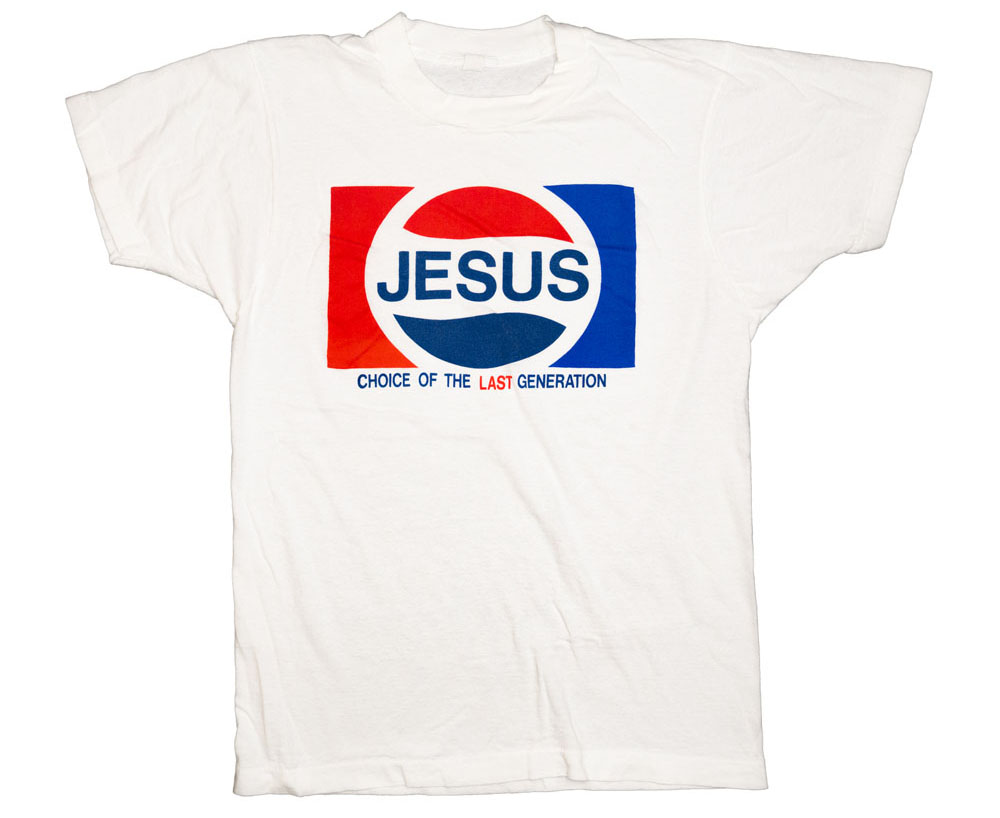 Vintage Spud Mackenzie Bud Light Parody T-Shirt

Technology
Vintage Jesus Inside Intel T-Shirt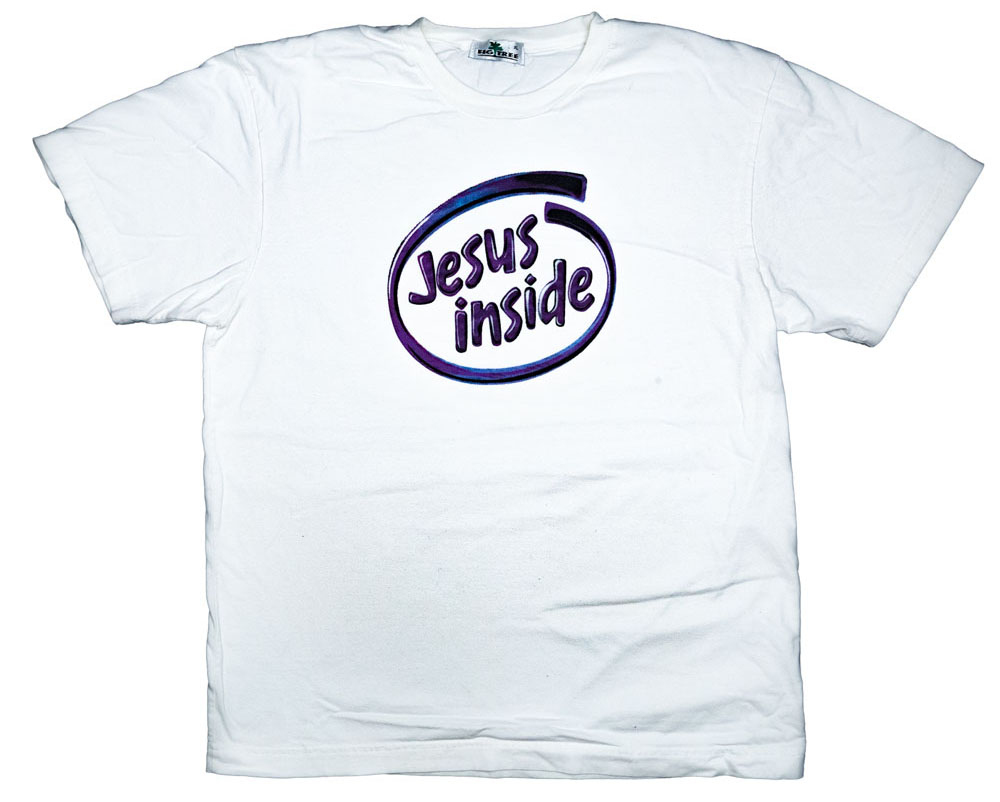 Products
Vintage Armed & Ready Arm & Hammer Parody T-Shirt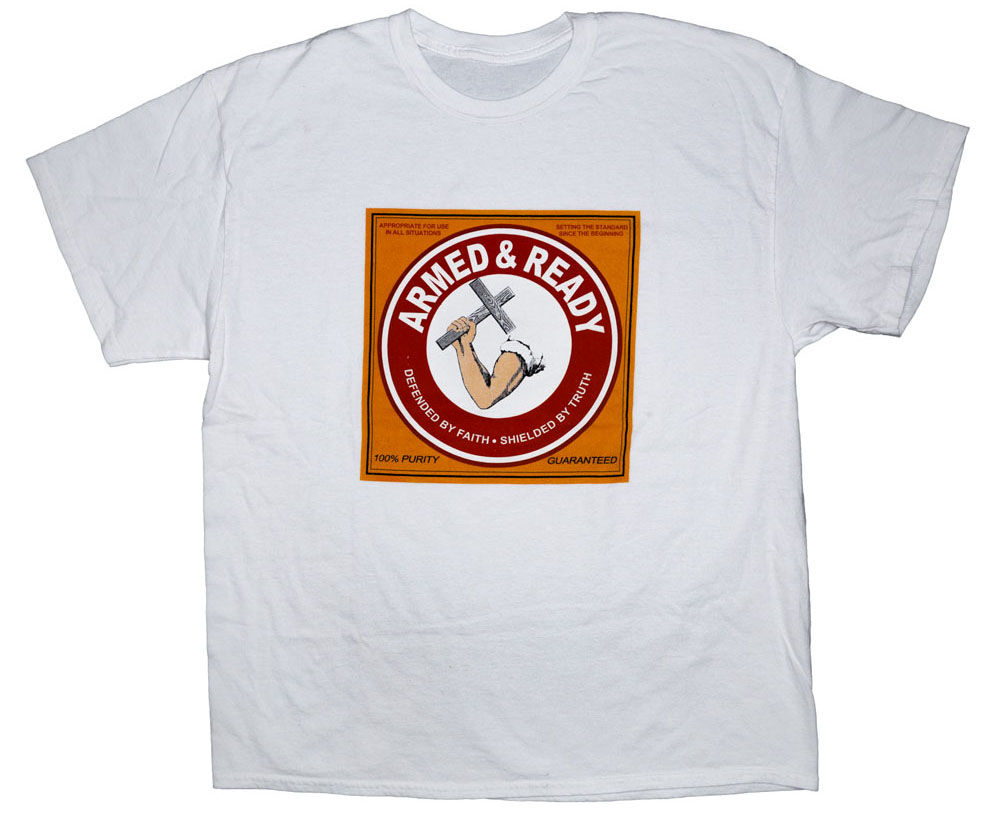 Vintage Play-Doh / Pray-Mo' Parody T-Shirt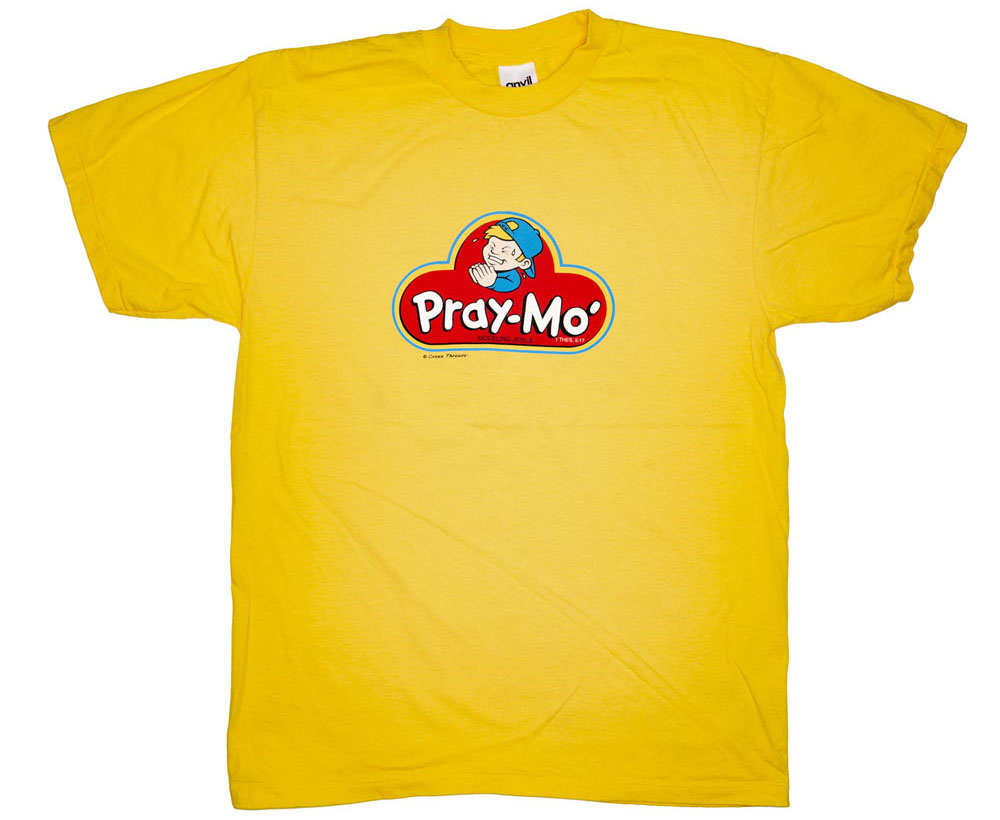 Vintage Prayboy Playboy Parody T-Shirt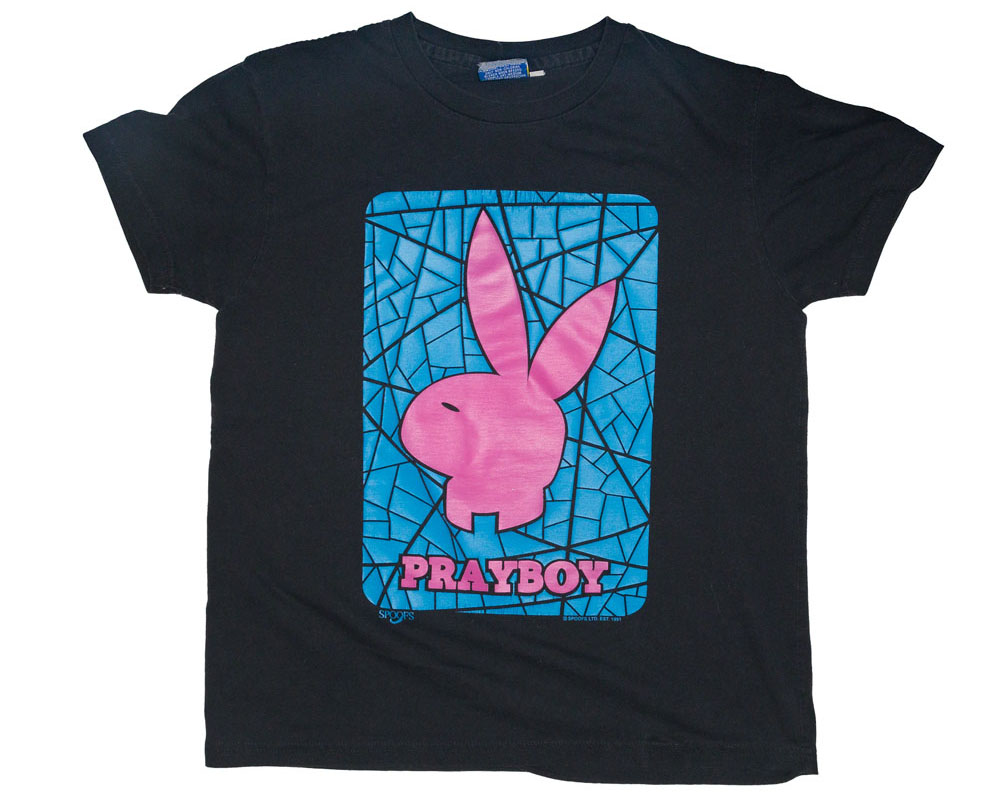 Vintage Twenty Four 7 7-11 Parody T-Shirt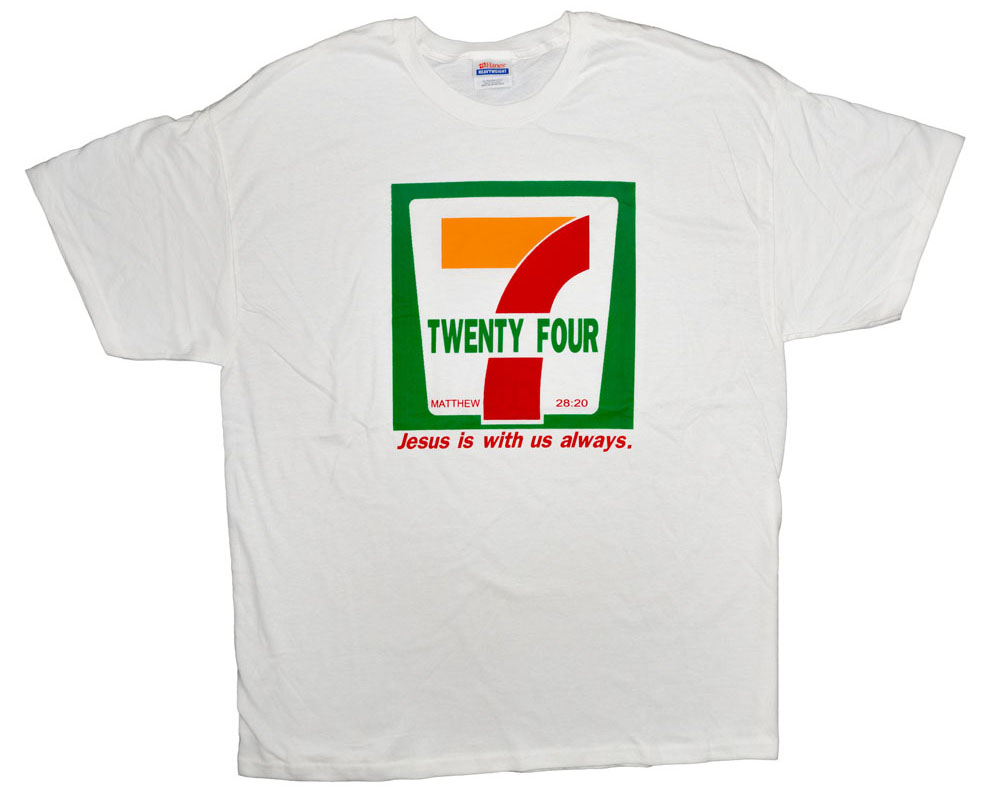 Band
Vintage Grateful Alive Dead Parody T-Shirt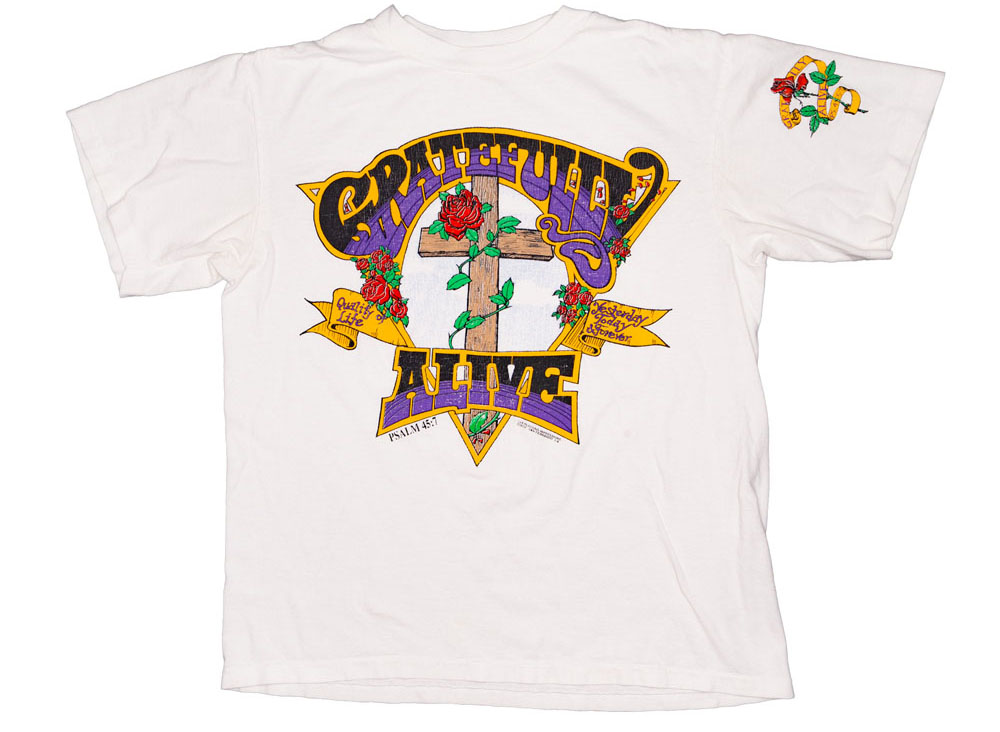 Vintage JC/DC Jesus Christ Devine Current AC/DC Parody T-Shirt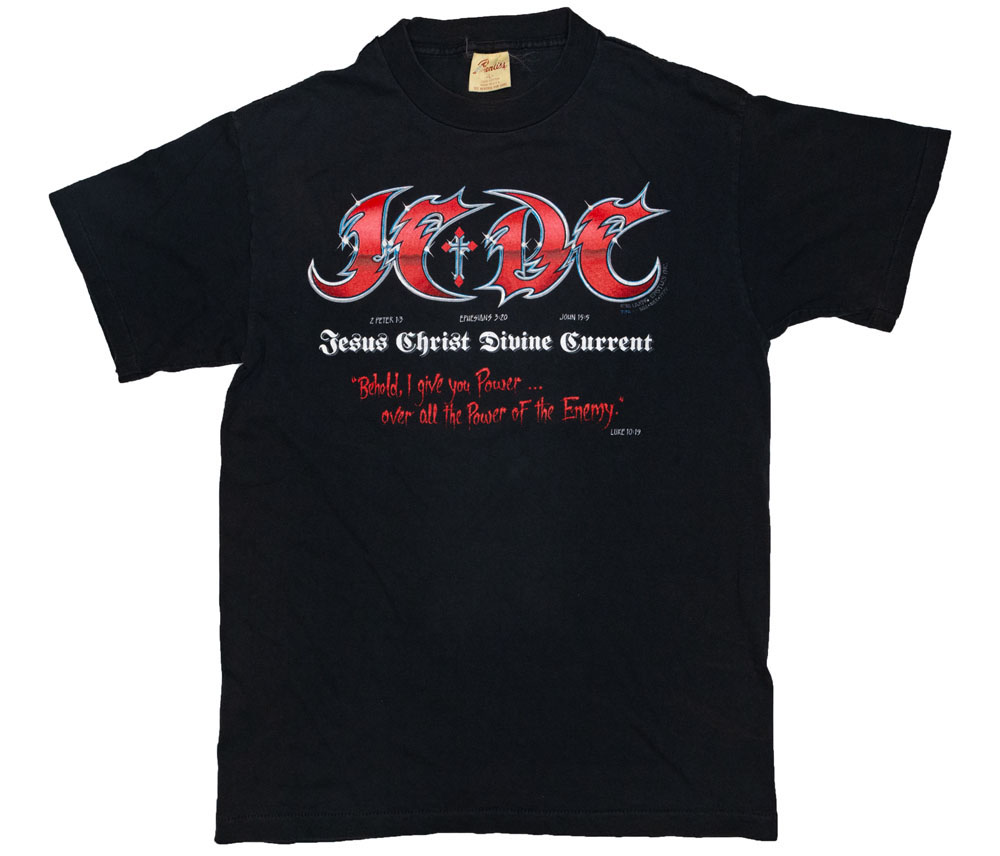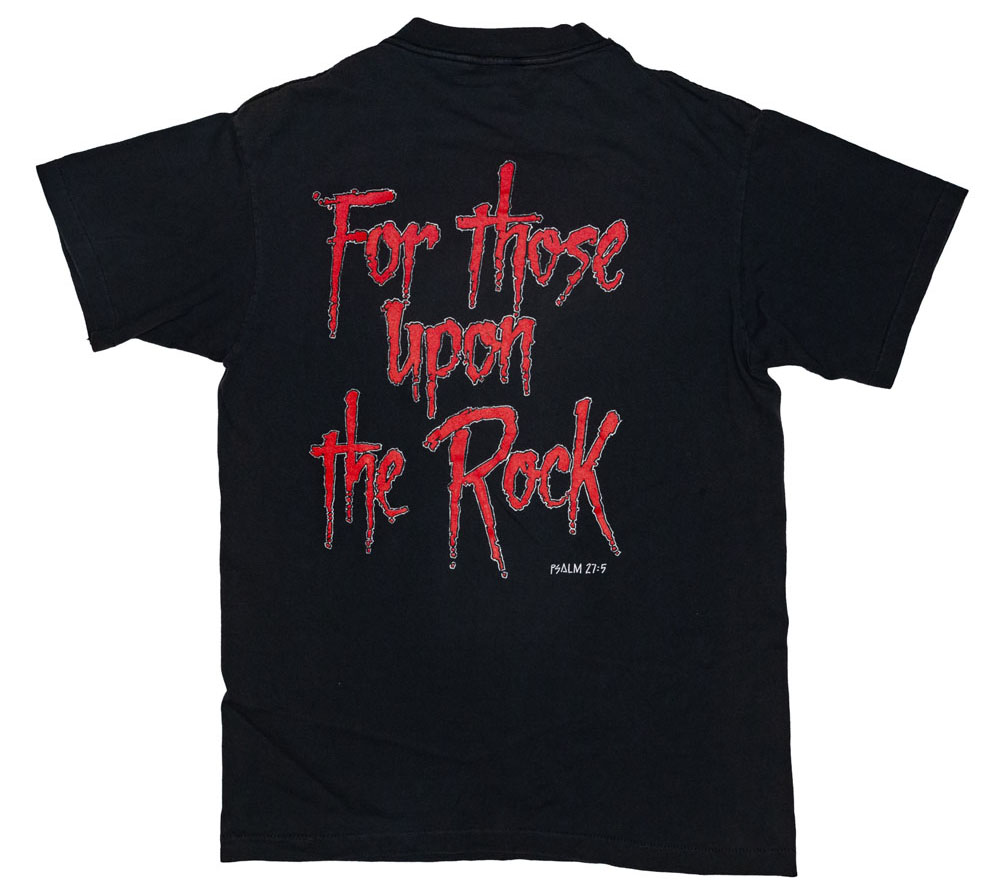 Vintage MEGALIFE Through Prayer MEGADETH T-Shirt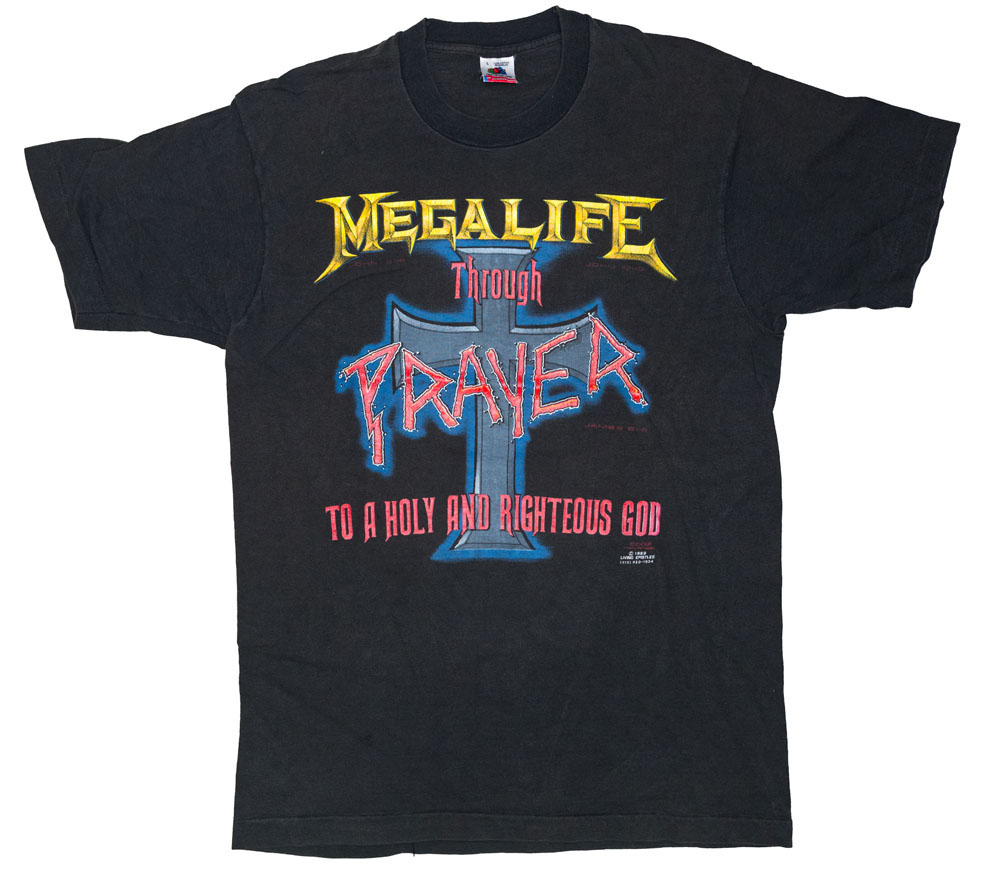 Vintage SIN Has to be Dealt With NIN Parody T-Shirt