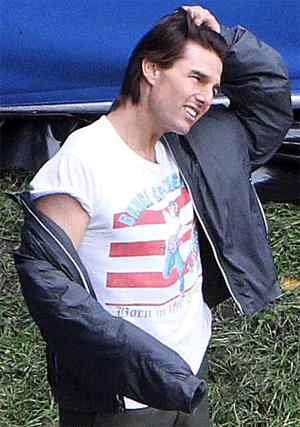 Go check out MI:4 and you'll notice a poly/cotton cameo by Bruce Springsteen. After aborting a mission inside the Kremlin Ethan Hunt sheds his disguise as a high-ranking Russian official into a nerdy American tourist complete with glasses, a map, and this Born in the USA tour tee.
But is it real or a repro commissioned for the flick? We're definitely familiar with the design. And it has some true vintage qualities- ie the design fade and a stretched neck as if the tee had taken a pounding over the years. But like the world of Mission Impossible nothing in filmmaking is what it seems.
Michael Kaplan, the film's costume designer had this to say, "When Ethan flees The Kremlin he reverses his Russian uniform jacket, creating yet another disguise, that of a tourist – a casual nylon jacket over a Bruce Springsteen T-shirt. The uniform jacket was custom-built with a nylon 'jacket' lining. The T-shirt is my own."
There's no reason Cruise couldn't fit into a genuine vintage t-shirt – he's not exactly Arnold Schwarzenegger-sized. But some stars have an aversion to wearing used clothing – Peter Fonda reportedly refused to wear vintage during the height of his career forcing costume designers to reproduce his clothes. Boo!