Celebrities
Hey Tosh! You Call That an Overpriced Concert Tee!?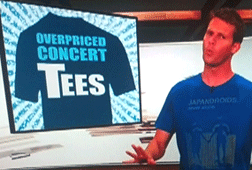 I just caught the season premiere of Tosh.0 where he announced his wardrobe theme for the entire season: Overpriced Concert Tees. Yes! But the Japandroids t-shirt he wore in the episode can be found for $15; so either Tosh is really cheap or he got ripped off at a concert by a bootlegger.
Tosh's torso needs a vintage tee. Our uber-rare $13,000 vintage RUN DMC Adidas tee (below) and the other exorbitantly priced relics for sale in our marketplace definitely fit the bill.
If $15 was too rich for his blood – $13k is likely out of the question. So I propose an arm wrestling match for it. If he wins, it's his. If I win, he has to pony up. If that challenge scares him we'll gladly orchestrate lending it to him. Heck, once we get the t-shirt back it will be worth even more with Tosh DNA on it (armpit only please.)
We need your help to get his attention! Click the button to Tweet our offer to Tosh.