Tees
The Death of the Band Tee?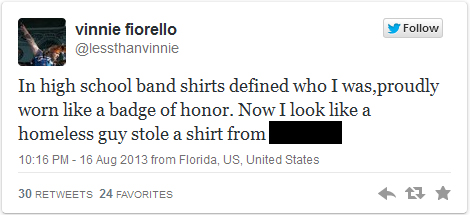 Let me start by stating what's obvious to those who frequent this site: the t-shirt market has been flooded with over-licensing by bands to chained retailers. These outlets offer tees at ridiculously low prices which are happily snapped up like…what ever the modern version of hot cakes is for today's youth. Band tees have become dirt cheap mostly due to questionable manufacturing ethics that leave a huge carbon footprint in their wake, but that's a whole other rant.
We're all for youth showing respect for bands obviously before their time. The problem is, in most cases, they're just a disposable piece of their wardrobe. Band tees have become a huge trend and for all the wrong reasons: fashion, celebrities and image.
Remember when you wore a band t-shirt because you were a massive fan of that band's music? Back then the t-shirts weren't easy to come by and you sure couldn't get a mix of three different bands for $25. Most of the time they were acquired at a concert, worn to death and then stored away for decades in a drawer for sentimental reasons. Yeah, that doesn't happen much anymore. I guess that's why the golden era of band tees thrives and these vintage garments are now collectibles – giving life to our website.
One chained retailer recently landed in hot water after releasing an N.W.A. tee, among others, in a Compton themed line. Everyone was quick to berate the retailer, when it was actually N.W.A. you know, "The World's Most Dangerous Group" who had to given their permission. Either them or their record company lined their pockets as a result and came out unscathed. Ice Cube had his own tee, surely he must have had a say in this, he seems to be very in control of his brand these days. We're trying to find out.
Hey @icecube please comment on how much say u had in the recent NWA and Ice Cube tees? Surely, u had to have given the OK? Compensation?

— Defunkd Vintage Tees (@defunkd) October 9, 2013
The cool part is young people are the ones calling their peers out on it.
Here's a snapshot of Twitter users who have voiced their annoyance with the situation. We've screened the tweets that called out the specific retailers responsible for this, but you know who they are.
Admit it, their tweets have taken the words right out of your mouth.
https://twitter.com/defunkd/statuses/367968503967387650
i hate when girls try to wear old band tee's from like the doors, the ramones, ac/dc but know nothing about them. -__-

— ✨jess✨ (@cottag3girl) April 1, 2012
https://twitter.com/defunkd/statuses/224452350583111680
https://twitter.com/defunkd/statuses/387005323971940352
If you don't listen to the band, don't wear the tee.

— SUPERMegAN (@meg_seekings) October 30, 2011
If you wear a band tee and you don't like the band or have never listened to them...I will judge you.

— ............. (@KingKante1905) August 20, 2012
i hate it when people wear band tee's for fashion purposes, not because they like the band...

— stoopid pig (@annamayhills) October 4, 2011
And then this dude…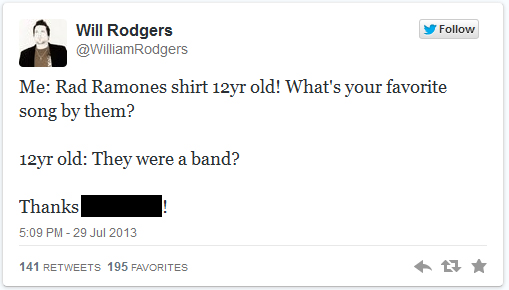 These Twitter users bring up some very valid points. There should be rules for those who wear a band plastered on their chest. For starters, a minimum amount of knowledge about the band they're advertising should be required. There's also some etiquette as to how and even when they are worn. Check out our Rules for Wearing a Band Tee.