A roundup of Defunkd Collective tees offered from vendors in Malaysia.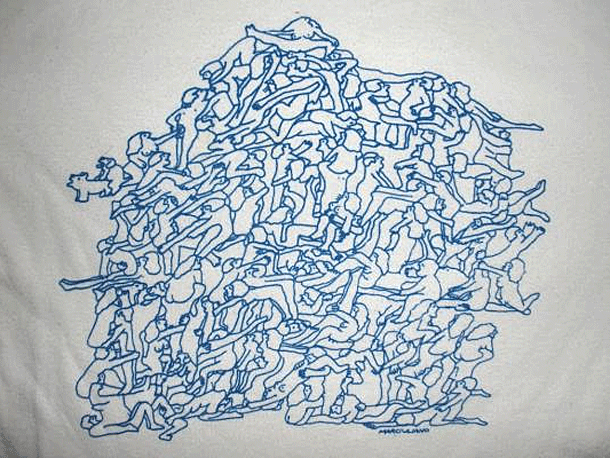 English isn't their first language but our Malaysian vendors are definitely fluent in the international language of love. The above Marciuliano print looks innocent enough from a distance but get a little closer and you're knee deep in a massive orgy. There's even some dogs getting in to the act – can you spot them? Waldo's there too but without any of his signature clothing on – he's anonymous (and wants to keep it that way.)
Then there's this nifty chart of boobs which originated down under and you can thank Germany's Volxmusik festival for their support of the nude boob. We couldn't leave The Pogues off this list, their Naked Howling Freedom tee features a baby who's just…well, hanging out.
In closing we'll ask an age old question: is it considered necrophilia if two skeletons are engaged in a sexual act?
Jimmy founded Defunkd in 2004 when he started selling vintage t-shirts online. 20 years of experience later and he hasn't looked back since. Actually, he looks back all the time given he's a sucker for nostalgia. For more, check the history of Defunkd and Jimmy's Expertise.