Showcasing the vast vintage t-shirt arsenal of Anthrax, Megadeth, Metallica and Slayer.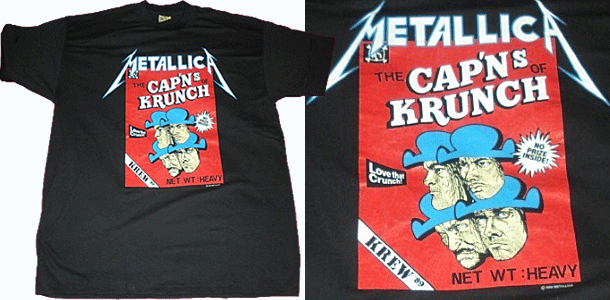 Shirt #28: Metallica Cap'ns of Krunch Krew
Availability: Explore Vintage Metallica Tees on Defunkd
Year: 1989
Album: …And Justice For All
Fact: In '89 Metallica received their first grammy nomination. They lost to Jethro Tull who wasn't even in attendance assuming Metallica would take it. It was named on of the "Grammy's 10 Biggest Upsets" by Entertainment Weekly.
Approximate value: $400

Image Courtesy of: ridethelightning84
Check out the previous vintage Megadeth Symphony t-shirt.
Jimmy founded Defunkd in 2004 when he started selling vintage t-shirts online. 20 years of experience later and he hasn't looked back since. Actually, he looks back all the time given he's a sucker for nostalgia. For more, check the history of Defunkd and Jimmy's Expertise.